Extra Life: A Short History of Living Longer (Paperback)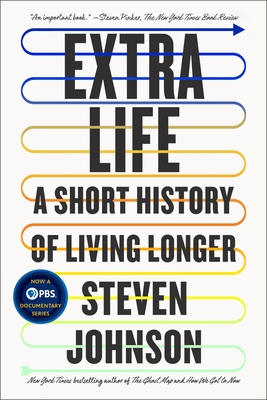 Description
---
"Offers a useful reminder of the role of modern science in fundamentally transforming all of our lives." —President Barack Obama (on Twitter)

"An important book." —Steven Pinker, The New York Times Book Review

The surprising and important story of how humans gained what amounts to an extra life, from the bestselling author of How We Got to Now and Where Good Ideas Come From

In 1920, at the end of the last major pandemic, global life expectancy was just over forty years. Today, in many parts of the world, human beings can expect to live more than eighty years. As a species we have doubled our life expectancy in just one century. There are few measures of human progress more astonishing than this increased longevity.

Extra Life is Steven Johnson's attempt to understand where that progress came from, telling the epic story of one of humanity's greatest achievements. How many of those extra years came from vaccines, or the decrease in famines, or seatbelts? What are the forces that now keep us alive longer? Behind each breakthrough lies an inspiring story of cooperative innovation, of brilliant thinkers bolstered by strong systems of public support and collaborative networks, and of dedicated activists fighting for meaningful reform.

But for all its focus on positive change, this book is also a reminder that meaningful gaps in life expectancy still exist, and that new threats loom on the horizon, as the COVID-19 pandemic has made clear. How do we avoid decreases in life expectancy as our public health systems face unprecedented challenges? What current technologies or interventions that could reduce the impact of future crises are we somehow ignoring?

A study in how meaningful change happens in society, Extra Life celebrates the enduring power of common goals and public resources, and the heroes of public health and medicine too often ignored in popular accounts of our history. This is the sweeping story of a revolution with immense public and personal consequences: the doubling of the human life span.
About the Author
---
Steven Johnson is the bestselling author of thirteen books, including Where Good Ideas Come From, How We Got to Now, and The Ghost Map. He's the host and cocreator of the Emmy-winning PBS/BBC series How We Got to Now, the host of the podcast The TED Interview, and the author of the newsletter Adjacent Possible. He lives in Brooklyn, New York, and Marin County, California, with his wife and three sons.
Praise For…
---
Praise for Extra Life:

"Fascinating." —The Wall Street Journal

"Offers a useful reminder of the role of modern science in fundamentally transforming all of our lives." —President Barack Obama (on Twitter)

"Fascinating story." —Fareed Zakaria on Fareed Zakaria GPS

"To call this timely would be something of an understatement." —The Toronto Star 
 
"Extra Life could not be timelier." —Science Magazine

"[Extra Life] gives important insight into the history of a few specific leaps and bounds we've made as a species to outwit disease, famine and even the safety threats posed by our own inventions." —Discover Magazine

"Johnson is a fine storyteller. . . . Extra Life is an important book." —Steven Pinker, The New York Times Book Review

"A surprising look at why humans are living longer. . . Entertaining, wide-ranging, and—in light of COVID-19—particularly timely." —Kirkus Reviews