Naamah: A Novel (Hardcover)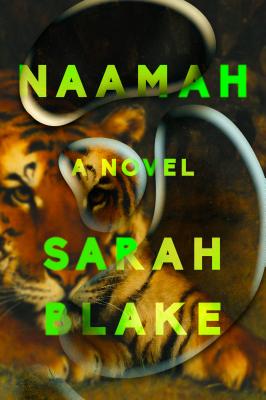 Staff Reviews
---
Naamah transforms the story of Noah and the ark, creating a haunting tale of female agency. Naamah, Noah's wife and partner in what seems like a quixotic command from an angry God, is the focus of this story about the great flood to destroy humanity. Her faith often fights with her skepticism about God's plan, unsettling her and the rest of those on the ark. Her experience as a mother and midwife foreshadows the rebirth that happens when the floodwaters recede and humanity has another chance on rise. Blake's genius is in making Naamah's life as relevant as if she were alive today. The reimagining of this patriarchal tale into a feminist allegory is a stunning achievement.
-Cindy
— From
Cindy's Recs 2
Description
---
"A dreamy and transgressive feminist retelling of the Great Flood from the perspective of Noah's wife as she wrestles with the mysterious metaphysics of womanhood at the end of the world." —O, The Oprah Magazine

With the coming of the Great Flood—the mother of all disasters—only one family was spared, drifting on an endless sea, waiting for the waters to subside. We know the story of Noah, moved by divine vision to launch their escape. Now, in a work of astounding invention, acclaimed writer Sarah Blake reclaims the story of his wife, Naamah, the matriarch who kept them alive. Here is the woman torn between faith and fury, lending her strength to her sons and their wives, caring for an unruly menagerie of restless creatures, silently mourning the lover she left behind. Here is the woman escaping into the unreceded waters, where a seductive angel tempts her to join a strange and haunted world. Here is the woman tormented by dreams and questions of her own—questions of service and self-determination, of history and memory, of the kindness or cruelty of fate.

In fresh and modern language, Blake revisits the story of the Ark that rescued life on earth, and rediscovers the agonizing burdens endured by the woman at the heart of the story. Naamah is a parable for our time: a provocative fable of body, spirit, and resilience.
About the Author
---
Sarah Blake is the recipient of a Literature Fellowship from the National Endowment for the Arts. Her writing has appeared in The Kenyon Review, The Threepenny Review, Slice, and elsewhere.
Praise For…
---
Named a best book of 2019 by O, The Oprah Magazine, Thrillist, BookPage, Entropy, and HeyAlma.

"[A] wild and superbly intelligent reimagining . . . It also left me with an abiding admiration for the writer's charged powers of imagination."
 —Joan Silber, New York Times Book Review

 "An urgent feminist response to the Old Testament. . . . Blasphemous, carnal and committed to exaltation, Naamah delivers its truths in a torrent of heresies [and] dares us to center the experience and wisdom of women." —The Washington Post

"A dreamy and transgressive feminist retelling of the Great Flood from the perspective of Noah's wife as she wrestles with the mysterious metaphysics of womanhood at the end of the world."
—O, The Oprah Magazine

"A shimmering and visionary feminist debut . . . Naamah is hallucinatory, full of unearthly visions, and yet boldly, vividly embodied. It is a singular and timeless portrait, a deep and gorgeous contemporary evocation of an ancient woman asking unanswerable questions about the end of an existing world."
—San Francisco Chronicle

"Naamah is the feminist bible retelling we need in 2019 . . . Blake ultimately succeeds in making this woman of antiquity feel of our times, offering no easy answers to the many questions Naamah poses."
 —Paste

"Revelatory, ethereal and transfixing, Naamah cracks open the ancient tale of Noah. . . . In the tradition of Madeline Miller's Circe, Naamah plucks a female character from myth and imbues her with sexuality, personality and intimacy, making her an altogether more modern hero."
 —Bookpage

"A powerhouse of a debut. . . . With prose as luminous and heady as it is grounded in Naamah's strong physicality, Blake creates a complex woman in a complicated yet terrifyingly simple situation."
—Electric Literature

"Retellings can be magical when deployed correctly. Such is the case with Sarah Blake's debut novel, Naamah. Naamah is the wife of the Biblical Noah (of ark-building fame), and the book tells her story, from her perspective, in refreshingly modern prose. . . . It's extremely hard to put down; I blew through it in two days, happy to be lost in this world and this woman."
 —Guernica

"Historical and mythical women . . . are getting due reconsideration in pop culture. Sarah Blake does something similar with the story of Noah's Ark, reconstructing that well-known tale around the woman by Noah's side."
—Elle

"Poetic and lush . . . It's suspenseful and it's erotic and it's funny, and it just charmed me to pieces."
 —Liberty Hardy, Book Riot

"Glorious . . . Blake's prose is bewitching, and this narrative is an essential correction to the Bible's male-dominated mythology."
—Nylon, 50 Books You'll Want to Read in 2019

"Blake's lyrical prose sweeps over the reader as inexorably as the water around the ark, but her genius is in making Naamah's life as relevant as if she were alive today. The reimagining of this patriarchal tale into a feminist allegory is a stunning achievement, sure to intrigue fans of Circe and Home Fire." —Shelf Awareness  

"A poetic debut of biblical proportions. . . . [In] mesmerizing prose poem-esque sections, the novel explores themes of sexuality, purpose, loss, love, and faith."
 —Kirkus Reviews (starred review)

"Sarah Blake's dazzling novel Naamah offers a new vision of storytelling and belief, rendered through the body of a woman. In this beautiful reconception of a flood, Noah's wife emerges as an earth-bound soul savior as well as a desiring body capable of generating epic myth. In between hope and hell, and up against the divine, Naamah reminds us that the bodies and voices of women were always the heart of the story. Naamah is a new myth-making triumph."
  —Lidia Yuknavitch, author of The Book of Joan and The Small Backs of Children

"No longer a forgotten name, Naamah is achingly alive here, pulsing with questions and desires. Sarah Blake's prose is sensual, hallucinatory, dream-sharp—a beguiling debut from an immensely talented writer." 
—Leni Zumas, author of Red Clocks

Coverage from NPR