Squish Squash Squished (Hardcover)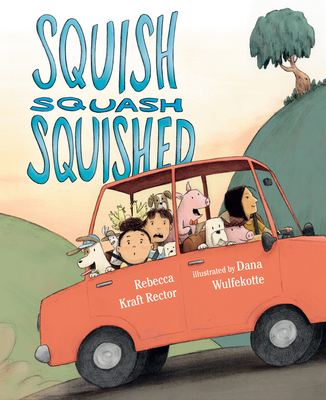 Description
---
A pair of kids learn what it is really like to be squished together during one hilarious and eventful car ride!

When Max and Molly can't stop complaining about being squished in the back seat of the car, their clever mom knows exactly what to do--offer rides to their animal friends, who are happy to pile in and come along! As the back seat fills up with a wiggly piglet, two flitting ducklings, and three woofing puppies, soon Max and Molly are not only squished--they're SQUISH SQUASH SQUISHED! So when they notice Mom slowing down to wave at Scooter Mooter and his calves, Max and Molly don't say a word--they hush-mush. Thankfully, Mom keeps driving--and after everyone's dropped off and it's time to hustle-bustle home, Max and Molly are happy to stretch out in the back seat of their suddenly gracious-spacious automobile.
About the Author
---
Rebecca Kraft Rector is a children's librarian who has written over thirty children's books and whose work has been published in several magazines for young readers. She lives in Virginia. This is her first picture book.

Dana Wulfekotte is a freelance animator, comic artist, and children's book author and illustrator. She received a 2019 Schneider Family Book Award Honor for The Remember Balloons (by Jessie Oliveros). As an animator/designer, she has worked on various animation projects for HBO, PBS, Google, and many others. She lives in Queens, New York, with her boyfriend and two rabbits.
Praise For…
---
"There's a touch of the classic 'It Could Always Be Worse' folktale here, which Rector invigorates with her playful, rhyme-infused prose that rolls right off the readaloud tongue. Pencil and digital art has a tidy jauntiness that echoes Mom's mien, and the happy little town populated by a mix of humans and animals (an active lot, judging by the fact the giraffe is jogging and the dogs were out on a bicycle built for four) is a charming venue for all. Audiences may guess that Mom's got an ulterior motive from the get-go here, and either way they'll enjoy the giggle-worthy language and moral about comparative—and probably short-term—peace."—The Bulletin of the Center for Children's Books

"Entertaining update of the classic Yiddish folktale 'It Could Always Be Worse.' . . . The humorous situation, cumulative action, abundance of audience-pleasing animal sounds, and well-earned resolution should make readers glad to go along for the ride."—Horn Book