Pretty Things: A Novel (Hardcover)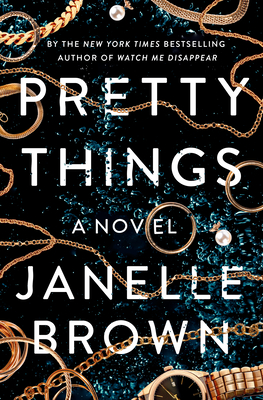 $28.00
Email or call for price
Staff Reviews
---
In Brown's new novel protagonist Nina Ross has made a career out of finding rich people on social media and slowly but surely conning them; stealing their money, their antique furniture, their expensive clothes. All this she does to help her mother who is dying of cancer and can't afford the medical treatments she needs. When the police come snooping Nina decides to skip town with her friend Lachlan and try her largest con yet; the target - the sister of her childhood ex-boyfriend. But what starts as a simple operation to gain access to the family safe quickly goes awry. Suddenly Nina finds herself in jail, double-crossed by Lachlan and forced to enlist help from the very woman she was trying to rob. This fast-paced novel kept me guessing until the very end.
-Chrissy
— From
Chrissy's Recs
May 2020 Indie Next List
---
"Nina Ross is a grifter, just like her mom. She didn't have a lot growing up, and they were always on the move. Vanessa, heiress of a family fortune, is a famous Instagram influencer. Everyone loves her, but her smile hides a past filled with tragedy. Nina and Vanessa's lives become intertwined as part of a long con. Pretty Things is excellently written, with an intricate plot full of twists. I loved absolutely everything about this book. I highly recommend it."
— Rebecca Minnock, Murder By the Book, Houston, TX
Description
---
NEW YORK TIMES BESTSELLER • Who's really following you on social media? The scam of a lifetime brings together two wildly different women in this page-turning thriller about greed, legacy, and betrayal from the New York Times bestselling author of Watch Me Disappear.

An ID Book Club Selection • "It's Dynasty meets Patricia Highsmith."—The Washington Post
 
Nina once bought into the idea that her fancy liberal arts degree would lead to a fulfilling career. When that dream crashed, she turned to stealing from rich kids in L.A. alongside her wily Irish boyfriend, Lachlan. Nina learned from the best: Her mother was the original con artist, hustling to give her daughter a decent childhood despite their wayward life. But when her mom gets sick, Nina puts everything on the line to help her, even if it means running her most audacious, dangerous scam yet.
 
Vanessa is a privileged young heiress who wanted to make her mark in the world. Instead she becomes an Instagram influencer—traveling the globe, receiving free clothes and products, and posing for pictures in exotic locales. But behind the covetable façade is a life marked by tragedy. After a broken engagement, Vanessa retreats to her family's sprawling mountain estate, Stonehaven: a mansion of dark secrets not just from Vanessa's past, but from that of a lost and troubled girl named Nina.
 
Nina's, Vanessa's, and Lachlan's paths collide here, on the cold shores of Lake Tahoe, where their intertwined lives give way to a winter of aspiration and desire, duplicity and revenge.
 
This dazzling, twisty, mesmerizing novel showcases acclaimed author Janelle Brown at her best, as two brilliant, damaged women try to survive the greatest game of deceit and destruction they will ever play.
About the Author
---
Janelle Brown is the New York Times bestselling author of Watch Me Disappear, All We Ever Wanted Was Everything, and This Is Where We Live. An essayist and journalist, she has written for Vogue, The New York Times, Elle, Wired, Self, the Los Angeles Times, Salon, and numerous other publications. She lives in Los Angeles with her husband and their two children.
Praise For…
---
"A page-turner."—Real Simple

"Impossible to put down, Pretty Things is smart, seductive, and utterly captivating."—PopSugar

"Full of tantalizing twists and shocking deceptions, this is an intelligent social commentary that is also deliciously fun to read."—The Week

"It's Dynasty meets Patricia Highsmith. . . . Duplicity abounds when two messed-up clans collide, and Brown's final multiple twists are doozies."—The Washington Post

"Fiendishly clever."—Kirkus Reviews

"A can't-look-away story of and for our generation, Pretty Things combines a spellbinding setting with dark, slippery secrets to expose what we've always known—or maybe just hoped—to be true about the gilded lives presented in our social media feeds. Janelle Brown is a literary powerhouse."—Chandler Baker, New York Times bestselling author of Whisper Network
 
"I devoured this book—an incredible read."—Jessica Knoll, New York Times bestselling author of Luckiest Girl Alive and The Favorite Sister
 
"I love a good con story—especially when I can't tell who's the actual mark and who's the real con artist. In Janelle Brown's compulsively readable Pretty Things, the good girls and the bad girls keep switching places in a story that will keep you turning pages till the end. Even more richly told than Watch Me Disappear, Brown's latest novel has the same sharp observations that are her trademark—about shifting identities and the secrets we all keep."—Attica Locke, author of Heaven, My Home
 
"Hungry, sexy, and packed with twists, this latest novel from Janelle Brown exposes what's hidden behind the stone walls of the elite's mansions and the slick facades of con artists' scams. Money, family, and Instagram collide to make a book you won't be able to put down."—Julia Phillips, author of Disappearing Earth
 
"Part psychological thriller and part morality tale, Janelle Brown's Pretty Things is literary suspense at its best. Gorgeous prose, complex characters inhabiting the fascinating worlds of elite Instagram influencers and high-stakes scam artists, a thought-provoking dual narrative, a twisty plot with a shocking, never-saw-that-coming ending—this brilliant novel has it all! I read it in one day in one sitting, mesmerized, and I loved every moment."—Angie Kim, bestselling author of Miracle Creek

"I drank down Janelle Brown's Pretty Things in one greedy gulp, speeding through the pages even as the sharp, insightful writing made me feel compassion for each narrator. . . . Mesmerizing, provocative, surprising and thoughtful—a must-read."—Jean Kwok, New York Times bestselling author of Searching for Sylvie Lee