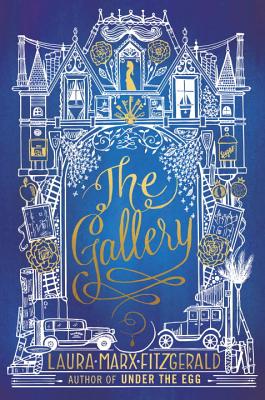 Staff Reviews
---
Middle Grade
You couldn't ask for a smarter, sassier, feistier heroine than 12-year-old Martha in this jazz age mystery. Expelled from Catholic school for asking too many questions, she's joined her mother as a servant in a Fifth Avenue mansion. Although newspaper baron J. Archer Sewell seems like a kind, generous employer, Martha never sees his wife, confined to her room. But Rose Sewell manages to communicate her despair and imprisonment by means of the paintings she chooses for display downstairs. Martha becomes Rose's secret advocate, and a wild rescue ensues. Fitzgerald (Under the Egg) has crafted another engrossing art history thriller that will delight kids while immersing them in the Roaring Twenties.
- Banna
— From
Banna's Recs
Description
---
A riveting historical art mystery for fans of Chasing Vermeer and The Westing Game, set in the Roaring Twenties!

It's 1929, and twelve-year-old Martha has no choice but to work as a maid in the New York City mansion of the wealthy Sewell family. But, despite the Gatsby-like parties and trimmings of success, she suspects something might be deeply wrong in the household—specifically with Rose Sewell, the formerly vivacious lady of the house who now refuses to leave her room. The other servants say Rose is crazy, but scrappy, strong-willed Martha thinks there's more to the story—and that the paintings in the Sewell's gallery contain a hidden message detailing the truth. But in a house filled with secrets, nothing is quite what it seems, and no one is who they say. Can Martha follow the clues, decipher the code, and solve the mystery of what's really going on with Rose Sewell?

Inspired by true events described in a fascinating author's note, The Gallery is a 1920s caper told with humor and spunk that readers today will love.
About the Author
---
Laura Marx Fitzgerald studied art history at Harvard and Cambridge Universities. Her first book for young readers, Under the Egg, won the New Atlantic Independent Booksellers Association's Middle Grade Book of the Year award. Laura lives in Montclair, New Jersey.
Praise For…
---
* "This lively and inventive mystery successfully incorporates history, art, and literary classics...readers will certainly be swept up by Martha's pluck and the mystery's many layers."—Booklist, starred review

* "The combination of history, art, and mystery is sure to delight readers...Between the well-written story and the cross curricular possibilities, this is a book every library should have.—School Library Connection, starred review

"A solid, fast-moving mystery for historical fiction fans, with nods to art history and mythology."—School Library Journal

"Offer this to fans of Blue Balliett who like sophisticated adventures."—Publishers Weekly

"Fitzgerald's interest in art and history inform this puzzle of a novel, with Jane Eyre, Sacco and Vanzetti, the dying art of vaudeville, chemistry, and the 1929 stock market crashes all playing roles."—The Horn Book

"Young teens will enjoy [Martha's] impertinence and determination, and may not even notice that they are learning a little bit about the Sacco and Vanzetti trial and the 1928 presidential election, as well as the stock market crash of 1929."—VOYA

"Martha is a scrappy, amiable narrator, and readers will be just as invested as she is in seeing that all the wrongs in this household are finally righted."—BCCB

Praise for Under the Egg:

Under the Egg is the winner of the New Atlantic Independent Booksellers Association Best Middle Grade Book of the Year award!

"It's really a very compelling read and I don't know how she did it."—Kate DiCamillo on NPR

* "A riveting narrative."—Booklist, starred review

* "Fans of Koningsburg's From the Mixed-Up Files of Mrs. Basil E. Frankweiler and Balliett's Chasing Vermeer will thrill at the chance to solve a new mystery centered around art."—Library Media Connection, starred review

"Laura Marx Fitzgerald creates the perfect adventure...any girl will love this book."—Girls Life

"Uniquely readable, entirely charming, and a pleasure from start to finish. Debuts this good are meant to be discovered."—School Library Journal Fuse 8 Blog

"Riveting from start to finish."—BookPage