First: Sandra Day O'Connor (Hardcover)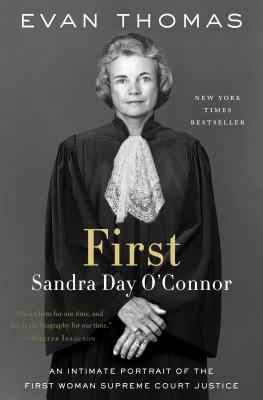 Staff Reviews
---
Sandra Day O'Connor's unanimous confirmation in 1981 as the first woman Supreme Court Justice of the U.S. carried almost unimaginable significance. Her challenges in the "Marble Palace" were myriad, from lack of women's restroom facilities to sparse camaraderie with the other judges. Yet her determination to succeed and her ability to build alliances finally earned her the respect she deserved, both inside and outside the Court. First analyzes the national changes the Court grappled with during O'Connor's tenure. It also demonstrates her influence as an educator and advocate after her retirement from the Court in 2006. O'Connor and her family spoke with Evans during his research, adding personal touches to this exhaustive and definitive profile.
-Cindy
— From
Cindy's Recs 2
Description
---
NEW YORK TIMES BESTSELLER • The intimate, inspiring, and authoritative biography of Sandra Day O'Connor, America's first female Supreme Court justice, drawing on exclusive interviews and first-time access to Justice O'Connor's archives

"She's a hero for our time, and this is the biography for our time."—Walter Isaacson

Finalist for the Los Angeles Times Book Prize • Named One of the Best Books of the Year by NPR and The Washington Post

She was born in 1930 in El Paso and grew up on a cattle ranch in Arizona. At a time when women were expected to be homemakers, she set her sights on Stanford University. When she graduated near the top of her law school class in 1952, no firm would even interview her. But Sandra Day O'Connor's story is that of a woman who repeatedly shattered glass ceilings—doing so with a blend of grace, wisdom, humor, understatement, and cowgirl toughness.

She became the first ever female majority leader of a state senate. As a judge on the Arizona Court of Appeals, she stood up to corrupt lawyers and humanized the law. When she arrived at the United States Supreme Court, appointed by President Ronald Reagan in 1981, she began a quarter-century tenure on the Court, hearing cases that ultimately shaped American law. Diagnosed with cancer at fifty-eight, and caring for a husband with Alzheimer's, O'Connor endured every difficulty with grit and poise.

Women and men who want to be leaders and be first in their own lives—who want to learn when to walk away and when to stand their ground—will be inspired by O'Connor's example. This is a remarkably vivid and personal portrait of a woman who loved her family, who believed in serving her country, and who, when she became the most powerful woman in America, built a bridge forward for all women.

Praise for First

"Cinematic . . . poignant . . . illuminating and eminently readable . . . First gives us a real sense of Sandra Day O'Connor the human being. . . . Thomas gives O'Connor the credit she deserves."—The Washington Post

"[A] fascinating and revelatory biography . . . a richly detailed picture of [O'Connor's] personal and professional life . . . Evan Thomas's book is not just a biography of a remarkable woman, but an elegy for a worldview that, in law as well as politics, has disappeared from the nation's main stages."—The New York Times Book Review
About the Author
---
Evan Thomas is the author of ten books, including the New York Times bestsellers John Paul Jones, Sea of Thunder, and Being Nixon. Thomas was a writer, correspondent, and editor for thirty-three years at Time and Newsweek, including ten years as Washington bureau chief at Newsweek, where, at the time of his retirement in 2010, he was editor at large. He wrote more than one hundred cover stories and in 1999 won a National Magazine Award. He wrote Newsweek's election specials in 1996, 2000, 2004 (winner for Newsweek of the National Magazine Award), and 2008. He appears on many TV and radio talk shows, including Meet the Press and Morning Joe. Thomas has taught writing and journalism at Harvard and Princeton, where, from 2007 to 2014, he was Ferris Professor of Journalism.
Praise For…
---
"She rose to fame as the first female Supreme Court justice, but during her twenty-four years on the bench she became even more: the most powerful justice of our era.  With practical instincts and sharp intellect, she crafted sensible compromises on affirmative action, abortion, and other contentious issues.  She embodies the virtues we sorely lack today: decency, honesty, balance, and a nobility worn lightly. With amazing access to her journals and papers, Evan Thomas has written a brilliant and riveting book that captures her principles and personality.  She's a hero for our time, and this is the biography for our time."—Walter Isaacson, #1 New York Times bestselling author of Leonardo Da Vinci

"An unvarnished and psychologically intuitive look at the nation's first female Supreme Court justice . . . Thomas breaks new ground with First . . . unlike every other volume written about O'Connor."—NPR

"A great storyteller has found his greatest subject in trailblazer Sandra Day O'Connor. Evan Thomas has written one of the most insightful and thoroughly captivating biographies I have ever read: A clear and compelling illumination of Sandra Day O'Connor's unique voice and place in American history is told through her remarkable life's journey from a rancher's daughter to the first woman appointed to the highest court in the land."—Doris Kearns Goodwin, Pulitzer Prize–winning author of Leadership: In Turbulent Times

"A vivid, humane, and inspiring portrait of an extraordinary woman and how she both reflected and shaped an era."—Drew Faust, president emerita, Harvard University
 
"Before Ruth Bader Ginsburg, there was Sandra Day O'Connor, and O'Connor's story has everything. In Evan Thomas's brilliant and compelling book, we are given an intimate and gripping account of a pioneering American woman successfully seeking to thrive in an all-male world. Noble and flawed, selfless and ambitious, Justice O'Connor sought a more perfect union amid imperfect choices. Written with fluidity and grace, Thomas's book is required reading for anyone interested in the role of women in America, the course of justice, and the nature of our politics. This is a landmark achievement about an American original that's also, blessedly, a delight to read."—Jon Meacham, Pulitzer Prize–winning author of The Soul of America

"This highly readable biography shows the underlying factors motivating O'Connor both on and off the Court. It will have considerable popular appeal to both political scientists and historians, as well as general readers interested in how America's government interacts with the public in resolving political issues related to the law."—Library Journal (starred review) 

"By thoroughly mining O'Connor's archives and interviewing the trail-blazing justice's family, friends, and former clerks, the award-winning Thomas creates a fully realized portrait of this heroic, stalwart, and pioneering lawyer and Supreme Court justice, whose contributions to American jurisprudence are legendary and enduring."—Booklist
Upcoming Events
No upcoming events available