Barbara the Slut and Other People (Paperback)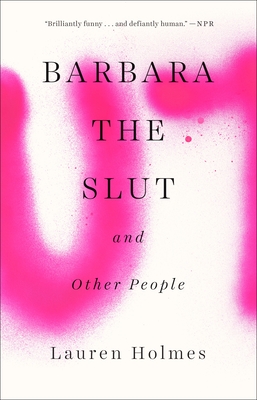 $17.00
Email or call for price/availability
Staff Reviews
---
"Slut" is like the horse of many colors. Some use it as a way to demean women, but some women find the slang empowering. It's hard to say, given that the definition of a "slut" varies greatly and each woman is different. In Barbara the Slut and Other People, Holmes explores the many shapes and lives the word "slut" can take and transform. The characters are real and their experiences hysterical. I would recommend this collection of short stories to any woman who likes to read!
- Clare
— From
Clare's Recs
August 2015 Indie Next List
---
"Holmes' stories are powerful, sweet, tenderhearted, and honest depictions of contemporary experience. She navigates the thresholds of relationships, sex, and life-changing choices with poignancy and authenticity, bringing lovably imperfect characters to life through their struggles to negotiate the demands of culture as they strive to balance personal decisions and desires. A bold and beautiful debut."
— Sarah Nemire (E), Bookbug, Kalamazoo, MI
Description
---
"Holmes trains a precise lens on the millennial generation's mixed bag of manners, mores, and machinations… In [these] beautifully brazen stories, worlds collide in fresh, imaginative ways." —Elle 

A fresh, honest, and darkly funny debut collection about family, friends, and lovers, and the flaws that make us most human.

Fearless, candid, and incredibly funny, Lauren Holmes is a newcomer who writes like a master. She tackles eros and intimacy with a deceptively light touch, a keen awareness of how their nervous systems tangle and sometimes short-circuit, and a genius for revealing our most vulnerable, spirited selves.
 
In "Desert Hearts," a woman takes a job selling sex toys in San Francisco rather than embark on the law career she pursued only for the sake of her father. In "Pearl and the Swiss Guy Fall in Love," a woman realizes she much prefers the company of her pit bull—and herself—to the neurotic foreign fling who won't decamp from her apartment. In "How Am I Supposed to Talk to You?" a daughter hauls a suitcase of lingerie to Mexico for her flighty, estranged mother to resell there, wondering whether her personal mission—to come out—is worth the same effort. And in "Barbara the Slut," a young woman with an autistic brother, a Princeton acceptance letter, and a love of sex navigates her high school's toxic, slut-shaming culture with open eyes.
 
With heart, sass, and pitch-perfect characters, Barbara the Slut is a head-turning debut from a writer with a limitless career before her.
About the Author
---
Lauren Holmes grew up in upstate New York. She received a BA from Wellesley College and an MFA from Hunter College, where she was a Hertog Fellow and a teaching fellow. Her work has appeared in Granta, where she was a 2014 New Voice, and in Guernica. Holmes lives in New York's Hudson Valley.
Praise For…
---
Praise for Lauren Holmes: 

Named "A Book You Need to Read in 2015" by the Village Voice and a Best Book of the Spring and Summer by Buzzfeed, Esquire, Bustle, L Magazine, Ms. Magazine, Ploughshares, iBooks, and WBUR 

Named "A Best Book of the Year" by Publisher's Weekly 


"There isn't a bad part of
Barbara the Slut
… The stories in this book are sometimes painful, sometimes brilliantly funny, and most often both; Holmes can find the humor in the worst situations, and the tragedy in the most glorious moments. But it's her characters that carry the stories — imperfect, difficult and defiantly human."—NPR
"Like the best work of Mary Gaitskill,
Barbara the Slut
turns our obsession with sex on its head in order to study it, dissect it, weaponize it. Case in point: the promiscuous high school student who finds the word slut painted on her locker. Where other young women might buckle at the slur, she likes the color of paint the vandals used. She refuses to be shamed, and her refusal is empowering, rare, and well, pretty sexy." —
Esquire
, Summer Reading List 
"Thank God someone is writing like this." —
Jezebel
"Holmes trains a precise lens on the millennial generation's mixed bag of manners, mores, and machinations… In [these] beautifully brazen stories, worlds collide in fresh, imaginative ways." —
Elle


"[Holmes'] narrators are often women who are funny, imaginative, and yes, a little slutty. But like in the case of Amy Schumer's comedic persona, sluttiness isn't necessarily a bad thing… And in a time when most women don't truly own the word 'slut', much less claim it, the book is a rallying cry… as Holmes's Barbara quickly figures out, 'slut' is only a word. And Holmes's collection dares us to treat it that way: in the pages of her book and beyond." —
The Washington Post
"Holmes writes poignant stories about imperfect people in her debut collection…Living can be a distressingly solitary activity and Holmes…explores this hard truth with unexpected poignancy, subtlety and humor… [She] could write from the point of view of a Tupperware bowl and it would be compelling." —
Chicago Tribune
"Excellent…Holmes's is a welcome, refreshing new voice in American fiction." —
Boston Globe


"Holmes' stories are powerful, sweet, tenderhearted and honest depictions of contemporary experience. She navigates the thresholds of relationships, sex and life-changing choices with poignancy and authenticity, bringing lovably imperfect characters to life." —
Columbus Dispatch

"Holmes brings a cool, stripped-down wit to Slut's 10 shaggy-dog stories…loopy, deadpan and accidentally-on-purpose profound" —
Entertainment Weekly
"With polished prose and a wry dash of Miranda July-esque humor, Holmes has created a normcore cast of characters who stumble to communicate, withhold their true identities, and soldier through the slow letdowns of life…Like a shot of espresso, these tales awaken the senses and invigorate the daily grind."—
O, The Oprah Magazine


"[
Barbara
] comically skewer[s] contemporary culture." -
Time
"Lauren Holmes's characters are so recognizable, you'll forget it's fiction." —
Marie Claire

"Simultaneously hilarious and deeply insightful. Written with honesty and heart, Holmes's characters are delightfully real." —Buzzfeed, "Awesome New Books to Read This Summer"
"From start to finish, this funny debut collection slyly shines a light on taboo without taking itself too seriously. Holmes' frank prose sings with simplicity… Each story swells with the possibility of youth, and together these stories question whether that possibility can coexist alongside an authenticity of the heart." —
Ploughshares


"A highly entertaining short story collection with just a killer cover." —
Bookriot
"[Barbara] might be the literary answer to certain HBO shows... [but] Holmes's voice—at once sharp and empathetic—is all her own." —
Conde Nast Traveler


"This is not your typical English professor-curated collection of short stories…Holmes's writing is sharp but not scathing, and she captures her story's sympathetic underdogs with humor, wit and heart."—
Skidmore News

"Holmes hits it out of the park with her first short-story collection, a modern and funny look at the world through the eyes of everyone."—
Pure Wow


"Youthful and vibrant, each one of these 10 short stories crackles with energy and a love of language that never descends into navel-gazing indulgence… If someone uses the word 'millennial' as a negative when discussing this collection, ignore him: Holmes is a writer you're going to be hearing about for decades to come." —
Barnes & Noble

"Super funny...honest [and] open" —Bustle
"A funny, thoughtful debut." —LitHub
"Smart and funny and startlingly poignant, this book does an especially good job of highlighting how underwhelming reality can be compared with one's imagination." —
San Francisco Chronicle
"In these 10 stories, Holmes shows she is uninterested in what people think of her, and more interested in painting portraits of very different women who all have one thing in common: they just want to be loved… It turns out the old saying is wrong; some books you can judge by their covers."
–
BUST, "OMG AMAZING" rating
"The best short story collection we've read all summer." -PureWow
"Holmes, with an admirable balance of humor and poignancy, tackles the choices we make in love, work, family and friendships… The characters in
Barbara the Slut
are likable, believable people, struggling to find themselves and the key to happiness…a fresh and thought-provoking read." -Bookbrowse, Editor's Choice
"Hilarious and insightful." -
Metro

"A dark, hilarious, and refreshingly honest collection of stories about love, intimacy, family, sex, coming out, and the slut-shaming culture that makes these experiences all the more difficult. Lauren Holmes's genius debut exposes the vulnerabilities of women, as well as their bravery and relatability."—
Pop Sugar
"These stories delight… Holmes has a sharp eye for the complexities of family dynamics...[and] captures something real and beautiful in this book." -Mediander
"At times funny, at times crushingly sad, Holmes's book proves her to be a talented writer of fiction, asking readers to engage not only with who they are as individuals but also the world they live in together." -
Shelf Awareness
"First-time author Lauren Holmes has an uncanny way of breathing life into the fictional characters in her debut." — "21 New Authors You Need to Know," Refinery 29
"Holmes has delivered an intelligent and humorous alternative to the standard summer romance novel." –
Seattle Refined
"The stories are freaking fantastic. Holmes has this way of capturing truths that make you feel a little uncomfortable but they are so compelling and so funny… Absolutely brilliant."—Bookriot
"Holmes' deceptively breezy stories focus on women grappling with sexual politics and make important observations about challenges faced by millennials…Holmes…has a keen ear for dialogue and a sharp memory for the high school life." —
Book Page


"Easy-to-like stories about subjects you'd encounter on the Cut — teenage girls, dogs, relationships, sex." —NYMag's
The Cut
, "A Book We're Reading Right Now"
"This sharp, sensitive…unwaveringly perceptive debut collection…is eminently sympathetic, insightful, and revealing, never regarding its characters with ridicule or derision, always with respect and compassion…The people limned here are people we know. They may even be the people we are. A first-rate first collection from a young writer you'll want to hear more from." —
Kirkus Reviews
(starred) 
"Holmes' 10 tales smartly explore her characters' varied internalizations and vulnerabilities in light of the heavy influence of appearances and unwise attachments."—
Booklist
"An eminently readable debut from a fresh voice…Holmes writes with ease and humor…wonderful."—
Publisher's Weekly
(starred) 
"A
Granta
2014 New Voice, Holmes explores a range of intriguing scenarios in this first collection… a writer to watch" —
Library Journal
"It's been a long time since I've read a collection of stories in one sitting—but this is a book I couldn't put down. . . . An outstanding debut, refreshing and exciting, complex and really funny." —Nathan Englander, author of
What We Talk About When We Talk About Anne Frank
"A wonderful debut from a profound and sassy new voice . . . Lauren Holmes is a young writer of great talent, and
Barbara the Slut
is a book that marks the beginning of a long literary career." —Colum McCann, author of 
Let the Great World Spin
"Lauren Holmes's stories are hilarious and moving and powerful and all that other stuff people seem to like in books, but that's not why they stay with you. They stay with you because she's articulating with devastating precision something unique about the strange times we live in, something unique about who we are and who we become as we navigate our way through the demands of our friends, our families, our culture, and the wild, unreasonable desires that well up within us." —Phil Klay,  author of Redeployment

"An astonishing collection—one of those rare books that manages to be both poignant and hilarious. The last time we had a debut this big was Junot Díaz with Drown. Holmes is a major talent." —Philipp Meyer, author of The Son

"Without so much as a beat out of place, Barbara the Slut and Other People is a collection of piercing insight, sublime wit and powerful depth.  These stories will make you fall in love, break your heart, and build you up again.  Lauren Holmes's writing is taut and scalpel-like and like the best practitioners, sends pulses into the dark underwaters of the human psyche while we sit at the page and listen for the echo." —Bill Cheng, author of Southern Cross the Dog

"Lauren Holmes writes my all-time favorite brand of fiction: Deceptively Simple. These are stories that you can't help but inhale, then trouble over gloriously after they've ended." —Alicia Erian, author of Towelhead