Meddling Kids: A Novel (Hardcover)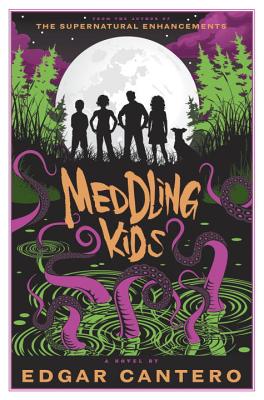 Staff Reviews
---
In summer 1977 four children stumble into a traumatizing event that is impossible to process. The four, 13 years later, are unable to move beyond their disastrous summer. Andy, once the tomboy of the group, brings them back to their hometown hoping to put their demons to rest. Kerri is the genius turned college dropout; athletic Pete died from an overdose years ago; and nerdy Nate, recently in a mental hospital, still hears Pete talking. Their return is noticed by an unseen malevolence, which leads to a terrifying showdown with powerful and dark forces. What first appears to be deference to the predictable child detective trope swiftly becomes a darker and more terrifying story of necromancy and the hard truths of adulthood. Here is the mash-up fans of Scooby Doo and H.P. Lovecraft have been waiting for.
- Cindy
— From
Cindy's Recs 2
Description
---
NEW YORK TIMES BESTSELLER

"Freaky pleasure...it scratches a nostalgic itch for those who grew up on Saturday morning Scooby-Doo cartoons and sugar-bombed breakfast cereal"
--USA Today

"Deliriously wild, funny and imaginative. Cantero is an original voice."
--Charles Yu, author of How to Live in a Science Fictional Universe

With raucous humor and brilliantly orchestrated mayhem, Meddling Kids subverts teen detective archetypes like the Hardy Boys, the Famous Five, and Scooby-Doo, and delivers an exuberant and wickedly entertaining celebration of horror, love, friendship, and many-tentacled, interdimensional demon spawn.

SUMMER 1977. The Blyton Summer Detective Club (of Blyton Hills, a small mining town in Oregon's Zoinx River Valley) solved their final mystery and unmasked the elusive Sleepy Lake monster—another low-life fortune hunter trying to get his dirty hands on the legendary riches hidden in Deboën Mansion. And he would have gotten away with it too, if it weren't for those meddling kids.

1990. The former detectives have grown up and apart, each haunted by disturbing memories of their final night in the old haunted house. There are too many strange, half-remembered encounters and events that cannot be dismissed or explained away by a guy in a mask. And Andy, the once intrepid tomboy now wanted in two states, is tired of running from her demons. She needs answers. To find them she will need Kerri, the one-time kid genius and budding biologist, now drinking her ghosts away in New York with Tim, an excitable Weimaraner descended from the original canine member of the club. They will also have to get Nate, the horror nerd currently residing in an asylum in Arkham, Massachusetts. Luckily Nate has not lost contact with Peter, the handsome jock turned movie star who was once their team leader . . . which is remarkable, considering Peter has been dead for years.

The time has come to get the team back together, face their fears, and find out what actually happened all those years ago at Sleepy Lake. It's their only chance to end the nightmares and, perhaps, save the world.

A nostalgic and subversive trip rife with sly nods to H. P. Lovecraft and pop culture, Edgar Cantero's Meddling Kids is a strikingly original and dazzling reminder of the fun and adventure we can discover at the heart of our favorite stories, no matter how old we get.
About the Author
---
Edgar Cantero is a writer and cartoonist born in Barcelona in 1981. Meddling Kids is his second novel in English; his first was The Supernatural Enhancements.
Praise For…
---
"Edgar Cantero's enjoyably batty Meddling Kids unleashes enough freaky pleasure for
 horror fiends. Even more impressively, it scratches a nostalgic itch for those who grew up on Saturday morning Scooby-Doo cartoons and sugar-bombed breakfast cereal . . . The story proves as cleverly witty as its title. It's filled with high jinks both terrorizing and hilarious, and it goes down as smoothly as an old-school Scooby Snack."
--USA Today (***½ out of four stars)

"Why You'll Like It: While this is obviously an ode to Scooby Doo, Supernatural fans will love the idea of a group of mystery hunters coming back together after leaving the business, and grappling with the realities of both."
--Bustle

"A pop-culture gem, a hipster cartoon with surprising depths."
--Toronto Star

"This is a novel to read for style and for Cantero's clever allusions to other stories and media.…Anyone who finds the triangle formed by Scooby-Doo, Lovecraft and Buffy the Vampire Slayer a cozy place to be, here's your beach book."
-- Milwaukee Journal-Sentinel

"Deliriously wild, funny and imaginative. Cantero is an original voice."
--Charles Yu, author of How to Live in a Science Fictional Universe

"If you loved Scooby-Doo as a kid (or as an adult — no judgment), you'll love this sly take on the genre."
--New York Post

"MEDDLING KIDS is a fun romp of horror, humor, adventure, and a surprising amount of heart. If you're looking for something that feels both comfortably familiar and exciting and new, add this book to your summer reading list."
--Aintitcool.com

"Meddling Kids is an utterly charming paean to a squad of animated teen detectives who fought down the crime wave of early-70's America. Amidst the homages and playfulness, it then transforms into a rip-roaring page turner. Throughout, Cantero plays with form and language in ways that are both mischievous and delightful. This would be impressive enough coming from a native of the country, decade, and language that the book operates in. As Cantero is none of the above, it's flat-out masterful."
—Rob Reid, New York Times bestselling author of Year Zero

"A crackerjack story which is pure gold for fans of the great Saturday morning cartoons of the seventies and eighties...Prepare to read through this fun novel with a grin and hands gripping the pages."
--Cemetery Dance

"Zoinks! For Scooby-Doo fans, Spanish writer Edgar Cantero's novel "Meddling Kids" is Scooby-meets-H.P. Lovecraft — either humor-laced horror or horror-laced humor. Cantero does justice to both sides of that equation...For anyone who finds the triangle formed by Scooby-Doo, Lovecraft and Buffy the Vampire Slayer a cozy place to be, here's your beach book."
--San Antonio Express-News

"For any adult who grew up with "Scooby Doo," but also for those who love horror stories. There are real monsters in this book, not just bad guys in costumes."
--The News-Gazette

"Here is the mash-up fans of Scooby Doo and H.P. Lovecraft have been waiting for...Childhood pop culture references, witty banter and an unpredictable plot make this a compelling mystery/horror story."
--Shelf Awareness (Starred review)

"Cantero's imagination is vivid, and the story, once it gains speed, continues at a breakneck, roller-coaster pace. He plays with form and style, which makes for an enjoyable romp. Fans of modern takes on Lovecraft and those that are nostalgic for the cartoons of their childhood will like this novel, which is also a sure bet for your Stranger Things-themed display."
--Booklist (Starred review)

"Cantero (The Supernatural Enhancements) will win readers' hearts with this goofy, smart love letter to childhood adventure and enduring friendship...The prose is fast and funny, and the quirky, lovable characters are absolutely irresistible."
--Publishers Weekly

"The Scooby-Doo Gang all grown up—but more diverse—and taking on real Lovecraftian horror. It's laugh out loud. Truly scary. And full of great characters. Cantero hits the sweet spot by unfolding the action in a beautifully cinematic fashion."
--The Times

"An adventure that meshes Lovecraft-like elements with an eco-catastrophe thriller, providing chills and chuckles in equal measure."
--Financial Times