Bluebeard: A Novel (Paperback)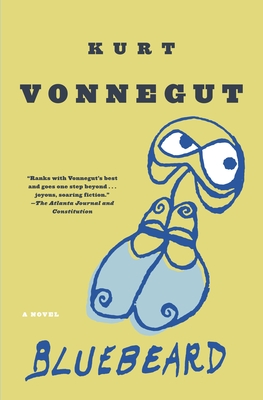 Staff Reviews
---
This novel is a cynical yet heartwarming story about an elderly ex-painter telling his fictional autobiography to a voluptuous young woman, when all he wants is it be left alone. Vonnegut's only true love story, but a platonic love between two characters learning things about themselves while learning things about each other. If you have not read any Vonnegut this is a wonderful place to start!
-Zach
— From
Zach's Recs
Description
---
"Ranks with Vonnegut's best and goes one step beyond . . . joyous, soaring fiction."—The Atlanta Journal and Constitution

Broad humor and bitter irony collide in this fictional autobiography of Rabo Karabekian, who, at age seventy-one, wants to be left alone on his Long Island estate with the secret he has locked inside his potato barn. But then a voluptuous young widow badgers Rabo into telling his life story—and Vonnegut in turn tells us the plain, heart-hammering truth about man's careless fancy to create or destroy what he loves.

Praise for Bluebeard

"Vonnegut is at his edifying best."—The Philadelphia Inquirer

"The quicksilver mind of Vonnegut is at it again. . . . He displays all his talents—satire, irony, ridicule, slapstick, and even a shaggy dog story of epic proportions."—The Cincinnati Post
 
"[Kurt Vonnegut is] a voice you can trust to keep poking holes in the social fabric."—San Francisco Chronicle
 
"It has the qualities of classic Bosch and Slaughterhouse Vonnegut. . . . Bluebeard is uncommonly feisty."—USA Today
 
"Is Bluebeard good? Yes! . . . This is vintage Vonnegut—good wine from his best grapes."—The Detroit News
 
"A joyride . . . Vonnegut is more fascinated and puzzled than angered by the human stupidities and contradictions he discerns so keenly. So hop in his rumble seat. As you whiz along, what you observe may provide some new perspectives."—Kansas City Star
About the Author
---
Kurt Vonnegut's humor, satiric voice, and incomparable imagination first captured America's attention in The Sirens of Titan in 1959 and established him as "a true artist" (The New York Times) with Cat's Cradle in 1963. He was, as Graham Greene declared, "one of the best living American writers." Mr. Vonnegut passed away in April 2007.
Praise For…
---
"Ranks with Vonnegut's best and goes one step beyond . . . joyous, soaring fiction."—The Atlanta Journal and Constitution

"Vonnegut is at his edifying best."—The Philadelphia Inquirer

"The quicksilver mind of Vonnegut is at it again. . . . He displays all his talents—satire, irony, ridicule, slapstick, and even a shaggy dog story of epic proportions."—The Cincinnati Post
 
"[Kurt Vonnegut is] a voice you can trust to keep poking holes in the social fabric."—San Francisco Chronicle
 
"It has the qualities of classic Bosch and Slaughterhouse Vonnegut. . . . Bluebeard is uncommonly feisty."—USA Today
 
"Is Bluebeard good? Yes! . . . This is vintage Vonnegut—good wine from his best grapes."—The Detroit News
 
"A joyride . . . Vonnegut is more fascinated and puzzled than angered by the human stupidities and contradictions he discerns so keenly. So hop in his rumble seat. As you whiz along, what you observe may provide some new perspectives."—Kansas City Star