Foxfire 4: Fiddle Making, Spring Houses, Horse Trading, Sassafras Tea, Berry Buckets, Gardening (Foxfire Series #4) (Paperback)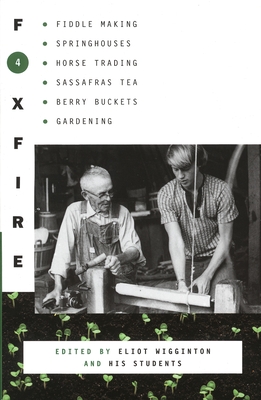 $22.00

Usually Ships in 1-5 Days
Description
---
Fiddle making, spring houses, horse trading, sassafras tea, berry buckets, gardening, and other affairs of plain living are the topics covered in this volume.
About the Author
---
The Foxfire Fund is a nonprofit organization that has been preserving and fostering Appalachian culture through its bestselling series of anthologies, starting with The Foxfire Book in the early 1970s. The Foxfire Museum and Heritage Center is located in Mountain City, Georgia. www.foxfire.org

Eliot Wigginton is an American oral historian and teacher who developed the Foxfire Project. In the 1960s he began a writing project with his students at Rabun Gap Nacoochee School that collected stories from local residents in Rabun County, Georgia, in southern Appalachia. By 1967, these stories were being published as a quarterly magazine called Foxfire, which gained a national following for its chronicling of rural life in Appalachia and other local histories. The first anthology of Foxfire articles was published in 1972. Wigginton was named Georgia Teacher of the Year in 1986 and received a MacArthur Fellowship in 1989.