Miss Subways: A Novel (Hardcover)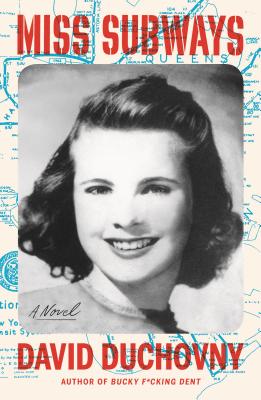 Staff Reviews
---
Emer and her boyfriend, Con, live together in New York City. One night she's visited by a mysterious man who foretells Con's death unless she strikes a bargain to save his life. She agrees to let her memories of their life together be wiped in order to save him. Emer soon begins to move around the city trying to piece together an increasingly fragmented reality. She discovers mythological beings living in the city, and her contact with them forces a confrontation about the meaning of life and love. Deities of every culture and belief system present themselves to Emer as if their collective wisdom is what she needs to solve the puzzle: Is she experiencing real life or a hallucination? Is there a difference? She doesn't know, and neither does the reader, lending an elusive, mystical feel to this highly original, multi-layered story.
- Cindy
— From
Cindy's Recs 2
Description
---
New York Times bestselling author David Duchovny reimagines the Irish mythological figure of Emer in Miss Subways, a darkly comic fantasy love story set in New York City.

Emer is just a woman living in New York City who takes the subway, buys ice cream from the bodega on the corner, has writerly aspirations, and lives with her boyfriend, Con. But is this life she lives the only path she's on? Taking inspiration from the myth of Emer and Cuchulain and featuring an all-star cast of mythical figures from all over the world, David Duchovny's darkly funny fantasy novel Miss Subways is one woman's trippy, mystical journey down parallel tracks of time and love. On the way, Emer will battle natural and supernatural forces to find her true voice, power, and destiny. A fairy tale of love lost and regained, Miss Subways is also a love letter to the city that enchants us all: New York.

"Fresh off a new season of the evergreen X-Files and a late-blooming music career, the multitalented Duchovny (Bucky F*cking Dent, 2016, etc.) offers a spooky domestic drama that is equal parts Nick Hornby and Neil Gaiman... An entertaining, postmodern fairy tale that tests the boundaries of love and fate." - Kirkus Reviews
About the Author
---
David Duchovny is a television, stage, and screen actor, as well as a screenwriter and director.
Praise For…
---
"David Duchovny's Miss Subways is a marvelous, riveting novel on the mystical nature of love. In it, a scarred, unlikely girl becomes a teacher in all meanings of the word. You want to cheer when she takes charge of her destiny. Unputdownable!" —Mary Karr

"Miss Subways is a charming and wildly inventive comic novel—fantastical and sardonic; rich in myth, literature, philosophy and satire. David Duchovny has such love for his title character and for her New York that the affection fairly rumbles beneath the book's riotous surface."—Jess Walter, author of Beautiful Ruins
Upcoming Events
No upcoming events available