Mrs. Mohr Goes Missing (A Zofia Turbotynska Mystery) (Paperback)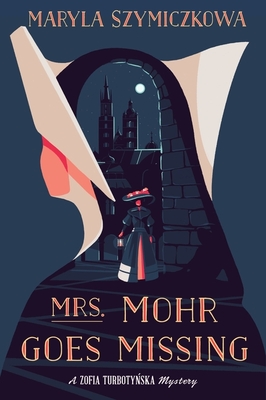 Staff Reviews
---
Zofia Turbotynska is bored. As the wife of a professor in Cracow in 1893, she has certain gender and social expectations that she is at pains to exceed. She's also smart, energetic and, honestly, a busybody with no place to turn for intellectual stimulation. So when multiple residents of a local nursing home are found dead, Zofia is sure a murderer is on the premises and throws herself into investigating. Even though the local police department dismisses her discoveries, and her husband is blissfully clueless about what she does during the day, Zofia eagerly channels her intelligence and affinity for gossip into sleuthing. Set within the captivating atmosphere of Polish bourgeois society in the 1890s, this is an altogether entertaining and original whodunit. If Miss Marple were 40 years younger you'd have some idea of Zofia's determination and charm. This is the first of what are hopefully many Zofia Turbotynska mysteries!
-Cindy
— From
Cindy's Recs
Description
---
"An ingenious marriage of comedy and crime." —Olga Tokarczuk, Nobel laureate and author of Man Booker International Prize winner Flights

A charming, witty, and deliciously spooky mystery, inspired by the work of Agatha Christie, following a bored socialite who becomes Cracow's most cunning amateur sleuth.

Cracow, 1893. Zofia Turbotyńska—professor's wife and socialite—is bored at home, with little to do but plan a charity auction sponsored by the wealthy residents of a local nursing home and the nuns who work there.

But when one of those residents is found dead, Zofia finds a calling: solving crimes. Ridiculed by the police, who have declared the deaths of natural cause, she starts her own murder investigation, unbeknownst to anyone but her loyal cook Franciszka and one reluctant nun. With her husband blissfully unaware of her secret, Zofia remakes herself into Cracow's greatest—or at the very least, most surprising—amateur detective.

Full of period character and charm, Mrs. Mohr Goes Missing proves that everyone is capable of finding their passion in life, however unlikely it may seem.
About the Author
---
MARYLA SZYMICZKOWA is a pseudonym for partners Jacek Dehnel and Piotr Tarczyński. Dehnel is the award-winning author of numerous books, including the novels Lala and Saturn and the poetry collection Aperture. Tarczyński is a translator and historian. They live in Warsaw, and the Zofia Turbotyńska Mysteries are their first shared project.

ANTONIA LLOYD-JONES is a prize-winning translator of Polish literature. She has translated works by many of Poland's leading contemporary novelists, including Nobel laureate Olga Tokarczuk, as well as authors of reportage, crime fiction, poetry, screenplays, essays, and children's books. She is a mentor for the WCN Emerging Translator Mentorship Programme, and from 2015-17 was co-chair of the Translators Association.
Praise For…
---
Long-listed for the European Bank for Reconstruction and Development Literature Prize
Praise for Mrs. Mohr Goes Missing
"[An] exceptional debut and series launch... The translation showcases the novel's deliciously ironic voice. Fans who like colorful locales and tongue-in-cheek mysteries will eagerly await Zofia's next outing."
—Publishers Weekly, STARRED review

"A delightful debut whodunit written with abundant wit and flair. Pray for a series to follow."
—Kirkus Reviews

"Mrs. Mohr Goes Missing an amazing Polish mystery—fascinating for its vivid portrayal of 1893 Krakow, its witty style, and for Zofia, its irrepressible sleuth. The Daily Mail called it ingenious—we call this new author 'marvelous!'"
—Charles Todd, New York Times-bestselling author of the Inspector Ian Rutledge mysteries

"An ingenious marriage of comedy and crime." —Olga Tokarczuk, Nobel laureate and author of Man Booker International Prize winner Flights

"The unravelling of the mystery is ingenious and takes us through a social setting quivering with snobberies and dos and don'ts. It's fun and sparky and the glimpse of turn-of-the-century Polish manners and mores is beguiling." —Daily Mail

"Charming and moreish…Conjures up the delightful books of Dorothy L Sayers . . . The perfect diversion for annoying commutes." —Stylist

"While there is a strong whiff of Agatha Christie in this book, it is much more than a pastiche . . . The story fuses high comedy with an evocative portrayal of the period . . . Ably translated." —Sunday Express

"Highly comical . . . An extremely absorbing novel." —Kurzojady