The Door of No Return (The Door of No Return series #1) (Hardcover)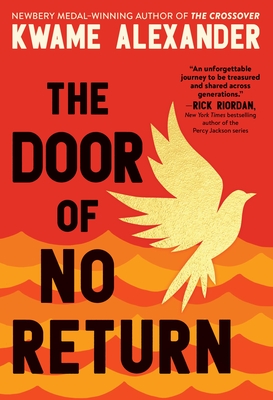 $17.99

Usually Ships in 1-5 Days
September/October 2022 Kids Indie Next List
---
"The early part of this book could serve as the story of Kofi, an 11 year old boy in Upper Kwanta. When the story becomes one of enslavement, it's felt viscerally. Kwame Alexander will break your heart in half the words other authors might need."
— Gwen Papp, Literati Bookstore, Ann Arbor, MI
Description
---
An instant #1 New York Times Bestseller!

From the Newbery Medal and Coretta Scott King Award winning author Kwame Alexander, comes the first book in a searing, breathtaking trilogy that tells the story of a boy, a village, and the epic odyssey of an African family.

In his village in Upper Kwanta, 11-year-old Kofi loves his family, playing oware with his grandfather and swimming in the river Offin. He's warned though, to never go to the river at night.  His brother tells him "There are things about the water you do not know. " Like what? Kofi asks. "The beasts." His brother answers.
 
One fateful night, the unthinkable happens and in a flash, Kofi's world turns upside down. Kofi soon ends up in a fight for his life and what happens next will send him on a harrowing journey across land and sea, and away from everything he loves.
 
This spellbinding novel by the author of The Crossover and Booked will take you on an unforgettable adventure that will open your eyes and break your heart.
 
The Door of No Return is an excellent choice for independent reading, sharing in the classroom, book groups, and homeschooling.
About the Author
---
Kwame Alexander is a poet, educator, publisher, and New York Times bestselling author of 35 books, including the Caldecott Medal and Newbery Honor-winning picture book The Undefeated, illustrated by Kadir Nelson, the Newbery medal-winning novel, The Crossover, Becoming Muhammad Ali, co-authored with James Patterson, Booked, which was longlisted for the National Book Award, Rebound, Solo and Swing.  A regular contributor to NPR's Morning Edition, Kwame is also the recipient of numerous other awards, including the Lee Bennett Hopkins Poetry Award, the Coretta Scott King Author Honor, three NAACP Image Award Nominations, and the 2017 Inaugural Pat Conroy Legacy Award. In 2018, he founded the publishing imprint Versify, and opened the Barbara E. Alexander Memorial Library and Health Clinic in Ghana, as a part of LEAP for Ghana, an international literacy program he co-founded. He is the writer and executive producer of the forthcoming Crossover TV series on Disney plus. He invites you to visit him at kwamealexander.com on IG and Twitter @kwamealexander.
Praise For…
---
Praise for The Door of No Return:

A #1 Amazon Best Book of the Year
A #1 Indie Next List Pick
A Chicago Public Library Best Book of 2022 Pick
Shelf Awareness Best Book of 2022 Pick
Center for the Study of Multicultural Children's Literature Best Book Pick
Horn Book Best Book of 2022 Pick

"Absolutely spellbinding: Kwame Alexander weaves together storytelling, poetry, music and history like no one else can. An unforgettable journey to be treasured and shared across generations."—Rick Riordan, NYT bestselling author of the Percy Jackson series

"Alexander lures you in and endears you to Kofi and his world in a way that has you fully invested in time and place...His writing is at once vivid and simple, lyrical and surgical, expressive and exacting, comforting and cutting. It hypnotizes and sobers, hypnotizes and sobers, in a rhythm as timeless as the talking drum that carries the tales of his people: Kum-PUM PUM! Kum-PUM PUM! I wish this book existed alongside Huckleberry Finn when I was in school. I am glad it exists now!" —Lupita Nyong'o, Actress and Author

"Alexander turns the nightmare of the past into an epic story for all times and all people. The Door of No Return is a breathtaking, heartbreaking triumph and an instant classic."—Lev Grossman, NYT bestselling author of The Magicians

"As I read The Door of No Return I kept thinking about how transformative it would have been to have had a book like this when I was young. This novel moves a devastating history beyond the realm of abstraction and fills our imaginations with characters who laugh, cry, love, learn, worry, and wonder. I will be thinking about this book for a long time. Kwame Alexander has given us a gift."—Clint Smith, #1 NYT bestselling author of How the Word Is Passed

*"A riveting, not-to-be-missed trilogy opener that will leave readers invested in what is to come."—Kirkus Reviews, starred review

*"Alexander weaves a breathtaking tale that is ripe with the juxtaposing emotions that come with any coming-of-age story. Through Alexander's verse, readers are reminded of the beauty and unbounded richness that Ghana and her people have to offer...Alexander has written a masterpiece, one that powerfully and truthfully gives agency to the Black voices of the past. Profound and important reading."—Booklist, starred review

*"Themes of conflict within and between cultures, and of war and peace, hate and love, despair and hope are deeply embedded throughout this gripping tale."—Horn Book, starred review

*"Interweaving moments of joyful exuberance and heartbreaking sadness via sensate lines by turns sweet and stinging, Alexander's sweeping novel conjures a captivating, resonant world of African tradition, life, and ancestral wisdom."—Publishers Weekly, starred review

*"Alexander weaves a breathtaking tale that is ripe with the juxtaposing emotions that come with any coming-of-age story. Through Alexander's verse, readers are reminded of the beauty and unbounded richness that Ghana and her people have to offer."—School & Library Journal, starred review

*"An 11-year-old Ghanian boy must fight for his survival in this gut-wrenching historical novel in verse from Newbery Medalist Kwame Alexander."—Shelf Awareness, starred review

*"Every person who was enslaved came from a home with a rich history and unique culture. Their stories have been told in excellent books for young readers, including Sharon Draper's Copper Sun; Nikole Hannah-Jones, Renée Watson and Nikkolas Smith's The 1619 Project: Born on the Water; and Ashley Bryan's Freedom Over Me. But many more are needed, and there's no one better to add to this vital canon than Alexander."—Bookpage, starred review

*"This tragic realism culminates in a climactic enactment of "The People Could Fly" that will feel triumphant for readers who recognize and embrace the allusion and will offer an introduction to those unfamiliar with that work."—BCCB, starred review