August Kitko and the Mechas from Space (The Starmetal Symphony #1) (Paperback)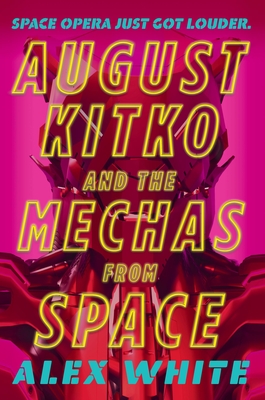 Staff Reviews
---
Jazz pianist Gus Kitko plans to spend the final moments of his life playing piano at a massive end of the world party. Just as the impact of the Vanguards (super strong evil mechs meant to destroy humanity) is about to take place and put an end to humanity, Gus is saved by one of the Vanguards and they become one. Gus and the Vanguard work together with a specialized group of trader Vanguards to save humanity! This first instalment of The Starmetal Symphony is a fun space opera full of action and romance.
-Zach
— From
Zach's Recs
Description
---
When an army of giant robot AIs threatens to devastate Earth, a virtuoso pianist becomes humanity's last hope in this bold, lightning-paced, technicolor space opera series from the author of A Big Ship at the Edge of the Universe.
Jazz pianist Gus Kitko expected to spend his final moments on Earth playing piano at the greatest goodbye party of all time, and maybe kissing rockstar Ardent Violet, before the last of humanity is wiped out forever by the Vanguards--ultra-powerful robots from the dark heart of space, hell-bent on destroying humanity for reasons none can divine.
But when the Vanguards arrive, the unthinkable happens--the mecha that should be killing Gus instead saves him. Suddenly, Gus's swan song becomes humanity's encore, as he is chosen to join a small group of traitorous Vanguards and their pilots dedicated to saving humanity. 
About the Author
---
Alex White was born and raised in the American South. They take photos, write music, and spend hours on YouTube watching other people blacksmith. They value challenging and subversive writing, but they'll settle for a good time.
Alex lives in the shadow of Huntsville, Alabama's rockets with their spouse, son, two dogs and a cat named Grim. Favored pastimes include Legos and racecars. They take their whiskey neat and their espresso black.
Praise For…
---
"[A] music-infused space opera smash.... Music forms the backbone of this beautifully balanced, artistically rendered space opera, which expertly combines well-executed action with witty banter between charming characters. Fans of epic, feel-good sci-fi are sure to be wowed."—
Publishers Weekly
"Emotionally complex and mind-blisteringly weird, this novel kept surprising me at every turn. It's like a beautifully-orchestrated disco space battle, and I never wanted it to end"
 —
Annalee Newitz, Lambda Award winning author of Autonomous and Four Lost Cities: A Secret History of the Urban Age
"White balances the elements of this space opera brilliantly in this first book in a new series, from the emotional connection between the characters to the huge plot pieces. The connection between Greymalkin and August, especially, is hilarious and endearing; they are two unlikely heroes that the reader will root for."—
Booklist
"A brilliant firework display of apocalypses, giant robots, gore, glam, and a nonbinary music icon —this is mecha absolutely masterfully done."—
Everina Maxwell, author of Winter's Orbit
"
Evangelion
 by way of David Bowie – visceral, big-hearted, and ready to rock your world"—
Emily Skrutskie, author of Bonds of Brass
"For fans of music, mayhem, and truly epic space opera, 
August Kitko and the Mechas from Space
 is a wild ride that starts with the end of the world and only gets better from there"
 —
K.B. Wagers, author of Hold Fast Through the Fire
"
August Kitko and the Mechas from Space
 bursts with action, humor, and heart. Amid a dire and tragic setting of humanity facing apocalyptic extinction, it's a hopeful shot of joyous adrenaline and whimsy...White uses lively characterization and pacing – with an effective blend of space opera, mecha anime, and music – to tell a story of human strength, weakness, and resilience."—
Fantasy Book Critic
"
August Kitko
 is a fantastic tale that plays like a jazz fusion anime in the mind's eye. Combining giant robot action, with a joyously crafted queer romance, the story is big, sweeping, and compulsive reading."—
Mind Reels
A clever fusion of magic and sci-fi makes this book a total blast. I was hooked from page one.
 —
V. E. Schwab, New York Times bestselling author on A Big Ship at the Edge of the Universe
White's tale of justice and vengeance sends the series out on a high note with electrifying action sequences, depth, and darkness. This thrilling finale will have readers on the edges of their seats.—
Publishers Weekly (starred) on The Worst of All Possible Worlds
Fast, compelling, epic in scope, with stakes that just keep getting higher and tension that mounts and mounts to the breaking point.
A Bad Deal for the Whole Galaxy
is excellently paced, with engaging characters and worldbuilding that crams as much fun cool shit in as seems remotely possible. It's a deeply enjoyable ride. I recommend it and its predecessor heartily.—
Locus on A Bad Deal for the Whole Galaxy
[T]his ambitious start...combines magic and space opera to create a fast-paced adventure with charismatic characters and formidable enemies in a realized universe of greed and power."
 —
Booklist on A Big Ship at the Edge of the Universe
"A unique space opera blending sci-fi and music ... Action sequences are intense, but the witty banter between characters who are brimming with charm and humor steal the show. An intriguing mash-up of music, sci-fi action, and feel-good emotional connections across the stars."
—
AudioFile
"The book is exactly as much fun as that sounds … the glint, gleam, grit, and glam of the thing simply—and there's really only one fitting verb here—
rocks
."—
Strange Horizons