The Winter Station (Hardcover)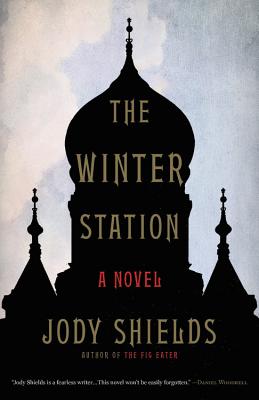 Staff Reviews
---
The Winter Station is an atmospheric thriller based on actual events during the 1910-11 Great Manchurian Plague. Kharbin, China during the Russian occupation of 1910 is important for international trade, and its train station is China's busiest. The Baron, a wealthy Russian physician deployed as medical commissioner, investigates a disturbing number of dead bodies near the rail station. He eventually realizes that plague has arrived and its reach is widening. With little understanding of how to treat it, the Baron fights bureaucracy and western medicine to keep the plague from following the trains and infecting the rest of the world. Shields writes movingly of the human cost of this forgotten epidemic. She reminds us that, to an imperceptible enemy, the lines dividing nations are only a mark on a map.
- Cindy
— From
Cindy's Recs 2
Description
---
An aristocratic Russian doctor races to contain a deadly plague in an outpost city in Manchuria - before it spreads to the rest of the world.

1910: people are mysteriously dying at an alarming rate in the Russian-ruled city of Kharbin, a major railway outpost in Northern China. Strangely, some of the dead bodies vanish before they can be identified.

During a dangerously cold winter in a city gripped by fear, the Baron, a wealthy Russian aristocrat and the city's medical commissioner, is determined to stop this mysterious plague. Battling local customs, an occupying army, and a brutal epidemic with no name, the Baron is torn between duty and compassion, between Western medical science and respect for Chinese tradition. His allies include a French doctor, a black marketeer, and a charismatic Chinese dwarf. His greatest refuge is the intimacy he shares with his young Chinese wife - but she has secrets of her own.

Based on a true story that has been lost to history, set during the last days of imperial Russia, The Winter Station is a richly textured and brilliant novel about mortality, fear and love.
About the Author
---
Jody Shields is the author of two novels, the bestselling novel The Fig Eater and The Crimson Portrait. Formerly Design Editor of the New York Times magazine and a Contributing Editor of American Vogue, Shields is also a screenwriter and a collected artist. She is a resident of New York City.
Praise For…
---
"Based on real
events, this is the kind of fiction that fascinates with its power to evoke
time and place, morality and mortality, tenderness and love."—Bookpage

"Shields writes
movingly of the human cost of this forgotten epidemic. She reminds us that, to
an imperceptible enemy, the lines dividing nations are only a mark on a
map."—Shelf-Awareness

"Shields presents her
novel with the detail and fluidity of the early Russian novelists... THE WINTER
STATION offers much for readers of historical fiction."—Bookreporter

"Like a delicate
calligraphy, Jody Shields paints a starkly moving picture of our elusive
humanity, as ephemeral and beautiful as snowflakes falling from a frozen sky.
The images are unforgettable, and the book highly recommended."—Historical Novel Society

"Shields has
transformed the scantly recorded memories of the Manchurian plague into a rich
narrative, factual in its details and vitalized by the moral complexities of
prejudice, politics, honor and responsibility."—Lincoln Star Journal

"If you love
historical fiction, you don't want to miss The Winter Station.... the perfect
moody book to read on a chilly winter day."—Hello Giggles

"What Shields evokes
in her greatest passages...is a fear that pours from the temples: the recognition
that we can be set against a swift and terrible force majeure."—Paste Magazine

"The true gift of this remarkable
novel is its lyrical portrayal of the Baron and his few allies...Shields (The
Fig Eater) joins the high echelon of Boris Akunin and Sam Eastland in
re-creating a time when science and reason vie with superstition and prejudice
to protect the helpless subjects of the tsar."—Library Journal

"The slow growth of
the horror and helplessness of those who can really see the crises growing is
beautifully drawn"—STAT News

"[Readers will be] captivated by the
atmosphere and the various, essay-like ruminations, which evoke Peter Høeg's Smilla's
Sense of Snow (1993)."—Booklist

"The
outbreak of plague in Manchuria during the winter of 1910-1911 tests a Russian
doctor's physical, emotional, and moral stamina in Shields's
accomplished third novel...This fictional portrait of a man caught in a
real-life medical crisis proves affecting and timely in its exploration of
conflicts between cultures and classes, ambition and mortality, science and
politics."—Publisher's Weekly

"The Winter Station is a novel set in
Russia that to its great credit reads like a Russian novel. Set early in the
20th Century, it is a story of courage, love, resilience, loyalty during a
season of absolute terror. Jody Shields is a fearless writer, with the
integrity of a worthy creator, and this novel won't be easily forgotten."—Daniel Woodrell, author of The Maid's Version and Winter's Bone

"In The
Winter Station, Shields imagines a new season, one vibrant with intrigue,
longing, and history... This book bears a distinct pulse; its beats are tender,
evocative, and full of mystery."—Affinity Konar, author of Mischling

"perfect for readers
of historical fiction and lovers of thrillers."—Signature
Upcoming Events
Event date:
Tue, 03/31/2020 - 10:30am