Strange the Dreamer (Paperback)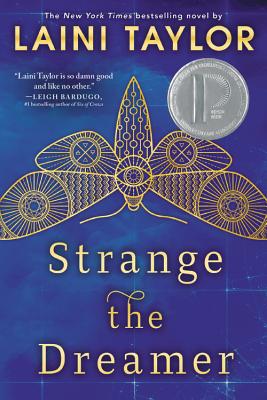 Staff Reviews
---
The poetic writing of this novel will remind readers why they fell so deeply in love with reading. Strange the Dreamer is an utterly strange and beautiful novel that follows the journey of an orphan who lives buried in the old tomes of the library he considers a home, never expecting be a part of a story himself. Lazlo Strange always dreamt of the city of Weep, the mythical land where alchemists turn lead into gold and gods walk among man. Obsessed with this fantastical place, Lazlo dedicates years to researching the lost city, long considered a fairytale to others. Unbeknownst to him, he is the hero of this story, and will be offered the chance to not only visit Weep, but also save it. This is a rich world, full of magic, love, and nightmares, with the age-old tale of the dreamer who wanted to be so much more woven throughout this masterpiece.
- Kiera
— From
Kiera's Recs
Description
---
From National Book Award finalist Laini Taylor comes an epic fantasy about a mythic lost city and its dark past.

The dream chooses the dreamer, not the other way around--and Lazlo Strange, war orphan and junior librarian, has always feared that his dream chose poorly. Since he was just five years old, he's been obsessed with the mythic lost city of Weep, but it would take someone bolder than he to cross half the world in search of it. Then a stunning opportunity presents itself, in the form of a hero called the Godslayer and a band of legendary warriors, and he has to seize his chance or lose his dream forever.

What happened in Weep two hundred years ago to cut it off from the rest of the world? And who is the blue-skinned goddess who appears in Lazlo's dreams?

In this sweeping and breathtaking novel by National Book Award finalist Laini Taylor, author of the New York Times bestselling Daughter of Smoke & Bone trilogy, the shadow of the past is as real as the ghosts who haunt the citadel of murdered gods. Fall into a mythical world of dread and wonder, moths and nightmares, love and carnage.

The answers await in Weep.
About the Author
---
Laini Taylor is the New York Times bestselling author of the Printz Honor Book Strange the Dreamer and its sequel, Muse of Nightmares. Taylor is also the author of the global sensation the Daughter of Smoke & Bone trilogy and the companion novella Night of Cake & Puppets. Taylor's other works include the Dreamdark books: Blackbringer and Silksinger, and the National Book Award finalist Lips Touch: Three Times. She lives in Portland, Oregon, with her husband, illustrator Jim Di Bartolo, and their daughter, Clementine. Her website is lainitaylor.com.
Praise For…
---
A NPR Best Book
A Goodreads Best YA Fantasy and Science Fiction Nominee
A Boston Globe Best YA Book
A Popcrush Best Young Adult Book
A Popsugar Best Book for Women
A Booklist Editors' Choice
An A.V. Club Favorite Book
A Tor Top Young Adult SFF Book
A Christian Science Monitor Best Book
A B&N Teen Blog Best Young Adult Book
A Forever Young Adult Best Book
"Laini Taylor is so damn good and like no other."—
Leigh Bardugo, #1 New York Times bestselling author of Six of Crows and Crooked Kingdom
p.p1 {margin: 0.0px 0.0px 0.0px 0.0px; font: 13.0px Times}
"Laini Taylor set my imagination on fire so hard that it spontaneously combusted...This is the kind of story that paves dreams."—
p.p1 {margin: 0.0px 0.0px 0.0px 0.0px; font: 13.0px Times} Roshani Chokshi, author of The Star Touched Queen
p.p1 {margin: 0.0px 0.0px 0.0px 0.0px; font: 13.0px Times}
"[A] must-read YA!"—
p.p1 {margin: 0.0px 0.0px 0.0px 0.0px; font: 13.0px Times} USA Today
p.p1 {margin: 0.0px 0.0px 0.0px 0.0px; font: 13.0px Times}
"Part adventure novel, part romance and part exercise in epic myth-building, it's gorgeously written and full of surprises."—
NPR
p.p1 {margin: 0.0px 0.0px 0.0px 0.0px; font: 13.0px Times}
"[One of] our favorite books of the year!"—
p.p1 {margin: 0.0px 0.0px 0.0px 0.0px; font: 13.0px Times} Popsugar
p.p1 {margin: 0.0px 0.0px 0.0px 0.0px; font: 13.0px Times}
"An epic world of gods, moths and nightmares; a world where the dream chooses the dreamer."—
p.p1 {margin: 0.0px 0.0px 0.0px 0.0px; font: 13.0px Times} Justine Magazine
p.p1 {margin: 0.0px 0.0px 0.0px 0.0px; font: 13.0px Times}
"Weighty as a nightmare and as transportive as the finest of fantasy, Laini Taylor's new novel will leave readers with miracles on their minds."—
p.p1 {margin: 0.0px 0.0px 0.0px 0.0px; font: 13.0px Times} Hypable
* "Gorgeously written in language simultaneously dark, lush, and enchanting, the book will leave readers eager for the next."—
Publishers Weekly, starred review
* "...Characters are carefully, exquisitely crafted, the writing is achingly lovely, and the world is utterly real...This is a thing to be savored."—
Booklist, starred review
* "[
Strange the Dreamer
] has all the rich, evocative imagery and complex world-building typical of Taylor's best work. This outstanding fantasy is a must-purchase for all YA collections."—
School Library Journal, starred review
* "The luxurious prose and complex world building invites and rewards slow reading....Here readers will find characters to love and ones to hate and, ultimately, a world to be willingly lost in."—
Bulletin of the Center for Children's Books
* [Readers] will dive into Taylor's gorgeous prose and brilliant imagery and relish this story about dreams, love, monsters, gods, ghosts, war, and alchemy. Told from alternating points of view, this is complex but satisfying, a story about cultures meeting and clashing."—
VOYA, starred review
"[Laini Taylor] has spun another mesmerizing tale with captivating twists and turns, an array of intriguing characters, strange and beautiful language, and baroque flourishes of the imagination."—
Horn Book
"Lovers of intricate worldbuilding and feverish romance will find this enthralling."—
Kirkus Reviews
Upcoming Events
No upcoming events available