The Witches: Salem, 1692 (Hardcover)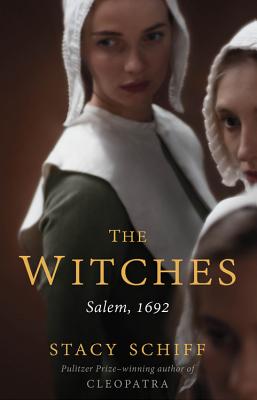 Staff Reviews
---
Darkness, illness, accidents, and unfamiliar phenomena - what else could account for these, if not witchcraft? At a time when the specter of Hell was a daily reminder in the Puritan life, it was easy to believe that all unfortunate events were caused by something - or someone - evil. Thorough yet elegant, Schiff's writing from the point of view of the villagers, especially the adolescent girls, immerses the reader in late 17th century New England. Hysteria, ignorance, revenge, righteousness, suppressed emotions - all converge into horrifying injustices. You'll never think about the Salem witch trials the same after reading this fascinating history.
- Cindy
— From
Cindy's Recs 2
Description
---
The Pulitzer Prize-winning author of Cleopatra, the #1 national bestseller, unpacks the mystery of the Salem Witch Trials.

It began in 1692, over an exceptionally raw Massachusetts winter, when a minister's daughter began to scream and convulse. It ended less than a year later, but not before 19 men and women had been hanged and an elderly man crushed to death.

The panic spread quickly, involving the most educated men and prominent politicians in the colony. Neighbors accused neighbors, parents and children each other. Aside from suffrage, the Salem Witch Trials represent the only moment when women played the central role in American history. In curious ways, the trials would shape the future republic.

As psychologically thrilling as it is historically seminal, The Witches is Stacy Schiff's account of this fantastical story -- the first great American mystery unveiled fully for the first time by one of our most acclaimed historians.
About the Author
---
Stacy Schiff is the author of Véra (Mrs. Vladimir Nabokov), winner of the Pulitzer Prize; Saint-Exupéry, a Pulitzer Prize finalist; A Great Improvisation: Franklin, France, and the Birth of America, winner of the George Washington Book Prize and the Ambassador Book Award; Cleopatra: A Life, winner of the PEN/Jacqueline Bograd Weld Award for biography; and The Witches: Salem, 1692.

Schiff has received fellowships from the Guggenheim Foundation, the National Endowment for the Humanities, the American Academy of Arts and Letters, and the Center for Scholars and Writers at the New York Public Library. A member of the American Academy of Arts and Letters and named a Chevalier des Arts et Lettres by the French Government, she lives in New York City.
Praise For…
---
A USA Today "Top 10 Books of 2015" pick

A Time Magazine "Top 10 Nonfiction Books of 2015" pick

An NPR "Great Reads for 2015" pick

A Boston Globe "Best Nonfiction Books of 2015" pick

A Washington Post "Notable Nonfiction of 2015" pick

A San Francisco Chronicle "Best Books of 2015" pick

An O, The Oprah Magazine "16 Books To Start 2016 Right" pick

A Bloomberg "Best Books of 2015" pick

A Chicago Tribune "The Best Books of 2015" pick

A Houston Chronicle "15 Notable Books of 2015" pick

A Bustle "11 Nonfiction Books By Women Every Book Club Should Read" pick

A BookPage "Best Books of 2015" pick—-

"An intoxicating brew of history.... It's unsettling, gripping stuff, rendered in the burnished sentences of a master prose stylist. Every page of The Witches isalmost scandalously pleasurable." (4 Stars)
--Kevin Nance, USA Today

"Dazzling.... Schiff is at her best, infusing a historical event with as much life, mystery, and tragedy of any novelist."
--Nicole Jones, Vanity Fair

"[A] beautiful retelling of one of our ugliest tales."
--John Freeman, Boston Globe

"Her research is impeccable; no previous writer has scoured the documentary record to such great depth. Moreover, she has mastered the entire history of early New England.... This enables her to provide deep, richly textured background for specific moments and situations. Indeed, readers may experience her narrative as a virtual tour of the time and place. Her recreation of courtroom scenes is especially convincing; one feels, almost palpably, their pulsating mix of words, actions, and-above all-emotion.... Schiff's skills as a writer extend to such formal matters as structure, pacing, and point of view. The various parts of the narrative unfold in apparently seamless succession.... Now and again she inhabits her characters, yet she maintains throughout the authority of an omniscient narrator who is firmly in charge."
--John Demos, New York Review of Books

"Haunting.... The first major commercial nonfiction book on the subject in decades. By sidestepping most of the popular theories, The Witches stands out from much of the existing literature."
--Alexandra Alter, New York Times—-

"Investigated with relish."
--O, The Oprah Magazine

"History in the hands of Stacy Schiff is invariably full of life, light, shadow, surprise, clarity of insight, and so it is again and then some in her latest work, The Witches. Few writers combine as she does superb scholarship and an exceptional gift for language with amazing reach and agility of mind. This is a superb book."
--David McCullough, Pulitzer Prize-winning author of The Wright Brothers

"Sharp-eyed, discriminating, crisp."
--Hilary Mantel, Times Literary Supplement

"Schiff brings to bear a sensibility as different from the Puritans' as can be imagined: gentle, ironic, broadly empathetic, with a keen eye for humor and nuance.... Thanks to this, and to Schiff's narrative gifts, the present-day reader flits above New England's smoky chimneys and thatched rooftops.... It is a wizardry of a sort--in a flash of brimstone, a whole world made wondrously visible."
--Adam Goodheart, Atlantic

"Though the Salem story has been told many times, Schiff's splendidly written account brings it thrillingly to life."
--Dan Cryer, San Francisco Chronicle

"Brilliantly assured.... Schiff's account is better written than any I have encountered."
--John Wilson, Christianity Today

"Masterful.... Schiff painstakingly reconstructs not just the events of 1692 but the world that birthed them."
--Elizabeth Hand, Los Angeles Times

"Haunting.... Schiff makes the dark an inviting place to linger."
--Maureen Corrigan, NPR—-

"This brilliant, compelling book is the most meticulously researched, effectively constructed, and beautifully written work I have read in a very long time. It is dramatic history and also a timeless thriller: who-or what-drove a New England town to madness three centuries ago, resulting in the deaths of nineteen men and women for 'witchcraft?' The answers are astonishing."
--Robert K. Massie, Pulitzer Prize-winning author of Catherine the Great

"Riveting nonfiction."
--Entertainment Weekly

"Brings a fresh eye to the worst misogynist atrocity in American history."
--Megan O'Grady, Vogue.com

"[Schiff] brings her gifts to the confusions of Salem, piecing together a dramatic narrative from disparate and often tersely unrevealing sources."
--Ruth Franklin, Harper's

"Once again Stacy Schiff dazzles us. The Witches is a must read for anyone intrigued by this baffling and horrifying chapter from American's Puritan past. What Schiff uncovers is mesmerizing and shocking. Her meticulous research and lyrical writing lay bare an injustice that we should never forget--lest we repeat it."
--Patricia Cornwell, author of Depraved Heart

"Absorbing and enlightening."
--Nancy Klingener, Miami Herald—-

"Thoroughly researched and written in a compelling style."
--Bloomberg

"No stone [is] left unturned.... Schiff recreates the most chill-inducing, finger-pointing months in American history."
--Steph Opitz, Marie Claire

"Fantastic."
--Kristin Van Ogtrop, Time

"Brilliant.... Schiff writes movingly as well as wittily; this is a work of riveting storytelling as well as an authoritative history."
--Lara Feigel, Guardian

"Masterly.... Alternately absurd and heart-rending."
--Economist

"Schiff's The Witches isan indelibly etched morality fable, the best recounting of the Salem hysteria in modern times. Clear-eyed and sympathetic, Schiff makes the complex seem simple, crafting a taut narrative that takes in religion, politics, folklore, and the intricate texture of daily life in Massachusetts Bay, with particular attention to those 'wonder-working' women and girls who chose this moment to blow apart the Puritan utopia they'd helped to found. It's all here in one devilish, oracular book."
--Megan Marshall, Pulitzer Prize-winning author of Margaret Fuller

"The fullest and finest story ever told about Salem in 1692, and no one else could tell it with the otherworldly flair of Stacy Schiff."
--Joseph J. Ellis, Pulitzer Prize-winning author of The Quartet

"Compulsively readable."
--Nancy Rommelmann, Newsday

"With fresh feminist insight, Schiff plumbs the mindset of late-seventeenth-century New England to explain our original 'national crackup.'"
--Louisa Kamps, Elle—-

"[Schiff] reconstructs the time and place in remarkable detail.... [And] skillfully re-creates the visceral tensions at the heart of everyday life in the Massachusetts Bay settlement."
--Peter Manseau, Bookforum

"Spellbinding."
--Lizzie Crocker, Daily Beast

"Schiff honors her subject's gaping documentary absences by fleshing out the actual world in which the witch panic took root and thrived, showing the full range of factors that influenced its participants...with gratifying vividness."
--Kate Bolick, New Republic

"[A] must-read."
--Joanna Coles, Cosmopolitan

"Schiff delves into the archive to remind us that one of the most notorious miscarriages of justice in American history was also one of the few moments which featured regular women-not queens, not goddesses, but mothers and wives and daughters and servants-at the very center of drastic historical change. A wrenching, unforgettable read."
--Katherine Howe, author of The Physick Book of Deliverance Dane

"Diabolically entertaining."
--Judith Stone, More

"A comprehensive illumination of an unsettling period of American history that continues to captivate our cultural imagination."
--Nick Romeo, Christian Science Monitor—-

"A gripping, meticulously researched, sumptuously written history of the Salem witch trials and their historical context."
--Kevin Nance, Chicago Tribune

"A masterful modern reassessment of the deadly and tragic mania that gripped the colonies in the late 17th century."
--Globe and Mail—-

"A vivid investigation of the original American nightmare. Schiff brilliantly teases apart the strands of myth and history. In an age when superstition remains a vibrant and dangerous force, her book is, alas, also relevant."
--Russell Shorto, author of The Island at the Center of the World

"From Cleopatra to the Salem coven. From intelligent rule to hysteria, mayhem, and murder. The Salem witch trials offer Stacy Schiff an out-sized drama that seized Americans' imaginations more than 300 years ago. All of Schiff's books demonstrate her rigor as a historian and her dexterity as a stylist. The Witches proves she has something else: the instincts of a thriller writer. This book needs a seat belt."
--Kathryn Harrison, author of Joan of Arc

"Brilliant, exceptionally well-researched."
--Alden Mudge, BookPage

"Schiff writes with conviction and a strong sense of narrative, elevating the dry snooze of history to a new level. It's an endlessly fascinating read."
--Megan Reynolds, Gawker

"Compulsively readable.... The best-selling Schiff never disappoints."
--Margaret Flanagan, Booklist (Starred Review)

"[Schiff] writes with such spirit and agility that to read her books is something like watching a great dancer. To say that her latest book is fascinating and insightful is hardly sufficient. It's brilliant from start to finish."
--David McCullough, Favorite Reads of 2015—-

"Enchanting. Out of the shadows of the past come excitable young girls, pompous ministers, abusive judges, grieving parents, and angry neighbors, all of them caught up in a terrifying process that seemed to have no end: discovering who among them deserved death for being in league with Satan. The Witches is as close as we will ever come to understanding what happened in and around Salem in 1692. Courtrooms, streets, churches, farm yards, taverns, bedrooms-all became theater-like places where anger, anxiety, sorrow, and tragedy are entangled. An astonishing achievement."
--David D. Hall, Bartlett Research Professor of New England Church History, Harvard University

"Schiff's books are based on serious scholarly research, yet they're conveyed in bright, accessible prose... She displays the same sharp intelligence and eclectic interests that distinguish her body of work."
--Publishers Weekly,"Most Anticipated Books of the Fall"

"Schiff has beautifully combined remarkable story telling with historical accuracy and insight. She has opened up important new avenues for Salem scholarship."
--Bernard Rosenthal, editor of Records of the Salem Witch-Hunt—-
Coverage from NPR