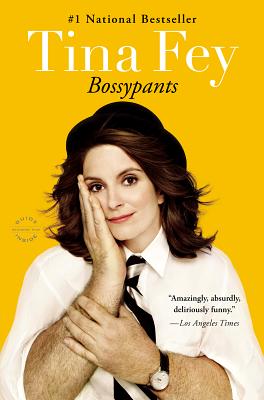 Staff Reviews
---
You've had a rough day. Or you have a bad cold. Or you're just in a foul mood. What you need is to spend some time with your new best friend – who just happens to be the wittiest, most observant, most generous, and most outspoken person you've ever met. Now's the time to read "Bossypants"! Actually, any time is time to read "Bossypants." Tina (you'll feel like you're on a first-name basis, too) is the best antidote to, well, just about anything.
- Banna
— From
Banna's Recs
Description
---
Spirited and whip-smart, these laugh-out-loud autobiographical essays are "a masterpiece" from the Emmy Award-winning actress and comedy writer known for 30 Rock, Mean Girls, and SNL (Sunday Telegraph).
Before Liz Lemon, before "Weekend Update," before "Sarah Palin," Tina Fey was just a young girl with a dream: a recurring stress dream that she was being chased through a local airport by her middle-school gym teacher. She also had a dream that one day she would be a comedian on TV.
She has seen both these dreams come true.
At last, Tina Fey's story can be told. From her youthful days as a vicious nerd to her tour of duty on Saturday Night Live; from her passionately halfhearted pursuit of physical beauty to her life as a mother eating things off the floor; from her one-sided college romance to her nearly fatal honeymoon -- from the beginning of this paragraph to this final sentence.
Tina Fey reveals all, and proves what we've always suspected: you're no one until someone calls you bossy.
(Includes Special, Never-Before-Solicited Opinions on Breastfeeding, Princesses, Photoshop, the Electoral Process, and Italian Rum Cake!)
About the Author
---
Tina Fey lives in Denver with her ferret, Jacoby.
Praise For…
---
Once in a generation a woman comes along who changes everything. Tina Fey is not that woman, but she met that woman once and acted weird around her.

PRAISE FOR TINA FEY:

"You'd be really pretty if you lost weight."—College Boyfriend, 1990

"Tina Fey is an ugly, pear-shaped, overrated troll."—The Internet

"Mommy, where are my pretzels?"—Tracy Morgan

ADVANCE PRAISE FOR BOSSYPANTS:

"I hope that's not really the cover. That's really going to hurt sales."—Don Fey, Father of Tina Fey

"Absolutely delicious!"—A Guy Who Eats Books

"Totally worth it."—Trees

"Do not print this glowing recommendation of Tina Fey's book until I've been dead a hundred years."—Mark Twain

"Hilarious and insightful. Laugh-out-loud funny -- oh no, a full moon. No! Arrgh! Get away from me! Save yourself!"—A Guy Turning into a Werewolf
Coverage from NPR