The Tin Pan Alley Song Encyclopedia (Hardcover)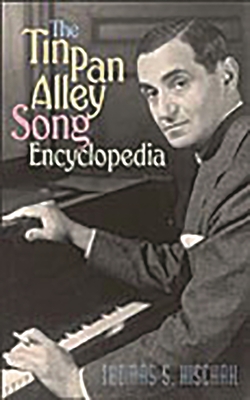 Email or call for price/availability
Description
---
Many books have been written about Tin Pan Alley--the colloquial name assigned to popular music before the advent of rock 'n' roll--yet little is available about the individual songs defining this enormously significant style of American music. This encyclopedia of over 1,200 songs written from the middle of the 19th century through the 1950s provides information and commentary on the music embraced by the American public.
No other single volume contains as much information on the subject. Author Thomas Hischak provides an exhaustive yet highly readable guide to the songs, their periods, their styles, and their performers. His study explains in layman's language how this music survived over time, and how it came to play such an influential role in American popular culture. Ideal for researchers and browsers alike, this encyclopedia is a long overdue examination of an American musical institution.
These songs were not written for stage or screen, but for saloons, singalongs, dance orchestras, sheet music, piano player rolls, recordings, nightclubs, concerts, and radio broadcasts. They colored the fabric of American popular culture for centuries, from early American folk songs to Civil War melodies, 19th-century sentimental ballads, minstrel songs, ragtime, and jazz.
About the Author
---
THOMAS S. HISCHAK is Professor of Theater at the State University of New York College, Cortland./eHe is the author of Film It with Music: An Enyclopedic Guide to the American Movie Musical (Greenwood, 2001), American Theatre: A Chronicle of Comedy and Drama, 1969-2000, The American Musical Film Song Enyclopedia (Greenwood, 1999), The Theatregoer's Almanac (Greenwood, 1997), The American Musical Theatre Song Enyclopedia (Greenwood, 1995), Stage It with Music: An Enyclopedic Guide to the American Musical Theatre (Greenwood, 1993), and Word Crazy: Broadway Lyricists from Cohan to Sondheim (Praeger, 1991).