Feeling Sorry for Celia: A Novel (Paperback)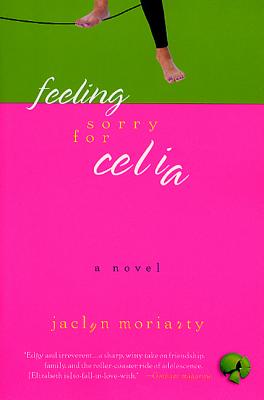 Staff Reviews
---
Elizabeth is a reluctant pen-pal with Christina, another teenager from a nearby school. Elizabeth has a rich, funny internal life (she gets imaginary memos from places like The Cold Hard Truth Association) along with a complicated external life. Her parents are divorced. Her mother mainly communicates through post-it notes, and her father shows up only periodically. More worrying is that her best friend Celia disappears for days at a time. Elizabeth slowly reveals her hopes and fears in her letters and is surprised at how well Christina comes to knows her. When Celia runs off and joins a circus, and when adults don't seem worried, Elizabeth, bolstered by Christina's long-distance advice, takes matters into her own hands. You'll quickly love funny, recognizable, plucky Elizabeth.
- Cindy
— From
Cindy's Recs 2
Description
---
A #1 Bestseller in Australia and Book Sense 76 Pick
Life is pretty complicated for Elizabeth Clarry. Her best friend Celia keeps disappearing, her absent father suddenly reappears, and her communication with her mother consists entirely of wacky notes left on the fridge. On top of everything else, because her English teacher wants to rekindle the "Joy of the Envelope," a Complete and Utter Stranger knows more about Elizabeth than anyone else.
But Elizabeth is on the verge of some major changes. She may lose her best friend, find a wonderful new friend, kiss the sexiest guy alive, and run in a marathon.
So much can happen in the time it takes to write a letter...
A #1 bestseller in Australia, this fabulous debut is a funny, touching, revealing story written entirely in the form of letters, messages, postcards—and bizarre missives from imaginary organizations like The Cold Hard Truth Association.
Feeling Sorry for Celia captures, with rare acuity, female friendship and the bonding and parting that occurs as we grow. Jaclyn Moriarty's hilariously candid novel shows that the roller coaster ride of being a teenager is every bit as fun as we remember—and every bit as harrowing.
About the Author
---
Jaclyn Moriarty's Feeling Sorry for Celia was nominated Best Book of the Year by the American Library Association, for YALSA's 2002 Quick Picks for Reluctant Young Readers, and for the 2002 Colorado Blue Spruce Young Adult Book Award. Jaclyn Moriarty lives in Sydney, Australia, where she works as a media and entertainment lawyer.
Praise For…
---
"Dare to steal a glance into Elizabeth's teen years....it feels a little like snooping into someone's personal drawers--but after a while, you'll relish the sneak peeks....Sassy Celia is no sorry sister." —Seventeen
"I absolutely loved Feeling Sorry for Celia and wish I had written it myself. It's so funny and so gripping --it describes perfectly the confusion and bittersweet hope of being a teenager. Written with exquisite deftness, immense warmth and humanity, it is the best 'feel-good' book I've read in a long time." —Marian Keyes, author of Last Chance Saloon and Rachel's Holiday
"Elizabeth is feisty and charming, and she and the novel are a delight...this tells of relationships and especially friendships in a humorous but insightful fashion." —Kliatt
"Highs and lows alternate as dizzily as adolescent hormone levels in this engaging Australian debut....Adolescence, zits and all, described with wit and empathy." —Kirkus Reviews
Upcoming Events
No upcoming events available