El millonario automático / The Automatic Millionaire: Un plan poderoso y sencillo para vivir y acabar rico (Paperback)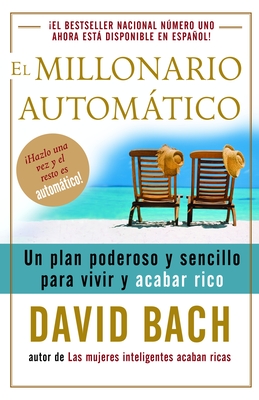 $16.00
Email or call for price/availability
Description
---
¿Quieres vivir rico y jubilarte aun más rico? ¿Lo bastante rico como para hacer lo que quieras cuando quieras? ¿Lo bastante rico como para tener un impacto positivo y ayudar a los demás?
Si la respuesta es "sí", deja entonces lo que estás haciendo y abre este libro. El millonario automático comienza con la impactante historia de una pareja típica estadounidense —él es administrador de bajo nivel y ella, esteticista– cuyo ingreso combinado nunca sobrepasa los $55.000 al año, aunque se las arreglan para ser propietarios de dos viviendas libres de deudas, pagar los gastos del college de sus hijos y retirarse a los 55 años con ahorros de más de 1 millón de dólares. A través de su historia ustedes conocerán el hecho sorprendente de que áno hay manera de hacerse rico con un presupuesto! Tienes que tener un plan que te pague a ti primero y que sea totalmente automático, un plan que automáticamente asegure tu futuro y pague por tu presente.
LO QUE DISTINGUE A EL MILLONARIO AUTOMÁTICO:
No necesitas ganar mucho dinero
No necesitas un presupuesto
No necesitas poder de voluntad
Puedes establecer el plan en una hora
El método fácil de Bach para asegurar que tu vida financiera sea automática trabaja mientras duermes. Todo lo que tienes que hacer es seguir este programa de un solo paso hacia la seguridad financiera...¡el resto es automático!
About the Author
---
David Bach es el autor de los bestsellers nacionales Las mujeres inteligentes acaban ricas, Smart Couples Finish Rich, The Finish Rich Workbook y 1001 Financial Words You Need to Know, y es presentador de su propio programa especial por la cadena PBS, "Smart Women Finish Rich". Los seminarios FinishRich (AcabaRico) de Bach, que son ahora los principales seminarios financieros en Norteamérica, han sido impartidos en más de 1.700 ciudades por miles de asesores financieros. Él es el Money Coach (Entrenador de Dinero) de America Online (Palabra clave en AOL: David Bach) y presentador de supropio programa de radio, el cual se transmite en toda la nación, Live Rich with David Bach (Vive rico con David Bach). Para leer selecciones de cualquiera de los libros de David Bach, por favor visite su sitio Web en www.finishrich.com.
Praise For…
---
"El millonario automático te da, paso a paso, todo lo que necesitas para asegurar tu futuro financiero. Cuando lo hagas al estilo de David Bach, el fracaso es imposible." —Jean Chatzky, Editor financiero, Today, de NBC