Nothing's Bad Luck: The Lives of Warren Zevon (Hardcover)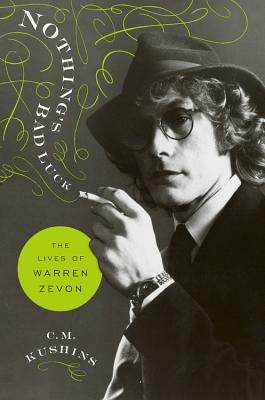 $29.00
Usually Ships in 1-5 Days
Staff Reviews
---
Near the end of his life, musician Warren Zevon was asked if his cancer taught him anything. "Enjoy every sandwich," he famously answered. Cheeky and merciless: this describes the man in this comprehensive biography. Zevon's growling voice, quirky, literate lyrics and classically influenced melodies became successful - strangely so for pop music. In a career that spanned more than 30 years, Zevon won Grammy awards and received widespread industry respect. Low points were many: years of addiction, which made him violent and unpredictable, a revolving door of wives and women and the mercurial tastes of the music industry that saw his work fall in and out of favor and contributed to his destructive behaviors. Kushins relies on extensive documentation, including hundreds of interviews. Readers are advised to have Zevon's extensive catalogue queued up to accompany this absorbing, compelling biography.
-Cindy
— From
Cindy's Recs 2
Description
---
Biography of legendary singer-songwriter Warren Zevon, spanning his nomadic youth and early recording career to his substance abuse, final album, and posthumous Grammy Awards

As is the case with so many musicians, the life of Warren Zevon was blessed with talent and opportunity yet also beset by tragedy and setbacks. Raised mostly by his mother with an occasional cameo from his gangster father, Warren had an affinity and talent for music at an early age. Taking to the piano and guitar almost instantly, he began imitating and soon creating songs at every opportunity. After an impromptu performance in the right place at the right time, a record deal landed on the lap of a teenager who was eager to set out on his own and make a name for himself. But of course, where fame is concerned, things are never quite so simple.

Drawing on original interviews with those closest to Zevon, including Crystal Zevon, Jackson Browne, Mitch Albom, Danny Goldberg, Barney Hoskyns, and Merle Ginsberg, Nothing's Bad Luck tells the story of one of rock's greatest talents. Journalist C.M. Kushins not only examines Zevon's troubled personal life and sophisticated, ever-changing musical style, but emphasizes the moments in which the two are inseparable, and ultimately paints Zevon as a hot-headed, literary, compelling, musical genius worthy of the same tier as that of Bob Dylan and Neil Young.

In Nothing's Bad Luck, Kushins at last gives Warren Zevon the serious, in-depth biographical treatment he deserves, making the life of this complex subject accessible to fans old and new for the very first time.
About the Author
---
C. M. Kushins has been a freelance journalist for over fifteen years. After graduating from SUNY Empire State College with a degree in communications he worked for MTV and the NAACP. His writing has appeared in numerous print and online publications, including High Times and Creative Nonfiction. A musician himself, Nothing's Bad Luck is his first book. He lives in New York.


Praise For…
---
Amazon, "Best Books of the Month in Biographies and Memoirs"
Amazon, "Best Books of the Year So Far in Humor and Entertainment"
"
Nothing's Bad Luck
is a riveting, definitive, and exhaustive account of the suspenseful and eventful life of one of rock's most gifted and eccentric singer-songwriters, and one of the best rock and roll biographies of the past decade."
—
Jay McInerney, author of Bright, Precious Days and Bright Lights, Big City
"The best of the books written thus far about Warren Zevon is
Nothing's Bad Luck
. C.M. Kushins follows the legendary singer/songwriter down streets mostly Californian and mean; like a good detective, he sifts through the relationships and songs left behind. What he uncovers makes for compelling reading."
—
Kevin Avery, author of Everything Is an Afterthought: The Life and Writings of Paul Nelson

"Kushins's energetic writing and his deep dive into Zevon's life and music offers a rounded and complete portrait of an enigmatic musician."—
Publishers Weekly, starred review
"This book will have you pulling out records, or launching your streaming app of choice, and digging into Zevon's exceptional catalog."—
Brooklyn Rail
"[A] deep, rewarding and insightful biography... an embarrassment of riches on the Excitable Boy, Mr. Bad Example, and a howling L.A. werewolf."—
The Houston Press
"[A] straightforward account, including a comprehensive discography, of Zevon's fascinating creative life."—
Booklist
"Chad Kushins has delivered a nuanced, in-depth, loving look at this complicated figure, one that helps cement him as one of the most complex and captivating musicians of our times."—
NPR.org
"[An] absorbing, compelling biography."—
Shelf Awareness
"[An] appreciative but honest biography."—
Milwaukee Journal-Sentinel
"[Kushins] captures the essence of the brooding yet wickedly
witty singer."—
Booklist
"[Chad Kushins is] articulate and authoritative in recounting [Zevon's life] precisely because he knows his subject inside out."—
All about Jazz
Upcoming Events
No upcoming events available