What Fresh Hell Is This?: Perimenopause, Menopause, Other Indignities, and You (Paperback)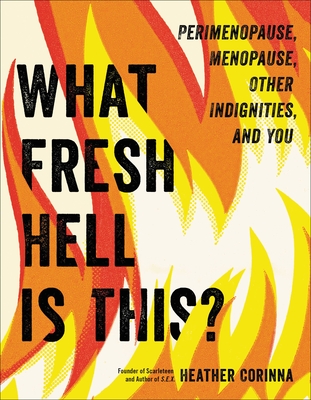 Description
---
What to Expect When You're Not Expected to Expect Anything Anymore
 
Did you see the title and flame-filled cover of this book, and did your weary, sweaty, confused, and exasperated soul scream, That one! That is the book for me!!? If so, I'd first like to extend my deepest sympathies, an ice pack, and some of these very helpful edibles. If it's three in the morning as you're reading this, as it may well be, you likely want those more than a book. But since I can't really give you the other stuff, I can at least offer you this book. . . .
 
Perimenopause and menopause experiences are as unique as all of us who move through them. While there's no one-size-fits-all, Heather Corinna tells you what can happen and what you can do to take care of yourself, all the while busting pernicious myths, offering real self-care tips—the kind that won't break the bank or your soul—and running the gamut from hot flashes to hormone therapy. With big-tent, practical, clear information and support, and inclusive of so many who have long been left out of the discussion—people with disabilities; queer, transgender, nonbinary, and other gender-diverse people; BIPOC; working class and other folks—What Fresh Hell Is This? is the cooling pillow and empathetic best friend to help you through the fire.
About the Author
---
Heather Corinna is a dedicated queer feminist activist, author, educator, artist, teacher, organizer and innovator. They are the founder and director of Scarleteen (www.scarleteen.com), the first inclusive and comprehensive sex, sexuality and relationships education online clearinghouse for young people, founded in 1998. Heather is also the author of S.E.X: The All-You-Need-To-Know Sexuality Guide to Get You Through Your Teens and Twenties, now in its second edition, Wait, What? A Comic Book Guide to Relationships, Bodies and Growing Up with Isabella Rotman, and was a contributing editor for the last edition of Our Bodies, Ourselves. Their award-winning work in sex and health education has received acclaim from The Woodhull Foundation, Ms. Magazine, BUST, Bitch, On Our Backs, The New York Times, The Society for the Scientific Study of Sexuality and the ACLU, and has appeared in publications ranging from Teen Vogue to Rewire News Group to The Guardian.

Heather is navigating middle age with as much grace as they can muster (spoiler: not much), and currently lives and works in their hometown of Chicago.

Archie Bongiovanni is a cartoonist and illustrator living in Minneapolis who has been featured in The New Yorker, The Nib, Vice and Autostraddle. They're the co-creator of A Quick And Easy Guide To They/Them Pronouns and their graphic novel, Grease Bats is an ongoing monthly comic on Autostraddle.com and was released as a printed collection in 2019. Archie's newest graphic novel, Mimosa is slated for publication in 2022 along with History Comics: Stonewall, their collaboration with A. Andrews. While their sex toy review podcast is dead (RIP), they've worked in the sex industry as a trained sexual health educator for five years through Minneapolis' favorite sex shop, The Smitten Kitten.
Praise For…
---
"I have loved Heather Corinna's work for twenty years, and What Fresh Hell Is This is their best yet. This book feels like your best friend talking to you over drinks–if your best friend is a shit-talking, patriarchy-smashing, intersectionally feminist professor of the history of reproductive medicine and also an endocrinologist with a side hustle as a comedian. Please read this book."—Emily Nagoski, PhD, New York Times bestselling author of Come As You Are

"What a relief—like a deep, calming exhale alongside a thunderous howl—to find this affirmation, information, solace, and nuanced and expansive guidance. What Fresh Hell Is This joins the small, but growing canon of work that is freeing these normal human experiences from the confining constructions of patriarchy and white supremacy so that maybe when my daughter is perimenopausal, everything contained here be common knowledge."—Mia Birdsong, author of How We Show Up

"Perimenopause is like being in a car trying to drive with the handbrake on. There is nothing to do but sit with it, screeching and all. Heather Corinna has written an essential driver's manual for that screeching car. Their book is like a beloved friend who reaches into the car and releases the handbrake for you. Drive! Go! Liberation lies ahead!"—Mona Eltahawy, author of The Seven Necessary Sins for Women and Girls

"We rely on Heather Corinna for clear, funny, inclusive, and zero-nonsense writing about sex and sexuality and it's no surprise they deliver again--brilliantly. What Fresh Hell Is This? contextualizes and investigates what we think we know about menopause before blowing our minds with a compendium of facts and observations that people facing menopause urgently need. A truly comprehensive, anti-shame, pro-embodiment resource for our time."—S. Bear Bergman, author, publisher of Flamingo Rampant, advice columnist, general-duty trans pride activist

"A frank and funny guide for those who haven't 'exactly been having a great time with perimenopause.' Full of heart—and answers—this guide will be a useful resource for readers new to perimenopause."—Publishers Weekly

"Good thing we have Heather Corinna with us along for the bumpy ride, like the whip-smart, sardonic friend you used to hang with at punk shows who's now armed with a metric ton of hard-earned wisdom about the endocrine system, advice for vasomotor freakouts and edibles. What Fresh Hell Is This?, is a brilliantly irreverent and disruptive addition to the menopause survival/triumph category. [Corinna] put their activist mojo to use in a guide that argues forcefully for new thinking about perimenopause, with a lot of laughs—and comics and Mad Libs!—along the way. Game changed."—BookPage

"A helpful overview, with up-to-date research and friendly advice on accepting one's new body."
 —Library Journal

"The Long-Overdue Inclusive Feminist Guide to Menopause: This is a true feminist take on perimenopause which offers a deep-dive perspective not only about how our sexist, racist, ableist culture has shaped our understanding of it but also how to have control over one's choices during it…If you're currently going through menopause, I think you'll feel better after reading this book. If you haven't found some useful tips to help manage symptoms and relationships, you'll at least have found a kindred spirit and someone who's cheering you on to the other side where, Corinna promises, things get better."

 —Rebellious Magazine

Praise for S.E.X.
"The best book about sex and sexuality: It covers everything from puberty to sex to social and emotional health. It also addresses more complicated issues such as relationship dynamics as well as topics around sexual abuse. S.E.X. is also an excellent text for LGBTQ+ teens, as it covers sexual and gender identity and outlines different ways of being physically intimate, from kissing to anal and vaginal intercourse."—The 10 Best Books About Adolescence, According to Psychologists, New York Magazine, March 2019

"In high school and college, the bible is Heather Corinna's S.E.X.: The All-You-Need-To-Know Sexuality Guide to Get You Through Your Teens and Twenties."—Peggy Orenstein, Goop

"S.E.X. is, literally, a lifesaving book. Corinna's vast commonsense wisdom--especially on topics relating to gender roles, queer sexuality and gender identities--has the potential to improve the physical and emotional health of anyone who reads it, and to help heal our culture's unhealthy, conflicted approaches to sex, sexuality and gender."—Lisa Jervis, Bitch magazine co-founder

"I think this is the most comprehensive, honest sex-ed book I have ever seen."—Carol Schramm, First Thursday Book Reviews

"The book that I like most for high school kids is by Heather Corinna: S.E.X.: The All-You-Need-to-Know Progressive Sexuality Guide to Get You Through High School and College. It's very straightforward and provides lots and lots of information, but it talks about how that particular information relates to relationship issues or values or communication issues. That's what kids need more than anything."—Deborah Roffman, author, Sex and Sensibility and Talk to Me First: Everything You Need to Know to Become Your Kids' 'Go-To' Person About Sex

"S.E.X. is a positive and informative all-embracing guide to sexuality by a dedicated author. Heather Corinna challenges adolescents and young adults alike to be proactive in owning their sexuality by being true to themselves, all the while laying the foundation of knowledge and acceptance key factors for the development of a healthy sexuality."—Dr. Lynn Ponton, author, The Sex Lives of Teenagers

"Wow. This book has been so useful to me as a consent educator on a college campus! I constantly refer students to this book for honest, shame-free, empowering, and accurate information surrounding questions of sex, sexual orientation, and negotiating boundaries. Corinna skillfully walks the readers through their questions as they apply to real lives, including sections to correct myths, discuss ideas that may be new, affirm identity and autonomy, and challenge readers to move towards healthier lives. Infused into every sentence is the empowering knowledge that the reader deserves to control their own body. At the core, this book is about agency. I can see the positive impact this book is making on the individuals I mentor."—Janelle Hall

"Not only would my own adolescence have been vastly less painful and confusing if I'd had access to the accurate, comprehensive, and above all nonjudgmental information that Heather Corinna so carefully provides, but S.E.X. is, literally, a lifesaving book: Corinna's vast commonsense wisdom--especially on topics relating to gender roles, queer sexuality, and gender identities--has the potential to improve the physical and emotional health of anyone who reads it, and to help heal our culture's unhealthy, conflicted approaches to sex, sexuality, and gender."—Bust

"Corinna has put together a blockbuster of a book for young people dealing with sex and relationships. Much like the authors of Our Bodies, Ourselves and its spinoffs, Corinna answers every possible question teens and young adults could have about virginity, puberty, pregnancy, body image, masturbation, sexual identity, the variety of relationships, and the mechanics of partnered sex. She also addresses topics that are often overlooked, e.g., transgender and inter[sex] identities, realistic teen relationship management skills, and pornography. An excellent resource for preteens, teens, young adults, and people working with these populations; highly recommended for most libraries."—Deborah Bigelow, Library Journal

"Talking to teens about sexuality can be really challenging. Our children are counting on us for information and guidance, but human bodies--and human relationships--are complex. It's hard to knowing when to bring things up, how much to share, and what exactly to talk about. That's why I'm so grateful for this amazing book by Heather Corinna. In addition to giving clear, complete information about puberty and sexual anatomy, Corinna addresses the psychological and emotional concerns of young people with warmth and care. Variations in sexual anatomy, sexual desire, sexual orientation are gender are covered comprehensively, with repeated reminders that there's no one right way to be "normal." Corinna isn't afraid to address challenging topics like sexual assault and pornography, and makes a point to repeatedly emphasize the importance of consent and pleasure in healthy relationships...I can't think of a better resource for learning about sexuality, and I encourage you to check it out!"—Christopher Pepper

"This is another groundbreaking book."—Seattle Post-Intelligencer