Satisfaction Guaranteed: How to Have the Sex You've Always Wanted (Paperback)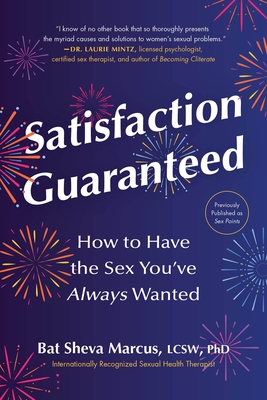 Description
---
In this refreshingly honest book, the "Queen of Vibrators" and the "Orthodox Sex Guru" shares her easy, proven system to help women have a healthy, robust sex life.  Myth: Great sex comes naturally, and when it doesn't, there is something wrong.
Fact: Sex is a gift that takes work. Like exercise or eating right, it also takes practice and know-how.
"Queen of Vibrators" Dr. Bat Sheva Marcus believes a healthy, robust, fulfilling sex life is a right for all women. And after twenty years as a sex therapist, Dr. Bat Sheva knows that there's more to sex than lingerie and beach vacations. Satisfaction Guaranteed is the first book that helps you identify and analyze for yourself what factors are affecting your sex life. Using Dr. Bat Sheva's revolutionary Sex Points Assessment, you can pinpoint what's keeping you from the great sex you deserve by looking at where you're scoring low in four key areas: pain, arousal, libido, and orgasm. And then she'll help you get points back in each of those areas!
 
Your sex life is complex, unique to you, and affected by psychological, medical, and emotional variables. If you think that a diminished sex drive is natural, pain is expected, and no orgasms is no problem—prepare to have your world rocked.
 
Covering everything from how to choose a vibrator to recapturing orgasms, understanding hormones, to rekindling lust, embracing taboo fantasies, and parsing complicated relationships, to what sex really means (hint: it's not just intercourse), Satisfaction Guaranteed is a comprehensive, revelatory, I-didn't-know-it-could-be-this-good guide for every woman, at every age, in every situation.
 A Fun, Healthy, Fulfilling Sex Life is Your Right!
And Satisfaction Guaranteed will get you there.
About the Author
---
Bat Sheva Marcus, LCSW MPH, PhD was the Clinical Director of Maze Women's Health, the largest independent sexual health center, from its founding in 1997 to 2022. Dr. Marcus' professional work has been profiled in numerous publications, including the New York Times Magazine and Lenny Letter. She has also been a guest on MSNBC.

Dr. Marcus is a Licensed Clinical Social worker, with a master's in public health, a master's degree in social work, a master's degree in Jewish studies and a PhD in Human Sexuality. Her dissertation on women and vibrator use was published in a peer review journal and has been cited in several books and articles.
Praise For…
---
"Dr. Bat Sheva Marcus breaks down the root causes of sexual issues and lays out an inviting and abundant buffet of scientifically researched tools available to you to recover your sex drive and orgasm. We have for too long simply accepted that it's normal to struggle with sex and hormonal issues, especially as we age. It's just not true. Get yourself educated and get your sex points plan together!"
 —Alisa Vitti, founder of FLO Living, best-selling author of WomanCode and In the FLO

"I know of no other book that so thoroughly presents the myriad causes and solutions to women's sexual problems; Dr. Bat Sheva seamlessly integrates psychological, medical, hormonal, relational and emotional causes and solutions. I will be recommending this book to my students and my clients for years to come."—Dr. Laurie Mintz, licensed psychologist, certified sex therapist, and author of Becoming Cliterate and A Tired Woman's Guide To Passionate Sex

"For any woman who has ever been told 'You just need to relax,' 'You and your partner need to take a vacation,' or 'It's all in your head'—the wisdom in these pages will come as a welcome relief and validation that the simple platitudes we often tell women are not only insulting, but just plain wrong. This is by far the best book that is currently available for women who are having problems with sex."—Paul Joannides, PsyD, author of Guide To Getting It On

"Dr. Bat Sheva Marcus has written a truly comprehensive and compassionate guide to reclaiming your sex life. Sex Points provides you with a revolutionary points system along with a detailed assessment that will help you to determine exactly what is going on, along with myriad effective solutions to address the problems and gain points. Definitely one to have on your shelf!"—Nicole Jardim, Certified Women's Health Coach, author of Fix Your Period

"Dr. Bat Sheva is not afraid to take controversial stance or bust some myths if she believes it's going to help, and her toolkit is both wide and deep. Much more than just a talk-therapist, Dr. Bat Sheva is a take-action therapist and Sex Points will guide you from insight to implementation."—Ian Kerner, PhD, LMFT, New York Times bestselling author of She Comes First

"A healthy sex life is as much emotional as it is physiological, and Dr. Bat Sheva gives a great perspective and insight. This book is a must read, especially when healing from sexual wounds and/or negative experiences while trying to identify what truly impacts your sex life."—Dr. Anna Cabeca, Triple Board Certified, OBGYN, author of The Hormone Fix