Notes and Tones: Musician-to-Musician Interviews (Paperback)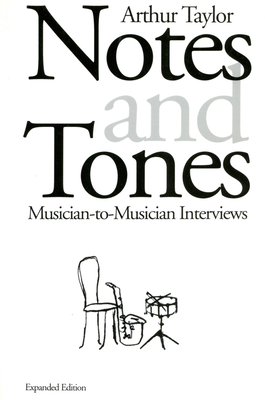 Email or call for price/availability
Description
---
Notes and Tones is one of the most controversial, honest, and insightful books ever written about jazz. It consists of twenty-nine no-holds-barred conversations which drummer Arthur Taylor held with the most influential jazz musicians of the '60s and '70s-including:

Art Blakey
Betty Carter
Don Cherry
Kenny Clarke
Ornette Coleman
Miles Davis
Kenny Dorham
Dizzy Gillespie
Hampton Hawes
Freddie Hubbard
Elvin Jones
Carmen McRae
Max Roach
Sonny Rollins
Nina Simone
Randy Weston

As a black musician himself, Arthur Taylor was able to ask his subjects hard questions about the role of black artists in a white society. Free to speak their minds, these musicians offer startling insights into their music, their lives, and the creative process itself. This expanded edition is supplemented with previously unpublished interviews with Dexter Gordon and Thelonious Monk, a new introduction by the author, and new photographs.
About the Author
---
Arthur Taylor has drummed with Coleman Hawkins, Bud Powell, Sonny Rollins, Charlie Parker, Miles Davis, John Coltrane, Thelonious Monk, and dozens of others. He has been called "one of the great drummers to come out of the fertile Harlem bebop scene" (New York Times) and "one of the best bandleaders living or dead" (Village Voice). His band, Taylor's Wailers, has recorded several albums, and is based in New York City.