2024 Night Sky Almanac: A Month-By-Month Guide to North America's Skies from the Royal Astronomical Society of Canada (Paperback)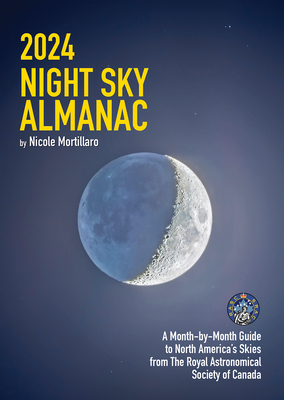 List Price: $14.95
Our Price: $13.46
(Save: $1.50 10%)
Description
---
Total solar eclipse April 8, 2024 will be the only eclipse in the 21st century, seen in US, Canada and Mexico.
2024 Night Sky Almanac is the ideal resource for both novice and experienced sky watchers in the United States and Canada, with all the advice, information and data that enthusiasts need to understand and enjoy the wonders of the night sky.
This in-depth guide first introduces readers to the objects in the sky -- from stars, to comets, to globular clusters -- and 88 pages takes them through the cosmic events to look out for each month in 2024, with sky maps, moon phase charts and info about the planets. The book also features:
Methods for using your hands to measure angles in the sky
Information about binoculars and telescopes
A glossary of terms and a list of helpful resources
The April 2024 full solar eclipse, seen over a broad swath of the US. The "path of totality" starts in Texas and ends in the Northeast. It will be a huge, widely anticipated event
This 2024 edition of Night Sky Almanac features eight additional pages of content, including more information about our visible universe, photos of different telescope types and a new section about asteroids.
The Royal Astronomical Society of Canada (RASC) was founded ad hoc in 1868 and incorporated in 1890 with a dual membership of professionals and amateurs.
About the Author
---
Nicole Mortillaro is an avid amateur astronomer, author, editor, Senior Science Reporter for CBC News and the editor-in-chief of the Journal of The Royal Astronomical Society of Canada She is the author of Saturn, and lives in Toronto, Canada