Sound Relations: Native Ways of Doing Music History in Alaska (American Musicspheres) (Hardcover)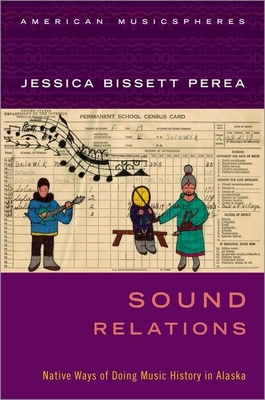 $125.00
Email or call for price/availability
Description
---
Sound Relations delves into histories of Inuit musical life in Alaska to register the significance of sound as integral to self-determination and sovereignty. Offering radical and relational ways of listening to Inuit performances across a range of genres--from hip hop to Christian hymnody and
traditional drumsongs to funk and R&B --author Jessica Bissett Perea registers how a density (not difference) of Indigenous ways of musicking from a vast archive of presence sounds out entanglements between structures of Indigeneity and colonialism. This work dismantles stereotypical understandings
of Eskimos, Indians, and Natives by addressing the following questions: What exactly is Native about Native music? What does it mean to sound (or not sound) Native? Who decides? And how can in-depth analyses of Native music that center Indigeneity reframe larger debates of race, power, and
representation in twenty-first century American music historiography? Instead of proposing singular truths or facts, this book invites readers to consider the existence of multiple simultaneous truths, a density of truths, all of which are culturally constructed, performed, and in some cases
politicized and policed. Native ways of doing music history engage processes of sound worlding that envision otherwise, beyond nation-state notions of containment and glorifications of Alaska as solely an extraction site for U.S. settler capitalism, and instead amplifies possibilities for more just
and equitable futures.

About the Author
---
Jessica Bissett Perea is a Dena'ina (Alaska Dena) scholar whose work intersects the larger fields of Native American & Indigenous studies (NAIS) and music & sound studies. She specializes in Critical NAIS approaches to performance, media, and improvisation studies, and histories of Indigenous artsand activism in North Pacific and Circumpolar Arctic communities. Dr. Bissett Perea earned a Bachelor of Music in Education from Central Washington University, an MA in Musicology at the University of Nevada, Reno, and a PhD in Musicology at the University of California, Los Angeles. Dr. BissettPerea currently works as an Assistant Professor in the Department of Native American Studies at the University of California, Davis.