A Good Man: A Novel (Paperback)
It's our 23rd Anniversary! Enjoy 23% discount on all titles purchased in-store!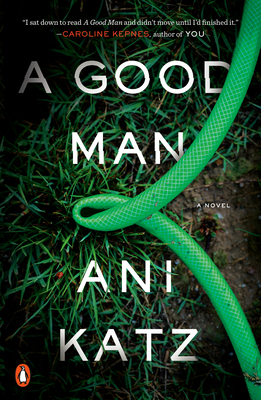 Staff Reviews
---
This story is horrifying and deeply disturbing. I found myself wishing I had never picked it up and yet incapable of walking away from it. Katz does a wonderful job of allowing Thomas to tell his own story with simplicity and grace. With every shared memory, Thomas paints an idyllic scene of a good man, a beautiful family, a life well lived. He cares for his wife Miriam, his daughter Ava, his twin sisters and his mother. He works hard to protect them from the harsh reality of the world, and all he is asking for is to be treated with the respect he deserves. But can the reader trust Thomas? The tension builds throughout the novel and by the end of the book the reader will find themselves dreading the truth and wishing that Thomas was at least an honest man.
-Chrissy
— From
Chrissy's Recs
Description
---
"I sat down to read A Good Man and didn't move until I'd finished...I loved this book." —Caroline Kepnes, author of You

A dark and gripping novel of psychological suspense about a family man driven to unspeakable acts, in the vein of The Perfect Nanny and We Need to Talk About Kevin.

Thomas Martin was a devoted family man who had all the trappings of an enviable life: a beautiful wife and daughter, a well-appointed home on Long Island's north shore, a job at a prestigious Manhattan advertising firm. He was also a devoted son and brother, shielding the women in his orbit from the everyday brutalities of the world.
     But what happens when Thomas's fragile ego is rocked? After committing a horrific deed — that he can never undo — Thomas grapples with his sense of self. Sometimes he casts himself as a victim and, at other times, a monster. All he ever did was try to be a good man, but maybe if he tells his version of the story, he might uncover how and why things unraveled so horribly.
About the Author
---
Ani Katz is a writer, photographer, and teacher. She was born and raised on the South Shore of Long Island, New York, and holds an MFA in photography from Columbia College Chicago and a BA from Yale. She lives in Brooklyn.
Praise For…
---
CrimeReads 10 Novels You Should Read in January
PureWow's Most Anticipated Books of 2020

"[An] ingenious slow burn."
—Entertainment Weekly "Your Complete Guide to the Season's Best Page-Turners"

"Powerful and unsettling...Produces in the reader a sense of foreboding that builds with ever-increasing intensity to the inevitable and brutal climax...[A] masterly first novel."
—Publishers Weekly *starred review*

"As she expertly builds a growing sense of dread, Katz creates an unsettling atmosphere of paranoia, fear, and rage, hinting at the catastrophe to come through ominous comparisons to the tragic operas Thomas loves. This is the sort of relentless novel you can't put down even when you're afraid to read what happens next. An unnerving and absorbing exploration of modern masculinity and how the seeds of violence are sown."
—Kirkus Reviews

"Chillingly good...Katz has delivered a whip-smart, beautifully written meditation on marriage, masculinity and hte thin line between happiness and disaster."
—Bookpage

"A mature and wicked debut...Evokes Highsmith's Ripley, or Denise Mina's The Long Drop, and heralds the entry of a fantastic new voice to the genre."
—CrimeReads

"Simulataneously nightmarish and utterly compelling...A masterful, suspenseful tale told by an ultimate unreliable narrator."
—Booklist *starred review*

"Sordidly gripping."
—The Guardian

"A Good Man's exploration of masculinity in a world of instability makes it a timely read."
—Vanity Fair

"Highly impressive...A striking modern tale of violence, sexual abuse and vindictiveness."
—The Independent

"Ani Katz is a brilliant writer. I sat down to read A Good Man and didn't move until I'd finished it. This is a spellbinding work of psychologically potent art. I can't wait to read what she does next. I loved this book."
—Caroline Kepnes, author of You

"Katz draws a life in its most delicate lines, then destroys it. And this is a story you won't forget."
—Nico Walker, New York Times bestselling author of Cherry

"A Good Man slinks into the dark heart of a ripped-from-the-headlines crime fueled by toxic masculinity. As in Leila Slimani's The Perfect Nanny, the slow unpeeling— layer by layer— of the conventions of sanity left me breathless, saddened, and spooked."
—Miranda Beverly-Whittemore, New York Times bestselling author of Bittersweet and June

"A profoundly disturbing and deeply unsettling story of a man struggling to reconcile himself with the horrifying act he has committed. Katz deftly embodies her narrator, giving voice to his self-serving recreation of the past and presenting him as he sees himself: a provider, a protector, a patriarch. Richly drawn and laced through with dread, this bold novel is an unflinching examination of what it means to be a man, and how easily a man can become a monster."
—Kathleen Barber, author of Are You Sleeping

"Surprising, daring, and thrilling to read."
—Flynn Berry, author of Under the Harrow and A Double Life

"Gripping, sly, and ferociously intelligent. I couldn't put it down."
—Jennifer duBois, author of Cartwheel and The Spectators

"A Good Man will hold you in its creeping spell from the first lyrical line to the bitter, bitter end. As the narrator's tale of selfless, industrious striving on his family's behalf unravels, you'll be too caught up to look away from the ugly business of a 'good man' bringing himself and the others around him down. Ani Katz's debut is a gorgeously written, profound examination of contemporary masculinity and its potentially lethal side effects."
—Laura Sims, author of Looker