The Salt Path: A Memoir (Paperback)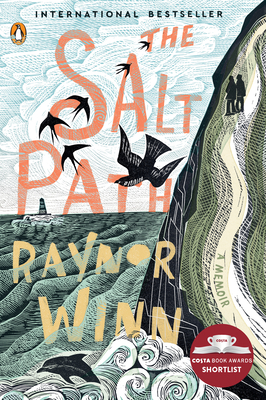 $18.00

Usually Ships in 1-5 Days
Staff Reviews
---
Ok, so I must confess…. I chose this book for its wonderful artistic cover. But what a journey of despair and perseverance! One day the author and her husband lose their farm over a legal dispute and the next day, he is diagnosed with a debilitating disease. What would you do with no home, distraught news and very little financial security? Walk, walk and walk . . . more specifically, 630 miles along the South West Coast Path in England. Reminiscent of Ruth Fitzmaurice's I Found My Tribe and Bill Bryson's A Walk in the Woods, The Salt Path is about coping and healing through the wind and downpours of coastal storms, the pain and thirst from the blistering heat but also about living in the moment, moving forward on a path of acceptance and sheer resilience
— Mindy
Ok, so I must confess…. I chose this book for its wonderful artistic cover. But what a journey of despair and perseverance! One day the author and her husband lose their farm over a legal dispute and the next day, he is diagnosed with a debilitating disease. What would you do with no home, distraught news and very little financial security? Walk, walk and walk . . . more specifically, 630 miles along the South West Coast Path in England. Reminiscent of Ruth Fitzmaurice's I Found My Tribe and Bill Bryson's A Walk in the Woods, The Salt Path is about coping and healing through the wind and downpours of coastal storms, the pain and thirst from the blistering heat but also about living in the moment, moving forward on a path of acceptance and sheer resilience.
- Mindy
— From
Mindy's Recs
Description
---
"Polished, poignant... an inspiring story of true love."—Entertainment Weekly

A BEST BOOK OF 2019, NPR's Book Concierge
SHORTLISTED FOR THE COSTA BOOK AWARD
OVER 400,000 COPIES SOLD WORLDWIDE

The true story of a couple who lost everything and embarked on a transformative journey walking the South West Coast Path in England

Just days after Raynor Winn learns that Moth, her husband of thirty-two years, is terminally ill, their house and farm are taken away, along with their livelihood. With nothing left and little time, they make the brave and impulsive decision to walk the 630 miles of the sea-swept South West Coast Path, from Somerset to Dorset, through Devon and Cornwall.

Carrying only the essentials for survival on their backs, they live wild in the ancient, weathered landscape of cliffs, sea, and sky. Yet through every step, every encounter, and every test along the way, their walk becomes a remarkable and life-affirming journey. Powerfully written and unflinchingly honest, The Salt Path is ultimately a portrayal of home—how it can be lost, rebuilt, and rediscovered in the most unexpected ways.
About the Author
---
Raynor Winn lives in Cornwall. Since traveling the South West Coastal Path, she has become a regular long-distance walker and writes about nature, homelessness, and camping. This is her first book.
Praise For…
---
"The Salt Path is an unputdownable tale and a temple to equanimity… It will change you."—Wall Street Journal

"Winn's prose is powerful. She excels at description, and her apt metaphors are rooted in nature… an inspiring read, reminding us that there is salvation in nature, movement and the out-of-doors."—Minneapolis Star Tribune

"Raynor Winn is a master of writing about nature and grief. The coast is the backbone of her memoir … a gripping story about a search for home, resilience and emotion, all the while in conversation with the sea."—Guardian

"Winn writes with great humor, reflection and generosity."—Salon
 
"This is a damn good book. Plain and simple."—Medium

"This amazing tale of resilience…made me grateful for my loving family and how they make the journey—even when stressful—a whole lot easier."—FIRST for Women

"Winn's chronicle is filled with beauty, humor and surprises. Glorious landscape a given, the loveliest scenery is the pair themselves, their affection and easy camaraderie treasures to behold. Facing grief, harsh elements, starvation and judgment about being homeless, they relish growing feelings of achievement and purpose. When, miraculously, Moth starts to feel better, their future grows more unclear. The Salt Path is a great travelogue of surroundings, passersby and local merchants, but its heart is in Winn and Moth finding meaning in the chaos."—Shelf Awareness

"Readers are immersed in a grueling and transformative adventure. Like the Winns, one feels 'salted' by the experience, however vicariously, drawn to the edge in defiance of fate and in search of a new life. They found it as well as a measure of acceptance, and their story is indelibly told."—Kirkus

"An astonishing narrative of two people dragging themselves from the depths of despair along some of the most dramatic landscapes in the country, looking for a solution to their problems and ultimately finding themselves."—Independent (UK)

"The Salt Path is a life-affirming tale of enduring love that smells of the sea and tastes of a rich life. With beautiful, immersive writing, it is a story heart-achingly and beautifully told."—Jackie Morris, illustrator of The Lost Words by Robert Macfarlane
 
"In some ways The Salt Path reads like the ultimate drop-out odyssey, except that this journey isn't a life choice . . . What the book chiefly conveys is the human capacity for endurance and the regenerative power of nature . . .  The Salt Path has reminded me to scrape last year's mud from my walking boots and get rambling again. I hope it has the same impact on millions of others."—The Times (UK)

"A remarkable and redemptive journey."—Financial Times