Making Things Right: The Simple Philosophy of a Working Life (Paperback)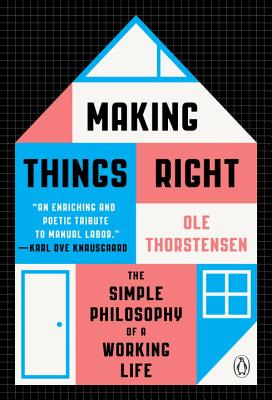 $16.00
Email or call for price/availability
Description
---
A celebration of craftsmanship, teamwork, and the relationship between contractor and client.

"An enriching and poetic tribute to manual labour."—Karl Ove Knausgaard

 Making Things Right is the simple yet captivating story of a loft renovation, from the moment master carpenter and contractor Ole Thorstensen submits an estimate for the job to when the space is ready for occupation. As the project unfolds, we see the construction through Ole's eyes: the meticulous detail, the pesky splinters, the problem solving, patience, and teamwork required for its completion. Yet Ole's narrative encompasses more than just the fine mechanics of his craft. His labor and passion drive him toward deeper reflections on the nature of work, the academy versus the trades, identity, and life itself.
 
Rich with descriptions of carpentry and process, Making Things Right is a warm and humorous portrayal of a tightknit working community, a story about the blood, sweat, and frustration involved in doing a job well and the joys in seeing a vision take shape.
About the Author
---
Ole Thorstensen was born in Arendal, Norway but was raised on Tromøy, an island with five thousand inhabitants. He is a trained carpenter and has worked for twenty-five years in the construction industry. He now lives in Eidsvoll, six miles north of Oslo. He makes his debut with a story about work and identity in a tribute to manual labor.
Praise For…
---
"A humble yet noble tribute to the value of honest work… Norwegian master carpenter Thorstensen's authentic and engaging account of running his one-man business delivers real truths about doing one's own thing…Readers will love Thorstensen's insights into work and life." —Booklist (starred)

"A charming book by a master carpenter about the lost arts of craftsmanship and community at work." —Adam Grant, New York Times bestselling author of Give and Take, Originals, and OPTION B with Sheryl Sandberg

"Making Things Right is a rare gem of a book. Through a close-grained description of a single project, Ole Thorstenson lovingly reveals the dynamics, the frustrations and the deep fulfillment that make up the life of a master craftsman.  As carefully crafted as the work it describes, Making Thing Right has some large lessons to teach: about the heights of human ingenuity, the power of aesthetics, the value of manual work, and the need for empathy and collaboration in work and everyday life. Parents and educators, not least, should take these lessons to heart. Properly understood, they would help to transform the quality of schools and communities, and the life chances of our children and young people." —Sir Ken Robinson, New York Times bestselling author of The Element and You, Your Child, and School

"The shrewd and plainspoken carpenter Ole Thorstensen turns a domestic building project into a gripping tale of craftsmanship in action. The techniques of fine carpentry come to life here, but it's also clear that to turn a raw space into graceful living quarters calls for more than a strong back and adroit hands. Negotiating with owners, architects and engineers while marshaling his fellow tradesmen compels Thorstensen to become 'psychologist, sociologist, anthropologist, and historian.' After reading Thorstensen's immersive account of his working life you won't look at a carpenter with the same eyes again."—David Esterly, author of The Lost Carving: A Journey to the Heart of Making

"A debut author who has spent nearly 30 years as a carpenter, his hands are a 'personal CV', and his memoir, Making Things Right, is an ode to all that they have done."—The Economist

"In Thorstensen's skilled hands, the everyday story of a suburban loft conversion is turned into an urgent study on the value of doing good work. It should be widely read." —Robert Penn, author of The Man Who Made Things out of Trees

"This delightful book takes us with clarity and easy humor into the working life of a master carpenter, revealing the rhythm of skilled labor, the supple intelligence of craft, and the grounded pleasure of working with others to make something new. At heart, Making Things Right is a humane celebration of work done well." —Mike Rose, author of The Mind at Work