Frankenstein in Baghdad: A Novel (Paperback)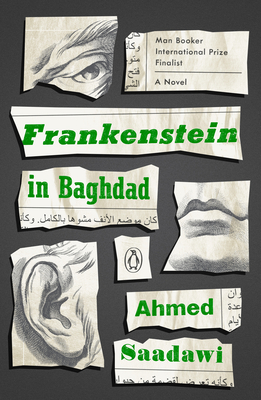 Staff Reviews
---
Baghdad during the American occupation of Iraq, circa 2005, is a city of soldiers, shortages, and bombings. Hadi, a junk dealer, collects body parts after bombings and sews them together, creating a grotesque, human-like form. When his creation becomes sentient after prayers from a grieving mother, it takes on a mission to avenge those who caused the death of any piece of its body. Journalist Mahmoud al-Sawadi investigates the inexplicable deaths amidst the deterioration of municipal institutions. This novel won the International Prize for Arabic Fiction in 2014, with a cast of characters so interesting that they could each have a novel of their own. This is a surreal, tragicomic look at people persevering through the random cruelty of war.
- CINDY
— From
Cindy's Recs 2
Description
---
*Man Booker International Prize finalist*

"Brave and ingenious." —The New York Times

"Gripping, darkly humorous . . . profound." —Phil Klay, bestselling author and National Book Award winner for Redeployment

"Extraordinary . . . A devastating but essential read." —Kevin Powers, bestselling author and National Book Award finalist for The Yellow Birds

From the rubble-strewn streets of U.S.-occupied Baghdad, Hadi—a scavenger and an oddball fixture at a local café—collects human body parts and stitches them together to create a corpse. His goal, he claims, is for the government to recognize the parts as people and to give them proper burial. But when the corpse goes missing, a wave of eerie murders sweeps the city, and reports stream in of a horrendous-looking criminal who, though shot, cannot be killed. Hadi soon realizes he's created a monster, one that needs human flesh to survive—first from the guilty, and then from anyone in its path. A prizewinning novel by "Baghdad's new literary star" (The New York Times), Frankenstein in Baghdad captures with white-knuckle horror and black humor the surreal reality of contemporary Iraq.
About the Author
---
Ahmed Saadawi is an Iraqi novelist, poet, screenwriter, and documentary filmmaker. He is the first Iraqi to win the International Prize for Arabic Fiction; he won in 2014 for Frankenstein in Baghdad, which also won France's Grand Prize for Fantasy. In 2010 he was selected for Beirut39, as one of the 39 best Arab authors under the age of 39. He was born in 1973 in Baghdad, where he still lives.
Praise For…
---
Winner of the International Prize for Arabic Fiction
Winner of France's Grand Prize for Fantasy
Winner of The Kitschies' Golden Tentacle Award for Best Debut
Longlisted for the International Dublin Literary Award

"This profound, gripping book refreshes a centuries-old scary story into today's landscape." —The Today Show

"The book I can't get out of my head? The haunting, brutal and funny Frankenstein in Baghdad." —John Schwartz, The New York Times Book Review

"In the 200 years since Mary Shelley wrote Frankenstein, her monster has turned up in countless variations—but few of them have been as wild or politically pointed as the monster in Ahmed Saadawi's Frankenstein in Baghdad." —Gregory Cowles, The New York Times

"Intense and surreal . . . Assured and hallucinatory . . . funny and horrifying in a near-perfect admixture . . . Saadawi blends the unearthly, the horrific and the mundane to terrific effect. . . . There's a freshness to both his voice and vision. . . . What happened in Iraq was a spiritual disaster, and this brave and ingenious novel takes that idea and uncorks all its possible meanings." —Dwight Garner, The New York Times
 
"Brilliant . . . Crisp, moving, and mordantly humorous . . . Like Catch-22 and Slaughterhouse-Five, Frankenstein in Baghdad plays the absurd normality of war for dark humor. . . . The monster is a powerful metaphor, but the real reason the novel works is because Saadawi writes with a rare combination of generosity, cruelty, and black humor. He has a journalist's eye for detail and a cartoonist's sense of satire." —Roy Scranton, The New Republic

"Powerful . . . Surreal . . . Darkly humorous . . . Cleverly conscripts a macabre character from a venerable literary work in the service of a modern-day cautionary fable . . . An excellent English translation." —Chicago Tribune

"A remarkable achievement, and one that, regrettably, is unlikely ever to lose its urgent relevancy . . . Surreal, visceral and mordant . . . An acute portrait of Middle Eastern sectarianism and geopolitical ineptitude, an absurdist morality fable, and a horror fantasy . . . Strange, violent, and wickedly funny." —Sarah Perry, The Guardian

"Come for the fascinating plot; stay for the dark humor and devastating view of humanity." —The Washington Post

"Fascinating . . . Strikes a feverish balance between fantasy and hard realism . . . The fabric of the city's neighborhoods couldn't be more sharply etched. . . . Saadawi . . . delivers a vision of his war-mangled city that's hard to forget." —The Seattle Times

"The [Frankenstein] conceit proves surprisingly apt. . . . Saadawi's novel . . . is more than an extended metaphor for the interminable carnage in Iraq and the precarious nature of its body politic. It also intimately depicts the lives of those affected by the conflict [and] offer[s] a glimpse into the day-to-day experiences of a society fractured by bloodshed." —The Economist

"What do you get if you cross the spiritualism of Lincoln in the Bardo with the sci-fi-cum-action-movie oomph of The Terminator? Possibly something resembling Frankenstein in Baghdad. . . . It's as much of a crossbreed as its ghoulish hero—part thriller, part horror, part social commentary. . . . Saadawi . . . captures the atmosphere of war-torn Baghdad with the swiftest of penstrokes, and picks out details that make the reader feel, and even taste, the aftermath of the explosions that pepper the book." —Financial Times

"Hallucinatory and hilarious . . . Surprising, even jolting . . . Saadawi's satirical bite . . . means that any jokes come garlanded with darkness. Laughter often catches in the throat. . . . Jonathan Wright's elegant and witty translation . . . reaches for and attains bracing pathos. . . . This remarkable book [is] funny and disturbing in equal measure." —The Observer (London)

"Sinister, satirical, ferociously comic but oddly moving . . . Nightmarish, but horridly hilarious . . . A fable that puts a cherished Romantic myth to urgent new use . . . In their bicentenary year, Mary Shelley's scientist and his creature will take plenty of contemporary spins. Surely, no updated journey will be more necessary than Saadawi's. . . . Frankenstein's monster is more frightening than ever." —The Spectator (London)

"Darkly delightful . . . A lively portrait of a teeming, cosmopolitan Baghdad . . . The humor is sometimes laugh-out-loud. . . . Jonathan Wright's superb translation conveys the novel's contemporary, urban edge as well as its light and witty style. . . . [The] novel moves as much as it entertains." —New Statesman

"Very readable and darkly humorous; it has well-observed characters . . . The translation by Jonathan Wright is first rate." —The Times Literary Supplement

"Ingenious . . . Hugely engaging and richly satisfying . . . Tells a vital story in a masterful way . . . One of those rare novels that manages to juggle literary ambition, political and social metaphor, and pure page-turning readability." —The National

"One of the best novels to emerge from the catastrophe of the Iraq War . . . Extraordinary . . . Earthy and vibrant . . . There are striking continuities with the original Shelley novel. . . . Saadawi's monster in Frankenstein in Baghdad is a hybrid creature for our times. It is a desperate marker of the brutal violence that has taken countless lives in the wars unleashed in the region. . . . But Frankenstein in Baghdad is also a sign that the imagination can still survive in these conditions, literary works flowering in the cracks of the rubble." —Roger Luckhurst, Los Angeles Review of Books

"Powerful . . . Saadawi and his fellow Iraqi writers depict Baghdad as a space where the absurd is not a function of Islam or the 'backward' Arab mind but rather the product of the United States's imperialist encroachment." —Mark Firmani, Los Angeles Review of Books

"Exemplary . . . Comedic and irreverent . . . A glimpse of Iraq that can't be gleaned from traditional war reporting or policy memos . . . Offers both an escape from the reality of present-day Iraq as well as a new way of reflecting on it . . . Saadawi has sutured together a dystopian universe that confronts the horrors of reality, rather than offering an escape from it and, in doing so, has provided American science fiction lovers—readers and writers alike—a new and refreshing template for dystopian fiction fitting to our time." —Sam Metz, Los Angeles Review of Books

"Illuminating and arresting . . . Extremely funny." —Public Books

"Suffused with macabre humor, this novel captures the bizarre reality of life that is contemporary Baghdad. . . . An important piece of political literature to emerge out of Iraq." —The Week

"The war novel after Iraq is alive in America, and an Iraqi perspective here gives a shot of high voltage to a reanimated discussion. . . . Saadawi's sentences are smooth, crisp, and McCarthy-esque; translator Jonathan Wright does an incredible job of bringing the haunting, brooding rhythm of the words to life." —Rain Taxi

"A surreal, funny and horrifying look at people trying to deal with the absurdities of war." —The Virginian-Pilot

"This adroitly written work of literary fiction ingeniously blends absurdist horror with a mordantly funny satire about life in a war-torn city. . . . Seamlessly moves between the surreal and the intensely real. Extraordinary in its scope and inventiveness." —The Irish Times

"A haunting allegory of man's savagery against man and one of the most essential books to come out of the Iraq War, or any war." —Elliot Ackerman, National Book Award finalist for Dark at the Crossing

"Frankenstein in Baghdad is a quietly ferocious thing, a dark, imaginative dissection of the cyclical absurdity of violence. From the terrible aftermath of one of the most destructive, unnecessary wars in modern history, Ahmed Saadawi has crafted a novel that will be remembered." —Omar El Akkad, author of American War

"This gripping, darkly humorous fable of post-invasion Baghdad is a profound exploration of the terrible logic of violence and vengeance." —Phil Klay, bestselling author and National Book Award winner for Redeployment

"An extraordinary piece of work. With uncompromising focus, Ahmed Saadawi takes you right to the wounded heart of war's absurd and tragic wreckage. It is a devastating but essential read, one that I am sure I will return to again and again." —Kevin Powers, bestselling author and National Book Award finalist for The Yellow Birds

"Frankenstein in Baghdad courageously confronts the bizarre events set in motion by the violence after the American occupation of Iraq. . . . It's a painful and powerful story that goes beyond the limits of reality, in an attempt to reach the essence of the cruelty of war. . . . [Saadawi's] lively style is reminiscent of horror movies and detective stories, with touches of black comedy." —Hassan Blasim, author of The Corpse Exhibition

"Horrifically funny and allegorically resonant, Frankenstein in Baghdad captures very well the mood of macabre violence that gripped Baghdad in 2005." —Brian Van Reet, author of Spoils

"Weaving as seamlessly from parable to realism as a needle weaves a tapestry, Frankenstein in Baghdad perfectly captures the absurdity, mayhem, and tragedy of war. Mahmoud the hapless journalist, Hadi the unwitting Dr. Frankenstein, and Elishva the mother are all profoundly human and appealing, our guides to a rare glimpse of the human beings on the receiving ends of our wars. Funny, bizarre, and captivating, this is a must-read for all Americans who are curious to see the war at last from an Iraqi point of view." —Helen Benedict, author of Wolf Season and Sand Queen

"Ahmed Saadawi has divined a dark, rapturous metaphor within the landscape of post-9/11 Iraq and, channeling Gabriel García Márquez, has written a love song to the humanity that endures even amid the ruins of war." —Lea Carpenter, author of Eleven Days

"A remarkable book from the heart of terror, where violence dissolves the divide between reality and unreality." —Thomas McGuane, author of Crow Fair and Cloudbursts

"A haunting allegory for sectarian violence." —Alexandra Alter, The New York Times
 
"Matter-of-factly, Saadawi sets out a reality—Baghdad in 2005—so gothic in its details . . . that, when the novel makes a turn to the supernatural, it barely shocks." —The New Yorker
 
"Expertly told . . . A significant addition to contemporary Arabic fiction." —Judges' citation, International Prize for Arabic Fiction

"This haunting novel brazenly confronts the violence visited upon [Iraq] by those who did not call it home. A startling way to teach an old lesson: an eye for an eye makes the whole world blind." —Kirkus Reviews

"A harrowing and affecting look at the day-to-day life of war-torn Iraq." —Publishers Weekly

"Highly recommended . . . An incisive look at local life in Baghdad in 2005. The multiple narratives . . . intersect to form a complex whole." —Library Journal

"Captures the chaos, absurdity, and inhumanity of the recent Iraq War, leaving readers, like the characters, stunned." —Helen Benedict, Lit Hub

"A scathing critique of the U.S. invasion by way of front-row seats to its disastrous, lingering consequences." —Zahra Hankir, Lit Hub

"There is no shortage of wonderful, literate Frankenstein reimaginings . . . but few so viscerally mine Shelley's story for its metaphoric riches. . . . In graceful, economical prose, Saadawi places us in a city of ghosts, where missing people return all the time, justice is fleeting, and even good intentions rot. . . . A haunting and startling mix of horror, mystery, and tragedy." —Booklist, starred review

"As with any great literary work, this novel doesn't just tell a story. Rather, it unfolds across multiple dimensions, each layer peeling back to reveal something new. . . . Exquisitely translated by Jonathan Wright, this novel breaks through the superficial news stories and helps us see more clearly what the American invasion has wrought, how violence begets violence, and how tenuous is the line between innocence and guilt. Brilliant and horrifying, Frankenstein in Baghdad is essential reading." —World Literature Today

"A poignant and painful portrayal of a country whose ghosts have yet to be exorcised." —Literary Review
Upcoming Events
Event date:

Mon, 03/02/2020 - 10:30am

Event date:

Mon, 03/09/2020 - 10:30am