The Underwriting (Paperback)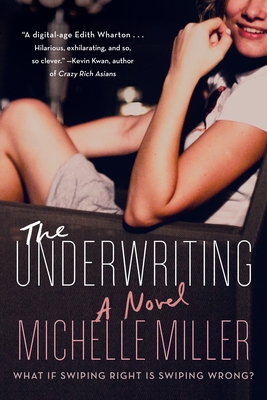 $16.00
Email or call for price/availability
Staff Reviews
---
People like to think that the cliques of high school end with high school, but they don't! This is all too evident when six adults who "have their lives together" must cooperate on a life changing opportunity. Hook, a dating app, is going public and all of their careers hang in the balance. Their stories merge with romance and murder, all with the essence of high school popularity. Michelle Miller's The Underwriting is a fast paced story that gives you a glimpse of a (not so) glamorous corporate world.
- Clare
— From
Clare's Recs
Description
---
"A digital-age Edith Wharton . . . hilarious, exhilarating, and so, so clever." —Kevin Kwan, author of Crazy Rich Asians
 
A suspenseful, racy, and achingly honest story of the entangled lives of six young women and men as they take Silicon Valley's hottest dating app public.
 
Tara Taylor runs six miles every morning, never eats after nine p.m., is the first to arrive and last to leave the office, but is starting to wonder why she bothers. When her old Stanford flame, Todd Kent, asks her to join his four-person team handling Hook's IPO, the deal of the decade, she sees her opportunity to break through the glass ceiling and justify six boyfriendless years of sacrifices for her career. And the $14 billion dating app might have more in store for her than a bigger bonus. But that kind of money changes people. When the deal is thrown into a tailspin, Tara and five others will each find out just what they're willing to give up—love, family, integrity—to get to the top.
About the Author
---
Michelle Miller worked at J.P. Morgan Private Bank and as a consultant in Palo Alto, New York, and Europe before leaving to pen The Underwriting. Her writing has appeared in the Huffington Post, Medium, Town & Country, and Redbook. She holds a BA and an MBA from Stanford University, and currently splits her time between New York and her hometown of Asheville, North Carolina.
Praise For…
---
**A Huffington Post, New York Post and Metro Summer Reading Pick**

"Michelle Miller is a master at pacing—this tour de force gathers speed as it heats up. Adrenaline junkies, take note: You're in for a wild ride."
—Glamour

"A Silicon Valley/Wall Street crew is living proof that more money = more problems."
—Cosmopolitan

"You'd think it would be hard to write a rip-roaring novel that actually elicited our sympathy towards investment bankers—but Michelle Miller has managed it. Miller not only gets the reader to care about [their] anxieties and secret desires . . . she also spins an exciting piece of intrigue."
—The Guardian (U.S.)

"I'm going to be honest: it's been a long time since I've sat down and read a book. That ended after I picked up The Underwriting. But from the very first paragraph, I was hooked. It's sharp, sexy, smart, and everything else you need for a perfect summer thriller. I wouldn't be surprised if this was the next book to land a huge movie deal."
—Lindsey Sirera, E! News Online

"A salacious, ripped-from-the-headlines tell-all of Manhattan's young, wealthy, and über-successful. Get ready to settle in—you won't be able to put down this book."
—Lauren Weisberger, bestselling author of The Devil Wears Prada

"A more intricate Devil Wears Prada for the tech generation."
—Kirkus Reviews

"Combine[s] the best of Millennial technologies and Wall Street greed . . . Readers will find this a quick, entertaining read."
—Publishers Weekly

"Miller . . . us[es] storytelling to explore topics like the Silicon Valley gender gap."
—SELF

"This fast-paced corporate thriller offers a riveting glimpse into the world of Silicon Valley start-ups, Wall Street investment firms, and today's techy Millennial generation."
—Library Journal (starred review)

"Reading this book was better than snorting a key bump of Adderall. I hated how much I loved it."
—Babe Walker, New York Times–bestselling author of White Girl Problems

"Reading this book was such a thrill, I was as sleep deprived as Michelle Miller's Adderall-fueled characters but having way more fun. Like a digital age Edith Wharton, Miller brilliantly chronicles the clash of cultures between high finance and high tech with perfect intricacy and nuance. Hilarious, exhilarating, and so, so clever."
—Kevin Kwan, bestselling author of Crazy Rich Asians

"The Underwriting offers a tantalizing glimpse into the boardrooms and bedrooms of the young financiers and entrepreneurs behind a Silicon Valley IPO. Both a corporate thriller and an exposé of two generation-defining worlds, I found it sexy and smart. I was hooked from start to finish."
—Cristina Alger, author of The Darlings

"The Underwriting is the best one-night stand I've ever had. Witty, sexy, and sharp—I'd definitely call the next day. An authentically hip novel with razor-sharp characters which make it (in banking terms) a STRONG BUY."
—Turney Duff, New York Times–bestselling author of The Buy Side

"The Underwriting rolls out an irresistible tale about those narcissistic characters you read about who ride the waves between Wall Street and Silicon Valley and inflict us all with their dreams of riches and fame."
—Bruce Porter, New York Times–bestselling author of Blow

"Juicy and well written in a fast-moving way . . . [A] funny, true, sympathetic and unsavoury observation about the world of finance and hi-tech . . . A terrific read."
—The Times (UK)

 "A salacious corporate thriller."
—Departures

 
From the Hardcover edition.