Own Your Space: Attainable Room-by-Room Decorating Tips for Renters and Homeowners (Hardcover)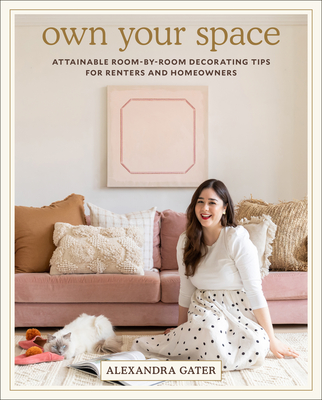 $40.00

Usually Ships in 1-5 Days
Description
---
DIY YouTuber Alexandra Gater shows you how to creatively, inexpensively, and beautifully decorate your space in this inviting and accessible definitive guide to décor ideas for renters and new homeowners alike.
"Alexandra Gater represents a new generation of apartment therapists who are teaching people how to make a great home at any size with any budget. Her new book is an absolute gift that is not only beautiful and approachable, it's so comprehensive you'll read it, refer to it and keep it under your pillow at night." —Maxwell Ryan, founder of Apartment Therapy
Have you ever wondered what to do about the "Renter Beige" walls in your apartment? Have you ever thought you'd wait to upgrade that sofa from your grandparents' basement until you had a place of your own—and then found yourself spiraling with questions like, "Will I ever own a house?" Have you bought a new home—but now have little money left over to spruce it up? And how can you make those outdated appliances and cabinets in your kitchen look better without breaking your budget?
Alexandra Gater is here to help.
Through her online home decorating series, the YouTube star and décor expert has taught millions how to transform their spaces into the homes of their dreams. Whether struggling with the limits of living in a rental—how do you hang things without putting holes in the wall?—or living in a new home—how can you make that outdated backsplash work for you?—Alexandra has the answer. In Own Your Space, she offers tips and tricks covering everything from making your home smell better to essential kitchen utensils. And best of all, you get to know her better along the way.
Gorgeously designed, full of practical advice, DIY, and fun anecdotes, and packed with approximately 300 four-color photographs, Own Your Space will help you turn your apartment or starter house into the place you want it to be .
About the Author
---
Alexandra Gater is a stylist and home decor expert, connecting with millions through her home makeover videos on YouTube. She makes design accessible for renters and homeowners alike and believes everyone deserves to live in a beautiful space that feels like home, no matter their budget. Alexandra started her career as the Home Editor for Canada's iconic lifestyle magazine Chatelaine, and her work has been featured in Apartment Therapy, Clever by Architectural Digest, and Domino Magazine. She lives in Toronto.
Praise For…
---
"Alexandra Gater represents a new generation of apartment therapists who are teaching people how to make a great home at any size with any budget. Her new book is an absolute gift that is not only beautiful and approachable, it's so comprehensive you'll read it, refer to it and keep it under your pillow at night."  — Maxwell Ryan, founder of Apartment Therapy