Beasts of a Little Land: A Novel (Hardcover)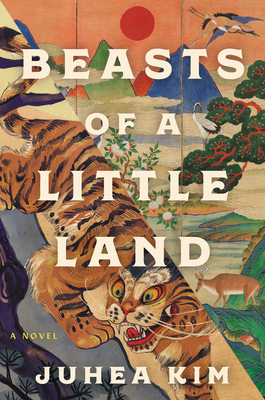 $27.99

Usually Ships in 1-5 Days
Staff Reviews
---
This book captivated me from the moment I picked it up and only got better with each turn of the page. In Japanese-occupied Korea, poverty, violence, and political turmoil run rampant. Here we meet two characters who are fatefully connected: Jade, a young girl sold by her family to a courtesan school who later becomes a famous actress, and JungHo, a street beggar turned revolutionary fighter. Their paths, shaped by the historical landscape, twist and turn yet always manage to find a way back to each other. Follow them and a variety of other characters as they navigate love, fight for independence, and struggle to take control of their own destinies.
-Rachel
— From
Rachel's Recs
December 2021 Indie Next List
---
"Encompassing 40+ years of Korea's fight for independence from colonial powers, this book tore my heart out in the best way, and somehow — in the way that only great books can — pieced it back together fuller and more whole than when I began."
— Amanda Hurley, Tombolo Books, St. Petersburg, FL
Description
---
"A spectacular debut filled with great characters and heart." —Lisa See, author of Snow Flower and the Secret Fan
FINALIST FOR THE 2022 DAYTON LITERARY PEACE PRIZE · FINALIST FOR THE BALCONES FICTION PRIZE · LONGLISTED FOR THE HWA DEBUT CROWN AWARD
An epic story of love, war, and redemption set against the backdrop of the Korean independence movement, following the intertwined fates of a young girl sold to a courtesan school and the penniless son of a hunter
In 1917, deep in the snowy mountains of occupied Korea, an impoverished local hunter on the brink of starvation saves a young Japanese officer from an attacking tiger. In an instant, their fates are connected—and from this encounter unfolds a saga that spans half a century.
In the aftermath, a young girl named Jade is sold by her family to Miss Silver's courtesan school, an act of desperation that will cement her place in the lowest social status. When she befriends an orphan boy named JungHo, who scrapes together a living begging on the streets of Seoul, they form a deep friendship. As they come of age, JungHo is swept up in the revolutionary fight for independence, and Jade becomes a sought-after performer with a new romantic prospect of noble birth. Soon Jade must decide whether she will risk everything for the one who would do the same for her.
From the perfumed chambers of a courtesan school in Pyongyang to the glamorous cafes of a modernizing Seoul and the boreal forests of Manchuria, where battles rage, Juhea Kim's unforgettable characters forge their own destinies as they wager their nation's. Immersive and elegant, Beasts of a Little Land unveils a world where friends become enemies, enemies become saviors, heroes are persecuted, and beasts take many shapes.
A Recommended Read from: USA Today · The Washington Post · Entertainment Weekly · The Today Show · Real Simple · Good Morning America · Harper's Bazaar · Buzzfeed · Fortune · Vulture · Goodreads · Lit Hub · Book Riot · PopSugar · E! Online · Ms. Magazine · Chicago Review of Books · Bustle · The Oregonian · The Millions
About the Author
---
Juhea Kim is the author of the novel Beasts of a Little Land, published by Ecco Books in 2021. She earned her BA in Art and Archaeology from Princeton University. Her writing has been published in Granta, Catapult, Joyland, Times Literary Supplement, Independent, Zyzzyva and elsewhere. Born in South Korea and raised in Portland, Oregon, Kim now lives in London. 
Praise For…
---
"Would you believe I read this 400-page epic story about war and love across decades of South Korea's history in a single sitting? A debut novel that opens with a tiger encounter in the snowy mountains, it's a twist on historical fiction that roars with life." — Entertainment Weekly, "Must List"
"Unrequited love, class warfare, scandal...this novel has it all." — Real Simple, a Best Book of 2021
"You wouldn't know from reading it that "Beasts of a Little Land" is Kim's debut novel. There is no shortage of ambition on display here, and fleet-footed narrative pacing to match it…. A book written with warmth [and] wisdom." — USA Today
"Accomplished.... As the paths of her characters twist and cross and their fortunes rise and fall, [Kim] keeps the weight of the personal and political in perfect balance. Beasts of a Little Land is epic in range but intimate in emotional depth, sure to appeal to readers of historical fiction who prize a well-wrought character." — BookPage
"Some people say that all stories are about either love or war. Set against the backdrop of early 20th-century Korea, Kim's epic debut novel is about both." — Harper's Bazaar, a Best Book of 2021
"Assured and textured debut...following a cast of characters whose fates are molded and linked together by the country's political forces and who, in the face of colonialism, violence and severe injustice, carve out spaces to live and love."  — New York Times Book Review
"Kim delivers one of the dazzling debuts of the year with this epic story." — E! Online
"In Juhea Kim's debut novel, the land may be small but the scope is immense, as in a grand Russian novel complete with battlefields, intergenerational legacies and snarled love affairs... Everyone is extraordinary, a singular beast in exceptional times, and in Kim's capable hands this liberty pays off....Beasts of a Little Land is a stunning achievement. Juhea Kim wrestles with the chaos of a half-century of love, idealism, war and violence, and does so with courage and wisdom." — TLS
"[Beasts of a Little Land] is epic in scope, but it's also filled with intimate language and moments." — NPR
"Absorbing, sweeping.... Throughout the novel, observations about world politics remind readers of that greater history.... Complex and interesting characters." — Los Angeles Times
"Powerful, romantic and wholly unforgettable." — Ms., a Best Book of 2021
"A potent and immersive reading experience, alive to the particulars of its place and time. Intimate but politically resonant, it's perfect for fans of Min Jin Lee and Isabelle Allende." — Chicago Review of Books
"We see what each of these characters is willing to risk or sacrifice, whether for survival or some other purpose...remarkable."  — Ploughshares
"Gorgeous…. This transporting and elegant tale of complicated characters whose lives intertwine during the Korean independence movement of the early twentieth century is not to be missed." — Departures
"[A] rich sweep of a story [s]et during the decades of Japan's brutal takeover of Korea... 'People are brave in different ways,' affirms Jade's lifelong admirer JungHo, a sentiment that infuses the book." — Christian Science Monitor
"Beautiful…. The writing has a dreamlike quality that immerses the reader in a fascinating world….. Not only is this a gorgeously written story, but Kim also gives us insight into a historical period with which many Westerners will be unfamiliar." — Historical Novels Review, Editor's Choice
"For fans of far-reaching epic sagas that pinpoint human experience, readers will relish the narrative that chronicles the lives of the characters from childhood through old age, reminding us that although different, our lives are all connected by our fears, hopes and the quest for steadfast love." — Book Trib
"An epic novel brings complex 20th-century Korean history to life…. Extraordinary…. Gorgeous prose and unforgettable characters combine to make a literary masterpiece."  — Kirkus Reviews (starred review)
"A magnificent, mesmerizing story of love and war...an evocative and emotive historical novel...characters are so sensitively and carefully drawn that even the 'enemy' can be seen to have a human side. Cinematic in its scope, this is the type of novel that the reader finishes both with pleasure (for its satisfying dénouement and pleasing circularity) and sadness (at having to leave the story behind)." — New Internationalist
"Kim's debut novel wondrously reveals broken families and surprising alliances created by uncontrollable circumstances…. [A] richly alluring and significant first novel." — Booklist (starred review)
"Captivating….  The times the characters must survive are often violent and harsh, but they maintain a surprising tenderheartedness, along with a deep need for love and purpose. Readers should expect to be swept along themselves by the waves of passion and tragedy that make the novel so appealing." — Shelf Awareness (starred review)
"Beasts of a Little Land is a stunning chronicle of the Korean peninsula during the tumultuous decades leading to independence and partition. Told through the lives of a rich cast of characters—courtesans, Japanese generals, and revolutionaries—whose stories intertwine in the most unexpected ways, it is by turns political and sensual, epic and intimate. It is also a profound meditation on place; Kim evokes the urban and natural landscapes of Korea with transporting beauty. This novel will devastate you and then still you with its wise meditations on love and loss. I couldn't put it down." — Alexis Schaitkin, author of Saint X
"Beasts of a Little Land is as much a story of love—requited, unrequited, imperfect, fleeting, dogged, romantic, platonic, familial—and the knocks of time on our bodies and spirits as it is about a moment in history for one country struggling against colonialism." — Portland Monthly
"With marvelous prose and immersive storytelling, "Beasts of a Little Land" shows that Juhea Kim is an author to watch. You won't be able to put this book down."  — Apartment Therapy
"[A] dreamy, intense debut…. The prose is ravishing and Kim demonstrates remarkable control of a complicated narrative. Even those with little knowledge of Korean history will come away struck by the way individuals shape and are shaped by the political and cultural changes of the first half of the 20th century." — Publishers Weekly
"Beasts of a Little Land is an emotional, raw, and moving novel about friendship and the struggle for Korean independence. It is a novel unlike anything I've read. Most importantly, though, it is a novel about love. Juhea Kim writes beautifully in a way that makes it difficult to put this novel down. I loved it." — Brandon Hobson, National Book Award finalist and author of The Removed
"In Beasts of a Little Land, Juhea Kim has taken the concept of inyeon—human thread—to weave a beautiful story in which human connections and encounters are preordained. She explores the ideas of fate, fortune, and destiny against the backdrop of the great turbulence and historic events that transpired on the Korean peninsula during the twentieth century. A spectacular debut filled with great characters and heart." — Lisa See, author of Snow Flower and the Secret Fan

"In Beasts of a Little Land, Juhea Kim has created a magical, intricate and compelling world in which readers will be enchanted and swept away by unforgettable journeys of survival, hope, and love. This is historical fiction at its very best!" — Nguyễn Phan Quế Mai, internationally best-selling author of The Mountains Sing
"Juhea Kim's sweeping debut is pure reading pleasure. Rapturous, ravishing, and gorgeously rendered, Beasts of a Little Land is a portal to a whole world teeming with life, so full of wonders I wanted it never to end." — Catherine Chung, author of The Tenth Muse
"Elegant and wise, lush and immersive, Beasts of a Little Land is Tolstoyan in its sweep and ambition as it brings to life the Korean struggle against Japanese occupation and the making of a modern nation in the first half of the 20th century. Juhea Kim is a conjurer of rare ability whose magnificent debut utterly enchants." — Keija Parssinen, author of The Unraveling of Mercy Louis
"Jade is a courtesan, sold into the trade by her family when starvation is the only other option for her. JungHo is a beggar on the streets of Seoul. Together, they are the compelling protagonists of an exciting debut that takes us through a vast arc of 20th-century Korean history, lending an achingly human lens to sweeping historic events that still reverberate today." — Globe and Mail (Toronto)