The Summer of Bitter and Sweet (Hardcover)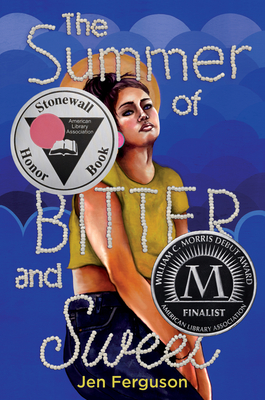 List Price: $19.99
Our Price: $17.99
(Save: $2.00 10%)
Staff Reviews
---
This beautiful debut coming-of-age drama keeps a focus on community, the land, and all the ways we love. I absolutely love that it's filled with tumultuous twists and turns, but is inherently the journey of Lou grasping her sexual identity and her Métis heritage! I was really impressed with the writing style! Ferguson explores the nuances of how we betray those we care about in her novel. Are lies premeditated? Are they for survival? Are they omissions? The MC, Lou, struggles with leaving behind her past untruths while trying to be more honest with her family and friends. Lou is a fully formed character whose flaws are eye opening and relatable at the same time. Definitely worth the read, as long as you don't mind ice cream cravings!
-Faith
— From
Faith's Recs
Description
---
In this complex and emotionally resonant novel about a Métis girl living on the Canadian prairies, debut author Jen Ferguson serves up a powerful story about rage, secrets, and all the spectrums that make up a person—and the sweetness that can still live alongside the bitterest truth. A William C. Morris Award Honor Book and a Stonewall Award Honor Book!
Lou has enough confusion in front of her this summer. She'll be working in her family's ice-cream shack with her newly ex-boyfriend—whose kisses never made her feel desire, only discomfort—and her former best friend, King, who is back in their Canadian prairie town after disappearing three years ago without a word.
But when she gets a letter from her biological father—a man she hoped would stay behind bars for the rest of his life—Lou immediately knows that she cannot meet him, no matter how much he insists.
While King's friendship makes Lou feel safer and warmer than she would have thought possible, when her family's business comes under threat, she soon realizes that she can't ignore her father forever.
The Heartdrum imprint centers a wide range of intertribal voices, visions, and stories while welcoming all young readers, with an emphasis on the present and future of Indian Country and on the strength of young Native heroes. In partnership with We Need Diverse Books.
About the Author
---
Jen Ferguson is Michif/Métis and white, an activist, an intersectional feminist, an auntie, and an accomplice armed with a PhD in English and creative writing. Visit her online at jenfergusonwrites.com.
Praise For…
---
"Debut author Ferguson, who is Métis and White, touches on intergenerational family suffering at the hands of the state, mental health, substance abuse, racism, sexual harassment and assault, and missing and murdered Indigenous women—all with nuance and care. Heart-rending and healing; a winning blend that will leave readers satisfied." — Kirkus Reviews (starred review)
"Young adult readers can relate to the struggles Lou is facing as she navigates her transition from high school to college, and also use them as a conversation starter about race, identity, sexuality, dating, and friendship." — Horn Book (starred review)
"In a layered first-person portrayal of a young Indigenous woman navigating the edge of adulthood, Ferguson (who is Métis and white) tackles necessary issues—of identity and sexuality alongside colonialism, generational trauma, racism, physical and sexual assault, and substance reliance—through well-wrought, complicated characterizations and prose that sings with poetry." — Publishers Weekly (starred review)
"Ferguson's frank and powerful debut opens readers' eyes to the multiplicity of daily traumas faced by people of color, especially Indigenous women and girls. Ferguson, herself Michif/Métis and white, boldly writes on many challenging topics, including racism, physical violence, sexual identity, sexual assault, and teen alcohol use. Lou is complex, smart, and honest, and a narrator readers will trust, love, and learn from as she works to repair friendships and gain security for her treasured family." — Booklist (starred review)
"Brutally honest about the sexual and physical violence Native women are subjected to, this story deals with a variety of painful topics and their impact on Louise's friends and family... The honesty and complexity of this book make it a gripping read." — School Library Journal (starred review)
"Like an unexpected tart note swirling through a creamy, cold treat, The Summer of Bitter and Sweet layers the harsh truths and deep connections that thread through a Canadian prairie town....In this heartfelt story, we come to see the complex lives beneath the wide-open landscape. " — Star Tribune