The Collector's Daughter: A Novel of the Discovery of Tutankhamun's Tomb (Paperback)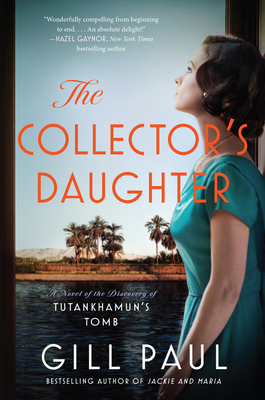 Staff Reviews
---
The curse of Tutankhamun's tomb plays a major role in The Collector's Daughter by noted historical fiction author Gill Paul. In 1922 Eve Herbert and her father, Lord Carnarvon are present when archaeologist Howard Carter opens the tomb of Tutankhamun for the first time. The author moves back and forth between the 1920s and the 70s, where we learn that Eve has been dealing with recurring strokes. Could they have been brought on by a container that was removed from Tut's tomb in the 20s? Egyptologist Ana Mansour believes there is more to this mystery. She meets with Eve numerous times in an attempt to solve the whereabouts of missing items from the original list of tomb artifacts. Who owns these objects and should they be repatriated? What really happened at the opening of Tut's tomb? A question to ponder as we approach the 100th anniversary of its discovery!
- MINDY
— From
Mindy's Recs
Description
---
Bestselling author Gill Paul returns with a brilliant novel about Lady Evelyn Herbert, the woman who took the very first step into the tomb of Pharaoh Tutankhamun, and who lived in the real Downton Abbey, Highclere Castle, and the long after-effects of the Curse of Pharaohs. 
Lady Evelyn Herbert was the daughter of the Earl of Carnarvon, brought up in stunning Highclere Castle. Popular and pretty, she seemed destined for a prestigious marriage, but she had other ideas. Instead, she left behind the world of society balls and chaperones to travel to the Egyptian desert, where she hoped to become a lady archaeologist, working alongside her father and Howard Carter in the hunt for an undisturbed tomb.
In November 1922, their dreams came true when they discovered the burial place of Tutankhamun, packed full of gold and unimaginable riches, and she was the first person to crawl inside for three thousand years. She called it the "greatest moment" of her life—but soon afterwards everything changed, with a string of tragedies that left her world a darker, sadder place.
Newspapers claimed it was "the curse of Tutankhamun," but Howard Carter said no rational person would entertain such nonsense. Yet fifty years later, when an Egyptian academic came asking questions about what really happened in the tomb, it unleashed a new chain of events that seemed to threaten the happiness Eve had finally found.
About the Author
---
Gill Paul has written thirteen historical novels, many of them re-evaluating extraordinary 20th-century women whom she thinks have been marginalized or misjudged by historians. Her books have reached the top of the US, Canadian, and UK charts, and have been translated into twenty-three languages.
Gill was born and raised in Scotland, apart from an eventful year at school in the US when she was ten. She worked as an editor in nonfiction publishing, then as a ghostwriter, before giving up the "day job" to write fiction full-time. She is also an events organizer for the Historical Writers Association.
Gill loves wild swimming year-round, arranging parties, and traveling whenever and wherever she can.
Praise For…
---
"In her latest, Gill Paul has mined an inspiring real-life heroine and unexplored time period to brilliant effect. With exquisitely drawn characters, Paul weaves a tale that's moving and deeply atmospheric, crossing full decades while making the reader feel the heart-pounding race of time. A story not to be missed." — Michelle Gable, New York Times bestselling author of The Paris Apartment
"Gill Paul weaves an intriguing tale about an historical mystery we know, and a woman we don't... Wonderfully compelling from beginning to end, The Collector's Daughter will mesmerize its readers as much as the lure of ancient treasures mesmerized these famous Egyptologists. An absolute delight!" — Hazel Gaynor, New York Times bestselling author of When We Were Young & Brave
"This is a compelling story, impeccably researched, with a delicious sense of time and place, that combine to bring the historical characters to vivid life... It deals with the big questions too: What is true? Memory versus history, and how we block out the past. I loved that." — Dinah Jefferies, international bestselling author of The Tea Planter's Daughter
"We unravel Lady Evelyn Herbert's story along with her as she sorts through blank spaces where memory once resided, and tells a fascinating tale of exploration, adventure, tragedy and emotion in an effort to recall who she is. A very compelling read that will have you mesmerized!" — Eliza Knight, USA Today bestselling author of The Mayfair Bookshop
"Riveting, emotional and completely fabulous. Lady Eve's fascinating and poignant story held me spellbound. Gill Paul has done it again!" — Tracy Rees, author of The House at Silvermoor
"From the very first chapter of The Collector's Daughter, Gill Paul draws you in to the exotic worlds of Lady Evelyn Herbert, the first person to enter Tutankamun's tomb, and the alarming reverberations of those early adventures through the rest of her life. I didn't want it to end." — Liz Trenow, author of Under a Wartime Sky
"A beautiful and evocative retelling of the discovery of the tomb of Tutankhamun...Gill Paul's sensual exploration of this famous event travels across five decades, asking whether the tragedies that followed were due to curse or coincidence, and giving fresh life to this most beguiling corner of history. Unputdownable!" — Sarah Steele, author of The Missing Pieces of Nancy Moon
"The Collector's Daughter is absolutely glorious. This beautiful novel, exploring the extraordinary life of Lady Evelyn Herbert, and the secrets of Tutankhamun's tomb, oozes with emotion, glamour, and mystery...I was entranced at every step. Gill's writing is utterly transportative and entirely addictive. I cannot rave about this novel enough." — Jenny Ashcroft, author of Meet Me in Bombay
"This is a riveting novel that peels away the mysteries around King Tut's discovery and twisted my stomach into tight knots as I raced through its pages. Gill Paul recreates this glamorous and turbulent moment of history with superb skill... Hugely touching and addictive. I absolutely loved it." — Kate Furnivall, author of The Survivors
"Gill Paul's real strengths lie in giving female historical figures a voice. She is such an empathetic writer and colored Eve's life in with warmth and compassion. Really emotional, unique read and beautifully told. It's made me want to catch a whiff of that tomb and the mysterious poisoned oil." — Kate Thompson, author of Secrets of the Lavender Girls 
"Consummate historical fiction writer Paul (Jackie and Maria) has crafted another binge-worthy novel that will enthrall readers." — Library Journal