Shadows of Pecan Hollow: A Novel (Paperback)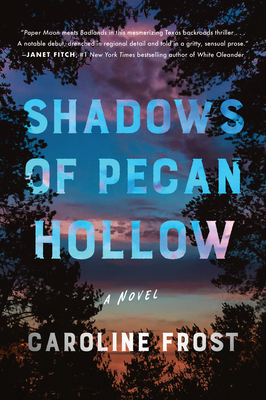 Staff Reviews
---
Pecan Hallow is the place where nothing ever happens - until Kit Walker stumbles into town, dragging her past as one of Texas's most wanted thieves along with her. Despite her crimes, Kit manages to scrape together a life for herself and her disobedient daughter Charlie. Little does she know that Manny, her old lover and partner in crime, is out of prison and determined to make her his once again. Frost uses her background as a family psychologist to the fullest extent, presenting Kit's trauma and toxic relationship with Manny with complexity and heart-wrenching emotion. This story seamlessly weaves together the perspectives of Kit, Charlie, and Manny, creating a story that is suspenseful, touching, and deeply psychological. A solid read from start to finish.
-Rachel
— From
Rachel's Recs
Description
---
Winner of the Crook's Corner Book Prize, finalist for the Golden Poppy Award, and longlisted for the Center for Fiction First Novel Prize
"This immersive, full-bodied novel will keep its hooks in you long after the last page is read, and marks the arrival of a tremendously wise and talented writer."—Ben Fountain
Set in 1970-90s Texas, a mesmerizing story about a fierce woman and the partner-in-crime she can't escape, perfect for readers of Where the Crawdads Sing and Valentine.
It was 1970 when thirteen-year-old runaway Kit Walker was abducted by Manny Romero, a smooth-talking, low-level criminal, who first coddled her and then groomed her into his partner-in-crime. Before long, Kit and Manny were infamous for their string of gas station robberies throughout Texas, making a name for themselves as the Texaco Twosome.
Twenty years after they meet, Kit has scraped together a life for herself and her daughter amongst the pecan trees and muddy creeks of the town of Pecan Hollow, far from Manny. But when he shows up at her doorstep a new man, fresh out of prison, Kit is forced to reckon with the shadows of her past. 
A gritty, penetrating, and unexpectedly tender novel, Shadows of Pecan Hollow is a hauntingly intimate and distinctly original debut about the complexity of love—both romantic and familial—and the bonds that define us. 
"Paper Moon meets Badlands in this mesmerizing Texas backroads thriller, a twisty story of a runaway girl who finds a home and a desperate love on the road with an opportunistic criminal."—Janet Fitch
About the Author
---
Caroline Frost has a Master of Professional Writing degree from the University of Southern California. She is the author of Shadows of Pecan Hollow, which won the Crook's Corner Prize, was a finalist for the Golden Poppy Award, and was longlisted for the Center for Fiction First Novel Prize. She currently resides in Pasadena, California, with her husband and three small children, but her roots in Texas run deep.
Praise For…
---
"Demonstrating a polished sense of setting and characterization, Frost crafts a deftly complex, psychologically astute, and deeply unsettling debut novel." — Booklist
"Frost's prose is engaging and sharp-edged, carefully attuned to her characters in a way that feels vividly real...[Shadows of Pecan Hollow is] a heart-rending and complex examination of one woman's flawed attempts to overcome her past." — Kirkus Reviews
"This is a truly great year for Texas crime novels, and Shadows of Pecan Hollow is no exception." — CrimeReads
"Heart-rending… Frost puts her background as a marriage and family therapist to good use in crafting [main character] Kit. Less perceptive writers may have written Kit as a cli­ché, but Frost guides the reader to understand Kit's story and the reasons behind her susceptibility to a charismatic egotist." — BookPage
"[C]aptivating…The author does a bang-up job…creating the perfect storm of circumstances." — Publishers Weekly
"Frost's skill at sculpting a character both sympathetic and prickly shines in Shadows of Pecan Hollow…[an] impressive debut." — Shelf Awareness
"How do we let go of a dark, menacing past, especially when a dangerous love still binds us to it? Frost's extraordinary debut is about Kit, a young mother struggling to raise her daughter, and to erase her abduction at 13 by a thief, who coerced her into crime and into his heart. Dazzling, unexpected and profound, this is a shattering page-turner about how love can twist our lives into something we no longer recognize, and how we might find our way back to our best selves and to the communities that just might save us. In a word: brilliant."  — Caroline Leavitt, bestselling author of With or Without You
"'Paper Moon' meets 'Badlands' in this mesmerizing Texas backroads thriller, a twisty story of a runaway girl who finds a home and a desperate love on the road with an opportunistic criminal, and the long comet's tail of their story. A notable debut, drenched in regional detail and told in a gritty, sensual prose." — Janet Fitch, #1 New York Times bestselling author of White Oleander
"Frost's depiction of female desire in a man's world has undeniable power." — Texas Monthly
"What immense talent flows through this spellbinding story! Everything is here: magnetic characters, fierce momentum, and great authenticity of voice, place and thought. I was stunned in the best possible way throughout. How does Caroline Frost do it, I marveled; how does she know this? What an amazing, rewarding feat of craftsmanship and love!"  — Elinor Lipman, author of Rachel to the Rescue
"Shadows of Pecan Hollow is a hugely satisfying slow burn of a novel that builds to a wrenching, unforgettable blaze. Frost explores the lives of her complex, arresting characters with nuance, compassion, and an unwavering gaze. Highly recommended." — Lou Berney, Edgar-award winning author of November Road
"With a strong sense of time and place, Caroline Frost's debut novel weaves an authentic southern tale of need, necessity, survival, and forgiveness, with love as the enduring force that guides." — Deb Spera, author of Call Your Daughter Home
"Caroline Frost's beautiful and clear-eyed debut captures the huge comfort of even deeply flawed love and how our urge for survival can distort our lives as easily as it can straighten them into something true. But it also shows us that with enough patience, for ourselves as well as for others, we all have the capacity to heal even the most stubborn of wounds. These are characters you'll carry with you long after you've read the last page." — Stacey Swann, author of Olympus, Texas
"He's a charismatic criminal; she's a dirt-streaked runaway who doesn't feel pain. Their ensuing crime spree sits like a rock in your stomach, and fifteen years later, when he comes back to haunt her, you'll reach for your phone to dial 911. In this gorgeous, completely addictive debut of love gone bad, Caroline Frost churns up an atmosphere sinister and sour as wind whipping off the oil rigs in Galveston—and a heroine so toughened and feral, readers won't want to step out of her brave, quick-witted, leather-bound hide for a single moment." — Barbara Bourland, author of Fake Like Me