Meet Me in Another Life: A Novel (Hardcover)
It's our 23rd Anniversary! Enjoy 23% discount on all titles purchased in-store!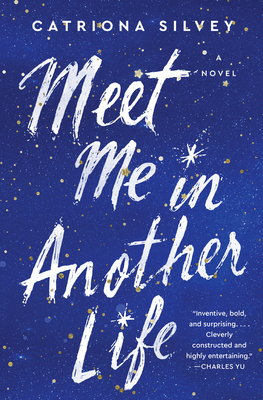 Staff Reviews
---
AVAIL. 4/27/21
As you read Meet Me in Another Life, be patient. The fateful vignettes of Thora's and Santi's existential lives in Cologne, Germany will begin to make sense. How many lifetimes can two people experience as teacher/student, brother/sister, husband/wife, father/daughter, and even as co-worker and friend. Is life a test? What is the right path? Through time, these two characters embark on hopeful and sometimes desperate situations, but their survival comes to a startling finale as they discover what is illusion and what is reality.
-MINDY
— From
Mindy's Recs
May 2021 Indie Next List
---
"An absolutely incredible concept brought to life by a stunning new voice in literature. We get to know the two protagonists so completely as they live their lives. This novel has time travel, mystery, self-exploration, and at its heart true love. Just the best kind of storytelling."
— Becky Doherty, Northshire Saratoga, Saratoga Springs, NY
Description
---
Soon to be a major motion picture starring Gal Gadot!
"Inventive, bold and surprising . . . Builds in suspense and emotion, revealing itself page by page, layer by layer. Cleverly constructed and highly entertaining."  — Charles Yu
"A hymn to friendship . . . A breezy read that's surprisingly philosophical." — Mashable
Recommended by Popsugar • Bustle • Goodreads • Tor • Mashable • BookBub • io9 Gizmodo • Lambda Literary • BookRiot • Debutiful • The Nerdy Daily
For fans of The Invisible Life of Addie LaRue and Life After Life, a powerful and poignant genre-bending debut novel about a man and woman who must unravel why they continue to meet in different versions of reality—a thrilling and imaginative exploration of the infinite forms of love and how our choices can change everything.
Thora and Santi have met before. They will meet again. Only they can make sure it's not for the last time.
Thora and Santi are strangers in a foreign city when a chance encounter intertwines their fates. At once, they recognize in each other a kindred spirit—someone who shares their insatiable curiosity, who is longing for more in life than the cards they've been dealt. Only days later, though, a tragic accident cuts their story short.
But this is only one of the many connections they share. Like satellites trapped in orbit around each other, Thora and Santi are destined to meet again: as a teacher and brilliant student; a caretaker and dying patient; a cynic and believer. In alternating realities they become friends, colleagues, lovers, and enemies. As blurred memories and strange patterns compound, Thora and Santi come to a shocking revelation—they must discover the truth of their mysterious attachment before their many lives come to one, final end.
By turns joyful, devastating, and quietly profound, Meet Me in Another Life is a spectacularly compelling page-turner filled with astonishing twists that affirms the power of love to connect us beyond time and space.
"Entirely surprising, thoroughly enjoyable . . . A truly captivating work with an ending that rocked my socks off." — Erika Swyler, author of Light From Other Stars and The Book of Speculation

About the Author
---
Catriona Silvey was born in Glasgow and grew up in Scotland and England. After collecting an unreasonable number of degrees from the universities of Cambridge, Chicago, and Edinburgh, she moved back to Cambridge where she lives with her husband and son. Her short stories have been performed at the Edinburgh International Book Festival and shortlisted for the Bridport Prize. This is her first novel. 
Praise For…
---
"Inventive, bold and surprising—from where the novel starts I could have never imagined where it ends. Along the way the story of Thora and Santi builds in suspense and emotion, revealing itself page by page, layer by layer. Cleverly constructed and highly entertaining."
— Charles Yu

"Brilliant, lush, and achingly imaginative! I love this book in every life."
— Beth Revis, New York Times bestselling author of Across the Universe and A World Without You

"Entirely surprising, thoroughly enjoyable . . . Meet Me in Another Life asks what if we could live all our best and worst selves, and what if all those selves have one specific purpose. A truly captivating work with an ending that rocked my socks off."
— Erika Swyler, author of Light From Other Stars and The Book of Speculation

"Engaging and inventive, this debut novel will appeal to fans of The Time Traveler's Wife."
— BookBub, The Best Books of Spring 2021

"Will break your heart in the best possible way. The book spans the many lives of Thora and Santi, two people who are connected across time and space. In every lifetime they meet, and their story is always different. The one thing that endures is the profound impact they have on each other's many lives."
— Popsugar, The 25 Best Books of April

"A hymn to friendship . . . A breezy read that's surprisingly philosophical."
— Mashable

"The gift of this novel is rooted in Thora and Santi's complicated and inescapable friendship and their whirling arguments over fate and faith. Silvey has crafted a steady, satisfying build of a novel, a character-driven set of stories dotted with uncanny glimpses of different worlds, all of which come together and crescendo into revelations that will leave the reader reeling."

— Booklist

"The perfect read-alike for The Time Traveler's Wife. . . .  It asks whether we can ever truly know each other. This also has a mystery element in that you'll be solving the puzzle along with the characters: Why do they keep getting drawn to each other, and what happens next?"
— BookRiot, Books Out This Week You Need To Read

"You should read this book if you like: Romance, fantasy, sci-fi, reincarnation (kind of), anomalies in the time-space continuum, cosmic love that spans multiple lives and various incarnations."
— Goodreads, 6 Great Books Hitting Shelves This Week

"Silvey offers an inventive novel about intertwined faith and love."
— Debutiful