If I Tell You the Truth (When You Ask Me Where I'm Going #2) (Hardcover)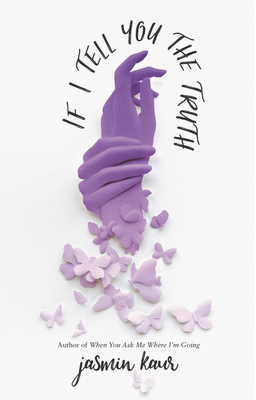 $17.99

Usually Ships in 1-5 Days
Description
---
Perfect for fans of Elizabeth Acevedo and Rupi Kaur, this heartrending story told in prose, poetry, and illustration weaves together the stories of a mother and daughter's lives.
In this stunning sophomore novel, acclaimed writer Jasmin Kaur explores trauma, fear, courage, community, and the healing power of love in its many forms.
Kiran flees her home in Punjab for a fresh start in Canada after a sexual assault leaves her pregnant. But overstaying her visa and living undocumented brings its own perils for both her and her daughter, Sahaara.
Sahaara would do anything to protect her mother. When she learns the truth about Kiran's past, she feels compelled to seek justice—even if it means challenging a powerful and dangerous man.
if i tell you the truth
that i've dug
from the hardened depths
of this shrapnel-filled dirt
with these aching, bloody hands
would you believe me?
would you still love me?
About the Author
---
Jasmin Kaur is a writer, illustrator, and spoken word artist living in Vancouver, BC. Her writing, which explores feminism, social empowerment, love, and survival, acts as a means of healing and reclaiming identity. As an arts facilitator and fourth-grade teacher, Jasmin has been leading creative writing workshops for young people across North America, the UK, and Australia over the past fi ve years. Visit her online at www.jasminkaur.com.
Praise For…
---
"Bold and evocative, Jasmin Kaur's sophomore novel proves she is an unflinching writer. Tackling several tough topics, If I Tell You the Truth is a book that invites much-needed conversation." — Jasmine Warga, New York Times bestselling and Newbery Honor-winning author of Other Words for Home
"Timely and rare, this bold, pull-no-punches book deftly tackles immigration, rape culture and what it means to be undocumented in today's society. You'll smile, you'll cry, you'll want to burn down the patriarchy." — Sona Charaipotra, author of Symptoms of a Heartbreak and co-author of Tiny Pretty Things
"Weaving prose, poetry, and art, Jasmin Kaur's original voice gives us a searing insight into the lives of a mother and daughter and the secrets we keep and how they shape our lives." — Aisha Saeed, New York Times bestselling co-author of Yes No Maybe So
"Deftly layered with prose and poetry, Kaur tells a story of culture, courage, and heart. I was moved beyond words."  — Nisha Sharma, award winning author of YA and contemporary romance
"This is a stunning and breathtaking multigenerational Punjabi story told as only Jasmin Kaur can tell it. Such expert storytelling in multilingual cadence with deep cultural nuance is incredibly rare. This complex story gripped my heart, stunned me page after page and lingered in my imagination long after I closed the book. I became so invested in the characters as if they were my relatives. Not all books can give us this gift. In fact, I can not think of many that do." — Dr. Gayatri Sethi, author of Un/belonging

"This powerful sophomore novel explores womanhood over the span of two decades through the eyes of a mother-daughter pairing. The strength, resilience, and compassion Kaur seamlessly weaves between prose, poetry, and illustration allows readers to connect with and recognize themselves in Kiran and Sahaara. The journey they embark upon will spark much-needed conversations about being silenced, reconciling the past, and basic human rights. A story that beautifully touches a multitude of tough topics." — School Library Journal (starred review)
"Kaur fills in details of both women's stories and personalities with care and grace. The plot is tightly woven and action packed, and readers will quickly become invested in their complex journeys. Sahaara's voice, in particular, is fresh, honest, and a pleasure to read. A fast-paced story that will keep readers engaged and a thoughtful, loving examination of immigration, sexual assault, and chosen family." — Kirkus Reviews
"Readers watch Kiran blossom from a timid teenager to a fiercely protective mother silently grappling with past demons. [Sahaara's] gradual growth into a woman capable of the strength her mother has always exuded is genuinely cheerworthy. Kaur's tighter prose, hard-hitting verse, and spare illustrations in this follow-up are sure to instill empathy and compassion in readers." — ALA Booklist
"The narration speaks feelingly of Kiran's desperation and Sahaara's rage and offers a lacerating exploration of the way Kiran's undocumented status limits her recourse on many fronts. A useful look at undocumented immigration that goes beyond narratives focused on the U.S. southern border. The global discussion of violence against women may fire up some young activists." — Bulletin of the Center for Children's Books
"The clear messages about the intersection of power, class, gender, race, and ethnicity—as well as how these factors are used to oppress and silence — are both timely and necessary.  And Kaur also instills hope: that single voices can make a difference IF we take the time to listen, and that the world at large can then change as a result of these voices IF we take the time to act. Kaur's one-of-a-kind style is captivating and the story she tells here is critically important on so many levels." — The Nerd Daily
"A bold and heartrending story unflinchingly told in poetry and prose." — Ms. Magazine
"This impactful, relevant, powerful work is part novel in verse, part prose, and Kaur narrates her own work, shifting musically between poetry and prose... Kaur's narration is evocative, culturally illuminating, and emotionally incisive, enhancing this moving work." — Booklist (starred review of audio edition)
PRAISE FOR When You Ask Me Where I'm Going: "Kaur's debut collection explores what it means to be a young woman in a world that not only fails to hear her but that often refuses to see her. The novel begins with poems that are more than pretty words; they carry weight and breathe fire. Power is reclaimed through self-acceptance and love." — ALA Booklist
"Kaur's elegant and informative poetry and prose packs a powerful punch. The gentle words empathize with and encourage readers, uplifting the soul, and praising every woman's spirit." — School Library Journal
"Kaur's poetry delivers moments of startling clarity and light, lyrically describing the experience of a population rarely visible in Western literature." — Kirkus Reviews
"Kaur draws on her experience of being a Sikh woman in Canada to express feelings of anger, grief, and tentative hopefulness that will resonate deeply with young women who feel unheard and unseen because of their ethnicity, their immigration status, and/or their experience of domestic abuse." — Bulletin of the Center for Children's Books
"Gut-wrenching and awe-inspiring, all in the same breath. That's how I feel about When You Ask Me Where I'm Going. Jasmin Kaur writes the type of poetry that you never want to stop reading. The type of poetry that makes you want to cry, laugh, stop and think, scream, and then use your own voice to tell your stories and speak your truth without apology. This book will change you."  — Layla Saad, author of Me and White Supremacy 
"A searing and gorgeous debut. This book made me feel seen, but it also educated me—it's sure to provoke many necessary and meaningful conversations." — Jasmine Warga, Newbery Honor-winning author of Other Words For Home and My Heart and Other Black Holes
"An emotional journey that will enlighten, inspire and empower readers everywhere." — Amanda Lovelace, bestselling author of the princess saves herself in this one, the witch doesn't burn in this one and the mermaid's voice returns in this one
"Kaur weaves a captivating narrative that reminds us of what it means to be raw, to be powerful, to be beautifully unique—beautifully human. So many people need this book. I'm one of them." — Kristin Cast, #1 New York Times and #1 USA Today bestselling author of the House of Night series, The Dysasters, and The Key
"Jasmin Kaur epitomizes a powerful, assertive, and unapologetic voice, speaking candidly about the deep, dark, and hidden while maintaining a tone of optimism and resilience. As she challenges expectations and brutal truths, Jasmin offers an insightful commentary on the world from her eyes that is bound to resonate." — Madisen Kuhn, author of 18 Years, Please Don't Go Before I Get Better, and Almost Home
"Jasmin Kaur's work is divine and essential. She sees you and then hands you the mirror to see yourself. There is a sweet, fierce and true vulnerability in every piece. Cling to this book, it is honest and it will bring you home to yourself." — Upile Chisala, author of soft magic, nectar, and A Fire Like You
"A fierce reminder of the irreplaceable and irrepressible nature of our own voices and the power they hold." — Trista Mateer, author of Honeybee, The Dogs I Have Kissed, and Aphrodite Made Me Do It
"Raw and introspective, both painful and uplifting to read, When You Ask Me Where I'm Going seamlessly conveys a vast spectrum of emotions in a very real way that the reader can easily connect with." — The Nerd Daily