After the Flood: A Novel (Hardcover)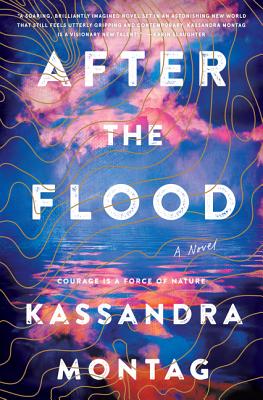 Staff Reviews
---
When the oceans have risen and our cities are washed away what will be left? What will we hold dear? Myra and her daughter Pearl know all too well the dire reality climate change brings. In the aftermath of the 100 year flood people are carving out an existence on boats, on mountaintops, in small colonies bereft of hope and fighting disease and hunger. Suddenly a single seed can mean the difference between life and death. When Myra learns that her eldest daughter may still be alive and trapped on a breeding ship she will stop at nothing to save her. Enlisting the help of strangers they meets along the way Myra and Pearl embark on a journey that will test the very marrow of their strength and resilience. Is Myra willing to lose one daughter to save another? And is her stubbornness a form of courage or desperation? More importantly, will it spell the death of everyone they meet along the way?
-Chrissy
— From
Chrissy's Recs
September 2019 Indie Next List
---
"A gripping story of one mother's harrowing journey to survive a flooded earth and save her daughters from the dangers that surround them. Life after the great flood is treacherous, and lethal groups of raiders steal food, medicine, and children, killing those who would stand in their way. With flawed, relatable characters, After the Flood is a real thought-provoker. It demands you ask yourself: What would I do to survive? This passionate tale of survival and determination is not one to miss."
— Kelli O'Malley, Boswell Book Company, Milwaukee, WI
Description
---
A Chicago Tribune Best Book of the Year

An inventive and riveting epic saga, After the Flood signals the arrival of an extraordinary new talent.
A little more than a century from now, our world has been utterly transformed. After years of slowly overtaking the continent, rising floodwaters have obliterated America's great coastal cities and then its heartland, leaving nothing but an archipelago of mountaintop colonies surrounded by a deep expanse of open water.
Stubbornly independent Myra and her precocious seven-year-old daughter, Pearl, fish from their small boat, the Bird, visiting dry land only to trade for supplies and information in the few remaining outposts of civilization. For seven years, Myra has grieved the loss of her oldest daughter, Row, who was stolen by her father after a monstrous deluge overtook their home in Nebraska. Then, in a violent confrontation with a stranger, Myra suddenly discovers that Row was last seen in a far-off encampment near the Arctic Circle. Throwing aside her usual caution, Myra and Pearl embark on a perilous voyage into the icy northern seas, hoping against hope that Row will still be there.
On their journey, Myra and Pearl join forces with a larger ship and Myra finds herself bonding with her fellow seekers who hope to build a safe haven together in this dangerous new world. But secrets, lust, and betrayals threaten their dream, and after their fortunes take a shocking—and bloody—turn, Myra can no longer ignore the question of whether saving Row is worth endangering Pearl and her fellow travelers.
A compulsively readable novel of dark despair and soaring hope, After the Flood is a magnificent, action packed, and sometimes frightening odyssey laced with wonder—an affecting and wholly original saga both redemptive and astonishing.
About the Author
---
Kassandra Montag is an award-winning poet, fiction writer, and freelance medical journalist. Her work has appeared in journals and anthologies such as Midwestern Gothic, Nebraska Poetry, Prairie Schooner, and Mystery Weekly Magazine, among others. She holds an MA in English Literature and Creative Writing from Creighton University, and makes her home in Omaha, Nebraska.
Praise For…
---
"The searing, often brutal story of a mother's terrifying quest to find her missing daughter in a post-apocalyptic world. Haunting and shocking.  
— Liv Constantine, Bestselling author of The Last Mrs. Parrish

"Spellbinding and aching at every turn, After the Flood is an evocative tale of despair and fierce hope existing within a shattered future. Kassandra Montag weaves together a watery, post-apocalyptic world that will leave readers breathless."
— Lydia Kang, author of A Beautiful Poison

"An undeniable, brilliantly written tale of trauma and grief. In a world under water, Myra not only learns how to survive—and all the nitty-gritties that entails while sailing over what used to be North America amid raiders, scoundrels, predators, and worse--but she must also learn to trust herself and the others on her journey. We do the same along with her. Myra is one of the most memorable heroines we've met in years, and After the Flood a story about the pursuit of redemption you will want to come back to again and again."
— Theodore Wheeler, author of Kings of Broken Things

"In Montag's thrilling debut, a woman reluctantly joins forces with the crew of a ship large enough to ferry her toward the one thing she wants. As in the very best adventure novels, Myra and the crew of the Sedna are beset by troubles, both those they stumble across and more pressingly, those of their own making. If the center of this novel is one mother's quest to recover the daughter stolen from her, the heart of it is the truth that, as unrecognizable as the world may become, what is most human in us—our loves, our fears, our strengths, and our failings—can be neither drowned nor outrun"
— Liz Kay, author of Monsters: A Love Story

"A soaring, brilliantly imagined novel about love and desperation, set in an astonishing new world that still feels utterly gripping and contemporary. Kassandra Montag is a visionary new talent!"
— Karin Slaughter, International bestselling author of The Last Widow  

"A promising debut…an intriguing and innovative woman-centered swashbuckling quest narrative, centers on the social impact of climate change a little over a century from now.
— Publishers Weekly

"Debut novelist Montag manages to marry page-turning drama and emotional depth, vividly imagining a world where society rebuilds itself from scratch and history repeats."
— Kirkus

"Montag's thrilling debut takes place in a future climate-change-altered world overrun by water… Anchored by a complicated, compelling heroine, this gripping, speculative, high-seas adventure is impossible to put down."
— Booklist (starred review)

"Gripping… An adventure rife with great peril and high emotional stakes, this postapocalyptic novel reads like a fast-paced screenplay: intense, visceral, and relentless."
— Library Journal