Alice Isn't Dead: A Novel (Hardcover)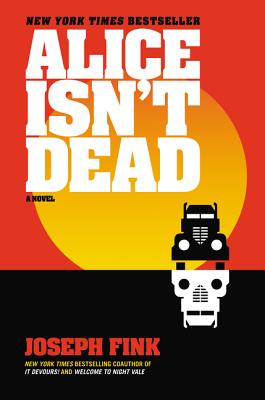 Staff Reviews
---
Keisha and Alice live a quiet married life until the day that Alice doesn't come home. Keisha's grief at this loss is deep, and then... she sees Alice in a crowd on a newscast. Soon she's seeing her again, and again, caught on video at major catastrophes across the U.S. Keisha takes a job as a long-distance truck-driver as a way to look for Alice - who most certainly is not dead. Keisha realizes that Alice's disappearance is connected to a terrifying supernatural conflict taking place on the highways across America. Keisha's loneliness and grief mix with fear and anger as she uncovers a vast, horrifying conspiracy and beings to realize why Alice disappeared. This horror story with a heart, familiar to listeners of the wildly popular podcast of the same name and written by the man who brought you Welcome to Night Vale, is full of humanity, sly humor, and profound observations.
- Cindy
— From
Cindy's Recs 2
November 2018 Indie Next List
---
"Joseph Fink is my hero for making extreme anxiety a superpower and something from which a person can draw strength. Like the Welcome to Night Vale novels, Alice Isn't Dead evinces a gentleness throughout the story, but as with Keisha, the protagonist, don't mistake that for weakness. This novel is a road trip into the depths of human love even in the midst of experiencing inexplicable and weird horrors. It will linger with you long after you finish reading it."
— Christine Havens, BookPeople, Austin, TX
Description
---
A New York Times Bestseller
From the bestselling co-author of It Devours! and Welcome to Night Vale comes a fast-paced thriller about a truck driver searching across America for the wife she had long assumed to be dead.
"This isn't a story. It's a road trip."
Keisha Taylor lived a quiet life with her wife, Alice, until the day that Alice disappeared. After months of searching, presuming she was dead, Keisha held a funeral, mourned, and gradually tried to get on with her life. But that was before Keisha started to see her wife, again and again, in the background of news reports from all over America. Alice isn't dead, and she is showing up at every major tragedy and accident in the country.

Following a line of clues, Keisha takes a job as a long-haul truck driver and begins searching for Alice. She eventually stumbles on an otherworldly conflict being waged in the quiet corners of our nation's highway system—uncovering a conspiracy that goes way beyond one missing woman.

About the Author
---
Joseph Fink created the Welcome to Night Vale and Alice Isn't Dead podcasts. He lives in the Hudson Valley and Los Angeles. 
Praise For…
---
"Alice Isn't Dead remains an intriguing complement, imbued with newfound soul — and romance. Alice has always known suspense, but as a novel it finds true love."
— Entertainment Weekly

"Bracingly candid and unabashedly epic, Alice Isn't Dead is indeed a wild road trip that backs up Keisha's hard-won philosophy that "the only way out is through."
— BookPage

"Alice Isn't Dead is that rare example of supernatural fiction with both bite and heart. "
— San Francisco Chronicle

"Humdrum reality spins along under our wheels: life, love, work—until a kink in the road takes us deep into the land of Joseph Fink, who builds tarmac that isn't quite of this world."
— Laurie R. King, New York Times bestselling author of Island of the Mad

"Ultimately an endorsement of everyday heroism and community, Alice Isn't Dead resonates as a love story, a road trip novel and a campfire tale that taps into our most primal fears."
— Shelf Awareness
Upcoming Events
No upcoming events available