When You Read This: A Novel (Paperback)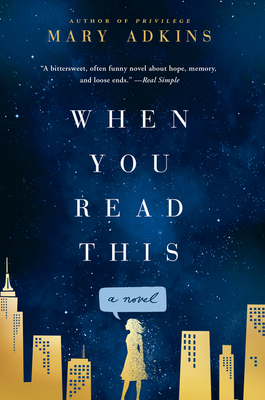 Staff Reviews
---
For the characters of this novel, Iris Massey is dead, but for the readers, she is alive and vibrant. Iris was diagnosed with terminal lung cancer at 33 and used the time she had left to write a blog detailing the various stages of her life. Now that she is gone, she has left the blog for her boss to publish. This proves to be no easy task as her older sister, Jade, does not want to see her final musings published. Told in a collection of our digital footprints, When You Read This, catalogues how a sister and boss grieve, how a blundering assistant fills her shoes, and how we live to the fullest when we know we are dying.
-Clare
— From
Clare's Recs
Description
---
"Warm, original, funny and heartbreaking, this novel made me drop everything so I could read it in one lovely afternoon. When You Read This is inventive and witty, but more importantly it's honest and wise. I adored it." — Jennifer Close, author of Girls in White Dresses and The Hopefuls 
For fans of Maria Semple and Rainbow Rowell, a comedy-drama for the digital age: an epistolary debut novel about the ties that bind and break our hearts.

For four years, Iris Massey worked side by side with PR maven Smith Simonyi, helping clients perfect their brands. But Iris has died, taken by terminal illness at only thirty-three. Adrift without his friend and colleague, Smith is surprised to discover that in her last six months, Iris created a blog filled with sharp and often funny musings on the end of a life not quite fulfilled. She also made one final request: for Smith to get her posts published as a book. With the help of his charmingly eager, if overbearingly forthright, new intern Carl, Smith tackles the task of fulfilling Iris's last wish.
Before he can do so, though, he must get the approval of Iris' big sister Jade, an haute cuisine chef who's been knocked sideways by her loss. Each carrying their own baggage, Smith and Jade end up on a collision course with their own unresolved pasts and with each other.
Told in a series of e-mails, blog posts, online therapy submissions, text messages, legal correspondence, home-rental bookings, and other snippets of our virtual lives, When You Read This is a deft, captivating romantic comedy—funny, tragic, surprising, and bittersweet—that candidly reveals how we find new beginnings after loss.
About the Author
---
Mary Adkins is the author of When You Read This, Privilege, and Palm Beach. A native of the American South and a graduate of Duke University and Yale Law School, her writing has appeared in the New York Times and the Atlantic. She also teaches storytelling for The Moth. She lives in Nashville, Tennessee.
Praise For…
---
"I found the romantic comedy — about a man trying to fulfill his late friend's last wish — both completely wrenching and hilarious. I mean like, crazy funny. The offbeat story about love, family and mortality really sticks with you. The ideal summer read." — Cup of Jo
"An uncanny novel that hits the zeitgeist." — Thrillist, "The Best Books of 2019 (So Far)"
"It's a risk to write a hilarious novel about grief and regret. It's a bigger risk to tell the story solely through virtual communication. Mary Adkins succeeds on both fronts in this epistolary novel . . . . A story of flawed people who have connected under the worst of circumstances. It's a quick, worthwhile read." — Minneapolis Star Tribune
"Delightful… An epistolary novel for the 21st century, When You Read This sparkles with a perfect blend of humor, pathos and romance…. Adkins has managed to paint an authentic and nuanced portrait of grief and the various ways people attempt to cope and continue on with life when the worst has happened. Inventive and irresistible, When You Read This is a tender and uplifting story about love,  loss and the resilience of the human heart that will have you laughing and crying in equal turns." — BookPage
"Stellar. . . witty, entertaining and at times heartwrenching. . . . When You Read This is an outstanding addition to contemporary literature that effectively addresses the issues people face today in a poignant and cleverly insightful manner. It is a true standout and should not be missed." — BookReporter
"Adkins brilliantly captures the rhythms and cadences of the epistolary format in the digital age through a delightful cast of quirky, imperfect characters, both dead and alive. Tart, sweet, poignant, and rich with humor; completely irresistible." — Library Journal (starred review)
"When You Read This checks all the essential boxes of Up Lit—though-provoking, tear-jerking, funny—and adds a delectable epistolary twist." — Refinery29
"A touching, funny, and life-affirming tale." — Publishers Weekly
"[A] heartfelt page-turner . . . A natural readalike for Maria Semple's Where'd You Go Bernadette and Rainbow Rowell's Attachments." — Booklist
"This inventive and hilarious novel has it all: Mid-life crisis sufferers denying their regrets, a lawless intern with alarming email etiquette, poetic online therapists and a moving message about the resiliency of the human heart. Read this book—I loved it!" — Courtney Maum, author of Touch and I Am Having So Much Fun Here Without You
"Warm, original, funny and heartbreaking, this novel made me drop everything so I could read it in one lovely afternoon. WHEN YOU READ THIS is inventive and witty, but more importantly it's honest and wise. I adored it." — Jennifer Close, author of Girls in White Dresses and The Hopefuls
"Deeply moving but also uplifting, Mary Adkins' debut novel is easy to read but hard to forget." — Anne Youngson, author of Meet Me at the Museum
"I loved every word of this sweet little gem of a book. It was a quick, humorous—but ultimately touching—read that I couldn't put down!" — Meg Cabot