Naked Came the Florida Man: A Novel (Serge Storms #23) (Hardcover)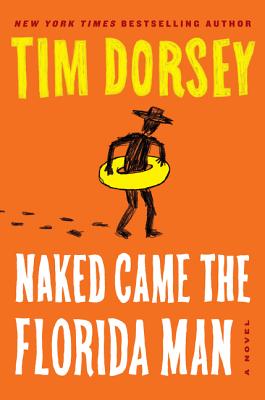 Other Books in Series
This is book number 23 in the Serge Storms series.
Staff Reviews
---
The 23rd Serge Storms novel serves up hilarious anarchy as usual! This time Serge, driving his gold '69 Plymouth Satellite, makes an improbable tour of Florida cemeteries with his perpetually stoned sidekick, Coleman. Serge says, "Nobody could ever write a better job description for me: Florida, no appointments, and a tank of gas." Serge has an aversion to what he considers unethical behavior, as well as a propensity to stick his nose in other people's business, leading to antics that manage to be sociopathic and funny all at once. The most puzzling mystery they encounter - rumors of a monster haunting an abandoned sugar field - leads to small-town rodeos, high school football and, yes, a crazy Florida Man. The satisfying conclusion, where bad guys lose and good guys win, is a hallmark of the series.
-Cindy
— From
Cindy's Recs
Description
---
"Can it still be hurricane season? Must be, because here come Serge A. Storms and his perpetually stoned bro, Coleman, in Tim Dorsey's gonzo crime caper." –The New York Times Book Review
The "compulsively irreverent and shockingly funny" (Boston Globe) Tim Dorsey returns with an insanely entertaining tale in which the inimitable Serge A. Storms sees dead people and investigates a creepy urban myth that may be all too real.

Though another devastating hurricane is raking Florida, its awesome power can't deter the Sunshine State's most loyal son, Serge A. Storms, from his latest scenic road trip: a cemetery tour. With his best bro Coleman riding shotgun, Serge hits the highway in his gold '69 Plymouth Satellite, putting pedal to the metal on a grand tour of the past. Beginning in Key West, the sunshine boys' odyssey includes a forgotten mass grave in Palm Beach County holding the remains of African Americans killed by the Great Hurricane of 1928, and the resting place of one world-famous television dolphin (RIP Flipper) from the 1960s.
But one deadland—a haunted old sugar field—holds more than just the bones of those who've passed. For years, local children have whispered about a boogeyman hiding among the stalks. Could it be the same maniac known as Naked Florida Man, who's been raising hell all over the place?
There are few things Serge loves more than solving a good mystery and bestowing justice on miscreants who sully his beloved home's good name. With his partner Bong Man, Florida's psycho superhero will find the truth in this hilariously violent delight—packed with history, lore, and plenty of motel antics—from the insanely ingenious Tim Dorsey.
About the Author
---
Tim Dorsey was a reporter and editor for the Tampa Tribune from 1987 to 1999, and is the author of twenty-four novels: Tropic of Stupid, Naked Came the Florida Man, No Sunscreen for the Dead, Pope of Palm Beach, Clownfish Blues, Coconut Cowboy, Shark Skin Suite, Tiger Shrimp Tango, The Riptide Ultra-Glide, When Elves Attack, Pineapple Grenade, Electric Barracuda, Gator A-Go-Go, Nuclear Jellyfish, Atomic Lobster, Hurricane Punch, The Big Bamboo, Torpedo Juice, Cadillac Beach, The Stingray Shuffle, Triggerfish Twist, Orange Crush, Hammerhead Ranch Motel, and Florida Roadkill. He lives in Florida.
Praise For…
---
"The newest laugh-out-loud adventure of vigilante Serge A. Storms and his partner in crime, Coleman, on the hunt for justice in the Sunshine State. This time, the pair sets out to investigate an urban legend—with hilarious and rollicking results."

— Newsweek on Naked Came the Florida Man

"Dorsey's latest in the humorous crime fiction category highlights that outrageous brand of Florida humor. With chaos always at his side, Serge A. Storms is back, and this time, he's on a cemetery tour across the state, investigating an urban myth that just might be real and causing mayhem along the way."

— Parade on Naked Came the Florida Man

"Upping the ante has always been the strategy for Tim Dorsey's books, which are built on a peculiarly Floridian brand of outrageousness. So it's no surprise that in his latest, Naked Came the Florida Man, Dorsey reaches a new high in that respect."


— Newsday on Naked Came the Florida Man

 "Readers with an appetite for gallows humor will be sated."
— Publishers Weekly (starred review) on Naked Came the Florida Man

"What more can I say about Tim Dorsey, whose capacity to churn out rollicking, ribald, comic crime thrillers shows no sign of waning in his latest Serge A. Storms effort, Naked Came the Florida Man.... Packed with verve and vibrancy. Along, of course, with laugh-out-loud, side-splitting fun."
— BookTrib.com on Naked Came the Florida Man