No Sunscreen for the Dead: A Novel (Serge Storms #22) (Hardcover)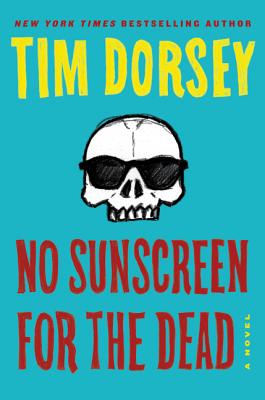 Other Books in Series
This is book number 22 in the Serge Storms series.
Staff Reviews
---
Genial psychopath Serge and his perpetually stoned sidekick Coleman are honorary members of a certain infamous retirement community in central Florida. When Serge hears that shady businessmen prey on retirees, he immediately takes action. First he tries politeness but when that doesn't work, salesmen selling unnecessary appliances and caretakers who are less than caring all meet inglorious (and outrageously gruesome) ends. Multiple story lines collide with Serge's avenging mission. Government privacy violations, counter-espionage work and Serge's altruistic revenge killings ultimately converge, neatly and uproariously tying up all seemingly coincidental mysteries. Those who enjoy Carl Hiaasen will find this book an entertaining introduction to Serge Storm's adventures, and long-time fans will welcome the 22nd addition to the series.
-Cindy
— From
Cindy's Recs 2
Description
---
A USA Today Bestseller!
The Sunshine State's most lovable psychopath, Serge A. Storms, kills it in this zany adventure from the "compulsively irreverent and shockingly funny" (Boston Globe) king of mayhem, New York Times bestselling author Tim Dorsey.

Serge and Coleman are back on the road, ready to hit the next stop on their list of obscure and wacky points of interest in the Sunshine State. This time, Serge's interest is drawn to one of the largest retirement villages in the world—also known as the site of an infamous sex scandal between a retiree and her younger beau that rocked the community.
What starts out as an innocent quest to observe elders in their natural habitats, sample the local cuisine, and scope out a condo to live out the rest of their golden years, soon becomes a Robin Hood-like crusade to recover the funds of swindled residents. After all, our seniors should be revered and respected—they've heroically fought in wars, garnered priceless wisdom, and they have the best first-hand accounts of bizarre Floridian occurrences only Serge would know about. But as the resident's rally for Serge to seek justice on their behalves, two detectives are hot on the heels of Serge and Coleman's murderous trail.
In this epic adventure that jumps between present day and the tumultuous times of the Vietnam war, mystery fans are in for a witty and deliciously violent delight from the twisted imagination of bestselling author Tim Dorsey.
About the Author
---
Tim Dorsey was a reporter and editor for the Tampa Tribune from 1987 to 1999, and is the author of twenty-three novels: Naked Came the Florida Man, No Sunscreen for the Dead, Pope of Palm Beach, Clownfish Blues, Coconut Cowboy, Shark Skin Suite, Tiger Shrimp Tango, The Riptide Ultra-Glide, When Elves Attack, Pineapple Grenade, Electric Barracuda, Gator A-Go-Go, Nuclear Jellyfish, Atomic Lobster, Hurricane Punch, The Big Bamboo, Torpedo Juice, Cadillac Beach, The Stingray Shuffle, Triggerfish Twist, Orange Crush, Hammerhead Ranch Motel, and Florida Roadkill. He lives in Tampa, FL.
Praise For…
---
"A riotous retirement for Serge Storms [with] a wickedly clever yet weirdly inspiring plot."
— Tampa Bay Times

"Dorsey's superior 22nd crime novel [is] another successful blend of the funny and the fiendish."
— Publishers Weekly (starred review)

"All Dorsey mayhem is vintage Dorsey mayhem, but Florida's retirement scene provides the perfect backdrop for this latest round of lunacy."
— Kirkus Reviews

"Dorsey's novels are unfailingly entertaining... Serge is, hands down, the most smoothly charming, irrepressibly goofy, joyfully out-of-his-mind series lead in contemporary mystery fiction.... Don't miss this one."
— Booklist

"A rollicking road trip we'd love to sign up for. "
— New York Times Book Review on No Sunscreen for the Dead

"[Serge and Coleman's] wildest and funniest ride yet, resulting in plenty of sex, drugs, violence, and lottery winnings."
— PopMatters.com on The Pope of Palm Beach

"Dorsey's satiric skewering spares nothing and no one in this riotous farce that's almost too much fun to call reading."
— Providence Journal on The Pope of Palm Beach

"…fans of wacky crime fiction will have plenty of fun."
— Publishers Weekly on Pope of Palm Beach

"Breathtaking and very cleverly written.... The narrative rocks and the story rolls."
— Criminal Element on Clownfish Blues

"No part of Florida is left alone as Serge enjoys the ride while spouting off bits of obscure, but interesting, history."
— Southflorida.com on Clownfish Blues

"Hilarious. ... Serge Storms is, hands down, one of the most original and just-plain-captivating characters in modern crime fiction."
— Booklist (starred review) on Clowfish Blues

"A violent, funny, hyperkinetic novel...where the bizarre is downright commonplace."
— Atlanta Journal-Constitution on Electric Barracuda
Upcoming Events
Event date:

Mon, 03/02/2020 - 10:30am

Event date:

Mon, 03/09/2020 - 10:30am