A Lite Too Bright (Hardcover)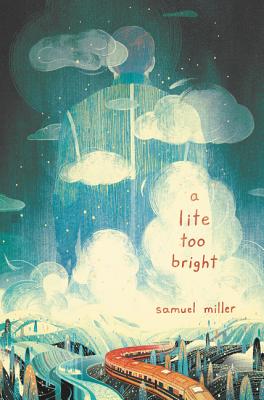 Staff Reviews
---
A Lite Too Bright follows Arthur Louis Pullman III, a young man who sets out on a journey to find answers that have been lost with his grandfather's memories, and his sequential death. Arthur watched Alzheimer's quickly take his grandfather, the first Arthur Louis Pullman, leaving a shell of the classic author in his place. Yet Arthur still needs to know what happened the week before his grandfather's death - the week his grandfather vanished. As his own life starts to fall apart, Arthur uncovers clues left by a dementia-fueled mind, and soon begins a cross-country train ride in order to uncover the mystery that was his grandfather. Anyone whose life has been derailed by Alzheimer's will breeze through this refreshingly original story of healing, family, and the bittersweet truth of growing older.
-Kiera
— From
Kiera's Recs
Description
---
For fans of literary classics such as The Catcher in the Rye and The Perks of Being a Wallflower comes a stirring new thought-provoking novel from debut author Sam Miller about a loss shrouded in mystery with twists and turns down every railway.
Arthur Louis Pullman the Third is on the verge of a breakdown. He's been stripped of his college scholarship, is losing his grip on reality, and has been sent away to live with his aunt and uncle.
It's there that Arthur discovers a journal written by his grandfather, the first Arthur Louis Pullman, an iconic Salinger-esque author who went missing the last week of his life and died hundreds of miles away from their family home. What happened in that week—and how much his actions were influenced by his Alzheimer's—remains a mystery.
But now Arthur has his grandfather's journal—and a final sentence containing a train route and a destination.
So Arthur embarks on a cross-country train ride to relive his grandfather's last week, guided only by the clues left behind in the dementia-fueled journal. As Arthur gets closer to uncovering a sad and terrible truth, his journey is complicated by a shaky alliance with a girl who has secrets of her own and by escalating run-ins with a dangerous Pullman fan base.
Arthur's not the only one chasing a legacy—and some feel there is no cost too high for the truth.
About the Author
---
Samuel Miller was born and raised in Vermillion, South Dakota, and now resides in Los Angeles, where, in addition to writing, he directs music videos and coaches Little League Baseball. He began writing his first novel while on tour in a fifteen-passenger van with the rock band Paradise Fears. A Lite Too Bright is his debut novel. Currently he attends graduate school at the University of Southern California. He credits his existence entirely to two spectacular parents, three brothers, one sister, and the best and sweetest puppy dog on the whole planet, Addison.
Praise For…
---
★ "What a compelling journey this is—and what an accomplished debut too. Beautifully conceived and executed, it has an irresistible premise; an ingenious plot tinged with mystery; compelling, multidimensional characters; and a haunting ethos that will linger in readers' minds long after they have finished."

— Booklist (starred review)

★ "Jumping from clue to clue and train to train across the country, Arthur stumbles upon extraordinary discoveries, from long-lost family members to secret societies. This fresh incarnation of the great American road trip novel is bursting with big ideas, enigmas, poetry, and flashes of humor."
— Kirkus Reviews (starred review)

★ "Charmingly written, this debut novel introduces rounded characters and an engaging mystery. Wonderfully mirroring the disjointed feelings and thoughts of young Arthur and those who have dementia, this literary piece has a satisfying conclusion. A highly recommended purchase for fans of literary and realistic fiction centered around family."
— School Library Journal (starred review)

"Miller's debut novel weaves together several other larger-than-life literary figures and events, including gonzo journalist Hunter S. Thompson, the beat generation, and the Kent State shootings, creating a love letter to social justice and American literature."
— Publishers Weekly

"Debut author Miller peppers his well-paced chapters with the poetry of ALP the First. This earnest homage to writers, rebels, and the evergreen ideals of youth will appeal to devotees of John Green and Gayle Forman."
— The Horn Book

"Arthur's coming-of-age journey communicates that today's young rebels' most important cause may be their own mental health."
— Bulletin of the Center for Children's Books
Upcoming Events
No upcoming events available