The Wee Free Men (Tiffany Aching #1) (Paperback)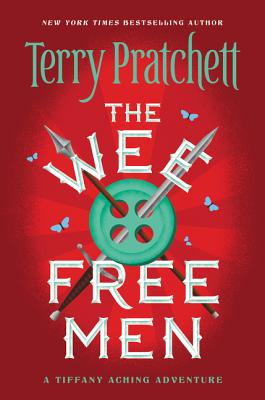 Other Books in Series
This is book number 1 in the Tiffany Aching series.
Staff Reviews
---
Something is lurking in the river, and 9-year-old Tiffany Aching is going to catch what's lurking - by using her brother as bait. While Tiffany's brother plays by the river, out pounces Jenny Greenteeth and before Jenny is able to swallow up Tiffany's brother, she gets cracked upside the head with a frying pan. Little did Tiffany know that this action would set into motion a magical journey filled with an army of tiny blue men, different worlds, and an Evil Queen. This is the beginning of the Tiffany Aching series by Pratchett, one of many series within the massive Discworld. I think it is a wonderful introduction to Discworld for anyone interested in fantasy with a twist of the absurd.
-Zach
— From
Zach's Recs
Description
---
The first in a series of Discworld novels starring the young witch Tiffany Aching.
A nightmarish danger threatens from the other side of reality. . . .
Armed with only a frying pan and her common sense, young witch-to-be Tiffany Aching must defend her home against the monsters of Fairyland. Luckily she has some very unusual help: the local Nac Mac Feegle—aka the Wee Free Men—a clan of fierce, sheep-stealing, sword-wielding, six-inch-high blue men.
Together they must face headless horsemen, ferocious grimhounds, terrifying dreams come true, and ultimately the sinister Queen of the Elves herself. . . .
About the Author
---
Sir Terry Pratchett was the internationally bestselling author of more than thirty books, including his phenomenally successful Discworld series. His young adult novel, The Amazing Maurice and His Educated Rodents, won the Carnegie Medal, and Where's My Cow?, his Discworld book for "readers of all ages," was a New York Times bestseller. His novels have sold more than seventy five million (give or take a few million) copies worldwide. Named an Officer of the British Empire "for services to literature," Pratchett lived in England. He died in 2015 at the age of sixty-six.
Praise For…
---
"With its wry wit and acerbic collision of the mystical with the mundane, the latest book in Pratchett's internationally popular Discworld, is good solid storytelling done in a style that reads like Celtic mythology fused with the girl power of "Buffy the Vampire Slayer" with dialogue by Robert Burns." — New York Times Book Review
"Exuberant and irresistible. Pratchett's tale recalls a whole variety of texts in which underestimated heroines confront the forces of darkness—Meg Murry of A Wrinkle in Time, Coraline of Neil Gaiman's recent novel, Lyra Belacqua of The Golden Compass, Miss Bianca of The Rescuers, even Buffy the Vampire Slayer." — Washington Post
"A smart retelling [that] delves into weighty issues but keeps its sense of dark humor." — USA Today
Wonderful language, genuinely scary explorations, and a young girl whose growing up is believable and exciting." — Chicago Tribune
"An enthralling and rewarding read." — Publishers Weekly (starred review)
"Set in a chillingly unrecognizable 'fairyland,' this ingenious melange of fantasy, action, humor, and sly bits of social commentary contains complex underlying themes on the nature of love, reality, and dreams. The Carnegie Medal-winner's fans will not be disappointed." — Kirkus Reviews (starred review)
"Perfect for anyone who enjoys The Princess Bride and the works of Douglas Adams. A wonderfully funny fantasy for all ages." — KLIATT (starred review)
A glorious read." — School Library Journal (starred review)