The Problim Children: Island in the Stars (Paperback)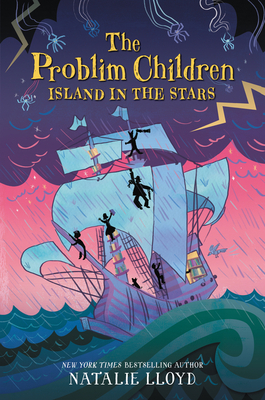 Description
---
Mystery and mayhem abound in the final book in New York Times bestselling author Natalie Lloyd's middle grade series, as the Problim siblings board a pirate ship to rescue their missing Mama and baby brother from the villainous Cheesebreath, now available in paperback.
Problim Children to the rescue! Sal and his siblings follow a trail of Toot's toots as they sail through the barrier islands to rescue their baby brother from the evil Cheesebreath. He's been holding Toot and Mama Problim hostage in the hopes that the Problims will lead him to their granddaddy's treacherous treasure. But not all treasure is gold, and this one was buried long-ago for good reason.
Can the Problims find Mama, rescue their brother, and destroy the treasure before Cheesebreath and their nasty neighbor Desdemona capture them all?
Bursting with adventure, mystery, humor, and heart, the final book in Natalie Lloyd's series is an affectionate ode to the wonders of being a weird kid in a weird family.
About the Author
---
Natalie Lloyd loves writing stories full of magic and friendship, including A Snicker of Magic, which was a New York Times bestseller, and the Problim Children books. She lives in Chattanooga, Tennessee, with her husband, Justin, and their dogs, Biscuit and Samson.
Praise For…
---
Praise for THE PROBLIM CHILDREN: CARNIVAL CATASTROPHE: ★ "Lloyd hits her stride as she weaves—as intricately as Mona's beloved circus spiders—plot twists, humor, suspense, rivalry, hints of romance for the older Problims, and realistic development of Mona's character." — Kirkus Reviews (starred review)
"Lloyd's quirky gang of seven siblings returns in a new mystery soaked in doughnut frosting....[She] revels in the story's zaniness, bolstering it with heart and enough complexity to ensure readers are invested." — ALA Booklist
"Mona shines as she figures out (not always gracefully) that everyone has unique value—even her worst enemies. A charming sequel." — School Library Journal
Praise for THE PROBLIM CHILDREN: ★ "Another heart-warming yarn centered on friendship and family."

— ALA Booklist (starred review)
 "Both text and illustrations offer a nod to Roald Dahl's quirky, juvenile heroes and equally quirky, nasty villains. The distinctive flavor comes both from Lloyd's witty but succinct word mastery and from her unflagging imagination." — Kirkus Reviews
"Irreverent and delightful." — Publishers Weekly
"Lloyd's warm and playful writing shines." — School Library Journal
"Much quirky fun to be had." — Bulletin of the Center for Children's Books
"Midge Lodestar's mantra is 'Every day is a good day for tacos!' My mantra is 'Every day is a good day to celebrate and book talk Natalie Lloyd's exquisite The Problim Children!' I will forever think about Sundae, Mona, Toot, Wendell, Thea, and Frida heart-first." — JOHN SCHUMACHER, Ambassador for School Libraries | mrschureads.com
"An affectionate ode to the wonders of being a weird kid in a weird family." — Anne Ursu, author of The Real Boy and Breadcrumbs


"A sheer, riotous delight." — Claire Legrand, author of Some Kind of Happiness
"Filled with adventure, mystery, humor, and heart." — Heidi Schulz, New York Times bestselling author of Hook's Revenge
"An absolute gem, delightfully original but with the timeless charm of a favorite classic. I sincerely, truly loved loved loved loved loved it." — DAN GEMEINHART, Author of The Honest Truth and Some Kind of Courage
"Once again, Lloyd gifts readers with lovable characters and unique magic that leap from page to heart. Amid hilarity and hijinks are tender reminders to embrace your weird and to look at the world heart-first." — SARA GROCHOWSKI, McLean and Eakin Booksellers, Petoskey, MI
"Cracked my heart wide open! I'll never be able to read Ramona Quimby, Age 8 again for the first time; instead I get to laugh, holler, and swoon over Natalie Lloyd's new series." — AMANDA GREER CONNER, Kids' Team Leader, Joseph-Beth Booksellers