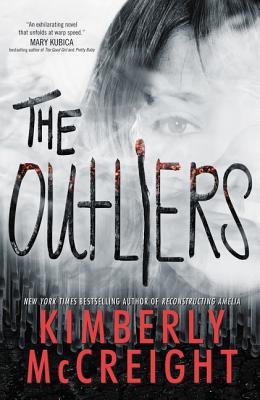 Other Books in Series
This is book number 1 in the Outliers series.
Staff Reviews
---
Even if you aren't friends with someone anymore, you still help them when they ask. That's what sends Wylie on a wild goose chase to find her former bff, Cassie, with Jasper, Cassie's boyfriend and the last person Wylie trusts. As the events unfold and Cassie gives them more clues, the truth hits closer to home than Wylie would have liked. Secrets become deadly and the past comes back to haunt them. The Outliers is a thrilling ride that will leave you begging for more!
- Clare
— From
Books for Young Adults
Description
---
From the New York Times bestselling author of Reconstructing Amelia comes a fast-paced teen series where one girl learns that in a world of intrigue, betrayal, and deeply buried secrets, it is vital to trust your instincts.
It all starts with a text: Please, Wylie, I need your help. Wylie hasn't heard from Cassie in over a week, not since their last fight. But that doesn't matter. Cassie's in trouble, so Wylie decides to do what she has done so many times before: save her best friend from herself.
This time it's different, though. Instead of telling Wylie where she is, Cassie sends cryptic clues. And instead of having Wylie come by herself, Jasper shows up saying Cassie sent him to help. Trusting the guy who sent Cassie off the rails doesn't feel right, but Wylie has no choice but to ignore her gut instinct and go with him.
But figuring out where Cassie is goes from difficult to dangerous, fast. As Wylie and Jasper head farther and farther north into the dense woods of Maine, Wylie struggles to control her growing sense that something is really wrong. What isn't Cassie telling them? And could finding her be only the beginning?
In this breakneck tale, New York Times bestselling author Kimberly McCreight brilliantly chronicles a fateful journey that begins with a single decision—and ends up changing everything. 
About the Author
---
Kimberly McCreight is the New York Times bestselling author of Reconstructing Amelia, which was nominated for the Edgar, Anthony, and Alex Awards; Where They Found Her; and The Outliers young adult trilogy. She attended Vassar College and graduated cum laude from the University of Pennsylvania Law School. She lives in Brooklyn with her husband and two daughters.
Praise For…
---
THE OUTLIERS is a fast-paced, emotional, and darkly compelling novel with an ending that works like a catapult. I can't wait to find out what McCreight has hidden up her sleeves!
— Julianna Baggott, bestselling author of Harriet Wolf's Seventh Book of Wonder and the Pure trilogy.

Mccreight's book is an edge of the seat page turner. Her ability to get at the core of what it means to be a friend, a girl, a human being in this society is at once thoughtful and dead on.
— Jacqueline Woodson, National Book Award winning author of Brown Girl Dreaming

An exhilarating novel that unfolds at warp speed.
— Mary Kubica, bestselling author of The Good Girl and Pretty Baby

A spellbinding thriller that keeps you guessing until the very last page.
— Sara Shepard, bestselling author of Pretty Little Liars

Original and wholly addictive, The Outliers is a heart-pounding mystery that will leave readers desperate for the next book.
— Suzanne Young, bestselling author of The Program

This first book in a planned trilogy moves at a rapid pace and is action-packed from the start....Wylie's struggles with grief and a difficult relationship with her best friend mold her into a multilayered character who captures the reader's sympathy.
— Voice of Youth Advocates (VOYA)

McCreight (Where They Found Her) crafts a tense, atmospheric narrative that sends the teens reeling from one surprise after another
— Publishers Weekly

This fast-paced thriller will have readers pinned to their seats with all the twists and turns in the second half.
— Booklist

"THE OUTLIERS is a fast-paced, emotional, and darkly compelling novel with an ending that works like a catapult. I can't wait to find out what McCreight has hidden up her sleeves!"
— Julianna Baggott, bestselling author of Harriet Wolf's Seventh Book of Wonder and the Pure trilogy.

"Mccreight's book is an edge of the seat page turner. Her ability to get at the core of what it means to be a friend, a girl, a human being in this society is at once thoughtful and dead on."
— Jacqueline Woodson, National Book Award winning author of Brown Girl Dreaming.

"An exhilarating novel that unfolds at warp speed."
— --Mary Kubica, bestselling author of The Good Girl and Pretty Baby
Upcoming Events
No upcoming events available