Fans of the Impossible Life (Hardcover)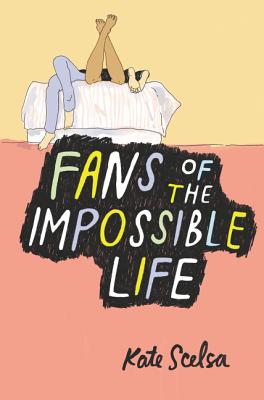 $17.99
Email or call for price/availability
Staff Reviews
---
Mira's parents have tried everything they can think of to fix her crippling anxiety, and, as a last resort, send her to a private school. Her best friend, Sebby, goes to public school, and Mira is doubtful that the switch will help her. Then they meet Jeremy, a boy struggling with his own issues, just like them. This unlikely trio of oddballs bands together to deal with anxiety, sexuality, and drugs all while being somewhat "normal." Kate Scelsa's Fans of the Impossible Life reminds us that it's okay to fall apart as long as you have the support to put yourself back together.
- Clare
— From
Clare's Recs
Description
---
A captivating and profound debut novel about complicated love and the friendships that have the power to transform you forever, perfect for fans of Nina LaCour and of The Perks of Being a Wallflower.
Mira is starting over at Saint Francis Prep. She promised her parents she would at least try to pretend that she could act like a functioning human this time, not a girl who can't get out of bed for days on end, who only feels awake when she's with Sebby.
Jeremy is the painfully shy art nerd at Saint Francis who's been in self-imposed isolation after an incident that ruined his last year of school. When he sees Sebby for the first time across the school lawn it's as if he's been expecting this blond, lanky boy with a mischief glinting in his eye.
Sebby, Mira's gay best friend, is a boy who seems to carry sunlight around with him . Even as life in his foster home starts to take its toll, Sebby and Mira together craft a world of magic rituals and impromptu road trips, designed to fix the broken parts of their lives.
As Jeremy finds himself drawn into Sebby and Mira's world, he begins to understand the secrets that they hide in order to protect themselves, to keep each other safe from those who don't understand their quest to live for the impossible.
About the Author
---
Kate Scelsa studied writing and theater at Sarah Lawrence College. For the past twelve years she has performed in New York and on tour around the world with experimental theater company Elevator Repair Service in their trilogy of works based on great American literature, including an eight-hour-long performance that uses the entire text of The Great Gatsby. Kate grew up in New Jersey and now lives in Brooklyn with her wife and two black cats.
Praise For…
---
"The characters' stories are so beautifully told and their struggles so hauntingly familiar that they will stay with readers long after they have finished the book." — Publishers Weekly (starred review)
"A deeply moving story about friendship and individuality in an often inhospitable world." — Nina LaCour, author of Hold Still and Everything Leads to You
"I wish my high school self could read this book. Fans of the Impossible Life perfectly captures the complexity of love, sexuality, and the cost of secrets. Mira, Sebby, and Jeremy will stay with you long after you finish the last page." — Julie Murphy, author of Dumplin' and Side Effects May Vary
"In this beautiful and devastating novel, Kate Scelsa introduces three of the most memorable and original characters in recent memory. Fans of the Impossible Life is a truly unconventional love story that will challenge everything you think you know about the nature of love and friendship." — Bennett Madison, author of September Girls
"Rounded characters large and small, drawn with insight and empathy, drive the plot. Buoyant writing and wry humor balance the pathos in this powerful debut, a moving tale of friendship as refuge and shield against a hostile world." — Kirkus Reviews