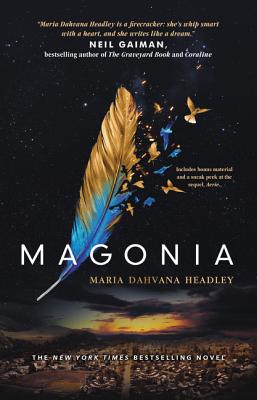 $10.99
Email or call for price/availability
Other Books in Series
This is book number 1 in the Magonia series.
Staff Reviews
---
Aza has never really fit in on Earth. Every day she is fighting to breathe because of an undiagnoseable lung defect. Then she sees a ship in the sky that's calling her name. Only her best friend, Jason believes that she saw it. When the people from the ship in the sky abduct Aza and show her a life she was destined for, she is faced with life changing decisions. She could stay on the ship, where she can breathe and belongs, or she can fight to return to the family she loves. Maria Headley's Magonia is an amazing story of destiny, family, and love that will take your breath away.
- Clare
— From
Clare's Recs
Description
---
"Maria Dahvana Headley is a firecracker: she's whip smart with a heart, and she writes like a dream."  —Neil Gaiman, bestselling author of The Graveyard Book and Coraline
#1 New York Times bestseller Maria Dahvana Headley's soaring sky fantasy Magonia is now in paperback!
Aza Ray Boyle is drowning in thin air. Since she was a baby, Aza has suffered from a mysterious lung disease that makes it ever harder for her to breathe, to speak—to live.
So when Aza catches a glimpse of a ship in the sky, her family chalks it up to a cruel side effect of her medication. But Aza doesn't think this is a hallucination. She can hear someone on the ship calling her name.
Only her best friend, Jason, listens. Jason, who's always been there. Jason, for whom she might have more-than-friendly feelings. But before Aza can consider that thrilling idea, something goes terribly wrong. Aza is lost to our world—and found, by another. Magonia.
Above the clouds, in a land of trading ships, Aza is not the weak and dying thing she was. In Magonia, she can breathe for the first time. Better, she has immense power—but as she navigates her new life, she discovers that war between Magonia and Earth is coming. In Aza's hands lies fate of the whole of humanity—including the boy who loves her. Where do her loyalties lie?
Neil Gaiman's Stardust meets John Green's The Fault in Our Stars in this New York Times bestselling story about a girl caught between two worlds, two races, and two destinies.
Don't miss Aerie, the stunning, highly anticipated sequel!
About the Author
---
Maria Dahvana Headley is a New York Times bestselling novelist, memoirist, and editor, most recently of Magonia, Queen of Kings, and the anthology Unnatural Creatures (coeditor with Neil Gaiman). Her short fiction has been nominated for the Nebula and Shirley Jackson Awards. She lives in Brooklyn in an apartment with a seven-foot stuffed crocodile and constellations on the ceiling. You can find her at www.mariadahvanaheadley.com
Praise For…
---
Maria Dahvana Headley is a firecracker: she's whip smart with a heart, and she writes like a dream. — Neil Gaiman, bestselling author of The Graveyard Book and Coraline
"Magonia is magical. A high-flying, refreshing, and literally out-of-the-blue fantasy with great characters, emotional depth, and a unique fantasy world that I never saw coming." — Victoria Aveyard, #1 New York Times Bestselling author of Red Queen
"Headley riffs like an improv comic… funny, furious, and vulnerable. The haunting conclusion leaves many issues unresolved, but the ferocious, intelligent power of Aza and Jason's bond is completely affirmed. Sweeping, strange, and richly imagined, the novel is ideal for fans of Laini Taylor's Daughter of Smoke & Bone." — Publishers Weekly (starred review)
"With lush writing, memorable world building, and an array of peculiar characters, this is sure to thrill readers looking for a distinctive, imaginative tale in the vein of Laini Taylor and Neil Gaiman." — Booklist
"The painful, sarcastic beauty of Aza's interactions down below in the everyday world begs comparisons to John Green's The Fault in Our Stars." — Kirkus Reviews
"The book races to an epic confrontation that will leave readers thrilled… romance, danger, and world-building combine." — School Library Journal
"The sweeping, lyrical language in both parts of the book is captivating, with haunting scenes woven from carefully chosen, sharply evocative descriptions." — Bulletin of the Center for Children's Books
"Magonia hooked me from the first page. It has an amazing voice, brutal and hopeful both at once, and a beautiful, unique mythology. Wonderful." — Django Wexler, author of the Shadow Campaigns and The Forbidden Library